5 Best NFL Free Agent Quarterbacks Left In 2015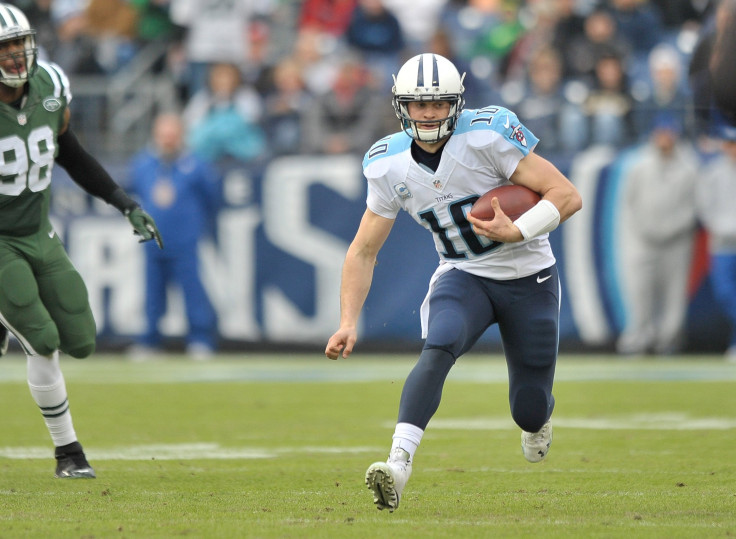 For teams looking to win now, the free agent market for quarterbacks isn't loaded with superstar talent in 2015. But there are a number of available veteran quarterbacks, who could allow teams to forgo the difficult route of opting to draft a youngster and waiting several years for them to develop.
The Houston Texans, armed with the NFL's best defensive player in J.J. Watt, have been able to win without a top tier quarterback and could make the postseason with the likes of recently re-signed Ryan Mallett or possibly Brian Hoyer. Both agreed to terms with Houston on Monday, according to NFL.com, with Hoyer coming off a solid season with the Cleveland Browns and Mallett going 1-1 in two starts with the Texans in 2014.
Many quarterbacks can also be signed simply to add depth or provide insurance should a starter go down.
So far one team has decided to pad its depth at quarterback, while perhaps preparing for a future without their star. The Chicago Bears re-signed fifth-year quarterback Jimmy Clausen, while Jay Cutler's future in Chicago remains in jeopardy.
A number of teams like the Browns and New York Jets thought they were set at quarterback after picking star college players in the first round in recent years, but those plans have fallen flat. Now they could peruse the quarterbacks available in free agency, most of which won't demand high-priced contracts that will eat into their considerable salary cap space.
Here are the five best quarterbacks left on the open market before teams can officially sign players on Tuesday afternoon.
Jake Locker, Tennessee Titans
Injuries have completely derailed the start of Locker's career, as he's missed 23 combined games over the last three seasons. But no available quarterback can match the youth and untapped potential of Locker, especially at a cheap rate. When healthy, the 26-year-old's displayed the type of big arm strength and elusiveness in and out of the pocket that's now highly valued by NFL teams. Assuming he signs a deal like Mallett's ($7 million over two years) there could be little risk involved for a team that signs Locker should he finally stay healthy.
Michael Vick, New York Jets
At this point in his career, Vick is likely to latch on to a team as a back-up, but he's probably the most valuable reserve available. Serving as the back-up to the Jets' Geno Smith last year, Vick went 1-2 in three starts with 604 passing yards and three touchdowns to two interceptions. Those aren't gaudy or even impressive numbers, but given his 12 years of experience in the league, at the right price Vick could be an excellent value signing for a team with a young quarterback.
Matt Moore, Miami Dolphins
Moore hasn't started a game since 2011, and he's served as Ryan Tannehill's back-up the last three years. But as a starter he has a decent 11-12 record and a 58.9 completion percentage. The last time Moore was a starter he had receiver Brandon Marshall on the other end of his passes, and he threw a career-best 16 touchdown passes in 12 starts. ProFootballTalk speculated that the Jets could be a solid landing spot for Moore, given that they just acquired Marshall in a trade last week.
Shaun Hill, St. Louis Rams
Four teams in nine years is basically the definition of an NFL journeyman, but Hill made some serious noise with the Rams last season, completing 63.3 percent of his attempts for 1,657 yards and eight touchdowns to seven picks over the course of eight starts. And of the QBs on this list Hill's certainly coming off the best season. According to ESPN, the Minnesota Vikings are reportedly on Hill's heels to be Teddy Bridgewater's backup. However, Hill could wait to see what the Rams offer, considering Sam Bradford's future with the franchise is in serious doubt.
Colt McCoy, Washington Redskins
The Redskins have reportedly already decided to have Kirk Cousins battle Robert Griffin III for the starting job, and McCoy is expected to find a fourth team in six seasons. But he's coming off maybe his best season as pro, completing 71.1 percent of his passes for 1,057 yards and four touchdowns to three picks. McCoy went 1-3 in four starts last season, but he also took a beating with 17 sacks registered behind a porous Redskins offensive line.
An option could be the Browns, with the team seeking another quarterback while Johnny Manziel continues a stint in rehab and Hoyer all but gone. Originally drafted by the Browns in 2010, McCoy went 6-15 in 21 starts, but Cleveland has a much better offensive line now and far more potent weapons at running back and receiver for McCoy to work with should a second go-round occur.
© Copyright IBTimes 2022. All rights reserved.
FOLLOW MORE IBT NEWS ON THE BELOW CHANNELS