5 Melania Trump Surprising Claims In 'The Art Of Her Deal' From POTUS' Manhood To FLOTUS' Influence
KEY POINTS
Melania Trump defended husband Donald Trump's manhood size from friends
The FLOTUS is very influential to the POTUS
The First Lady is reportedly as "complex and complicated" as her husband
Melania Trump got a new book and it came with various revelations about the First Lady.
This week, Mary Jordan's biography about the FLOTUS entitled "The Art of Her Deal" was released. According to Daniel Bates of Daily Mail, the book is the "most in-depth portrait of Melania so far."
Here are five surprising claims about Melania in Jordan's book.
1. Melania defended Donald's size of manhood
When Melania was still dating Trump in the late 1990s, she would often talk about him with her former roommate Matthew Atanian. The latter was a retired fashion photographer.
According to Atanian, there was a time when he and Edit Molner, Paolo Zampolli's girlfriend, joked about Trump having a small penis.
He remembered Melania cutting them and telling them, "Don't say this - he's a real man."
Trump also addressed the size of his manhood during the 2016 Republican Presidential debates. Senator Marco Rubio shaded the POTUS for his small hands.
"Nobody has ever hit my hands before. Look at those hands. He referred to my hands - if they're small, something else must be small," Trump said.
"I guarantee you there's no problem," he added.
2. The First Lady is very influential to the POTUS
Many believe that Melania is always under her husband's control. On the contrary, it is the POTUS who listens to her.
"Melania is very behind-the-scenes but unbelievably influential," said Sean Spicer, the president's first White House press secretary.
"She is not one to go in and say, 'Hire this person, fire this person.' But she lets the president know what she thinks, and he takes her views very seriously."
Spicer added that Trump tends to agree with her. Melania also admitted in a previous interview that it was her who encouraged Trump to run for president.
3. Melania is just like her husband
Earlier this month, the POTUS and FLOTUS visited St. John Paul II National Shrine in Washington. Their awkward photo op was caught on camera. Trump was smiling while Melania looked so serious.
In one part of the clip, Trump kepton smiling while saying something to Melania. Shortly after that, the First Lady gave a fake smile. Many expressed concern for the FLOTUS because for them she looked terrified.
However, according to Jordan, there is nothing wrong with the couple.
"In her own way, she is as complex and complicated as her husband. She is also much more like him than it appears," Jordan wrote.
"Both are avid creators of their own history."
4. Melania is uncontrollable
When Trump's "Access Hollywood" leaked, Trump was reportedly "frightened" to face Melania. It took him two hours to step into the elevator to confront his wife.
Melania was advised by Trump's aides to appear on TV with her husband. They also encouraged her and Ivanka to speak on how Trump respects women. However, Melania turned down their suggestions.
Trump's friend Thomas Barrack also allegedly called the FLOTUS "stubborn" for not moving with the president to the White House immediately after his inauguration.
"That woman! She will be the end of him," Barrack said.
"She is stubborn. She should be with her husband. He is the president of the United States."
5. FLOTUS' most difficult moment revealed
Although Melania appeared to not care about Trump's cheating allegations, it was reportedly not easy for her. According to Jordan, Melania's most difficult moment was accepting the fact that Trump cheated on her with former porn star Stormy Daniels and ex-Playboy model Karen McDougal. The First Lady was so hurt that she checked into a hotel to "get away from her husband."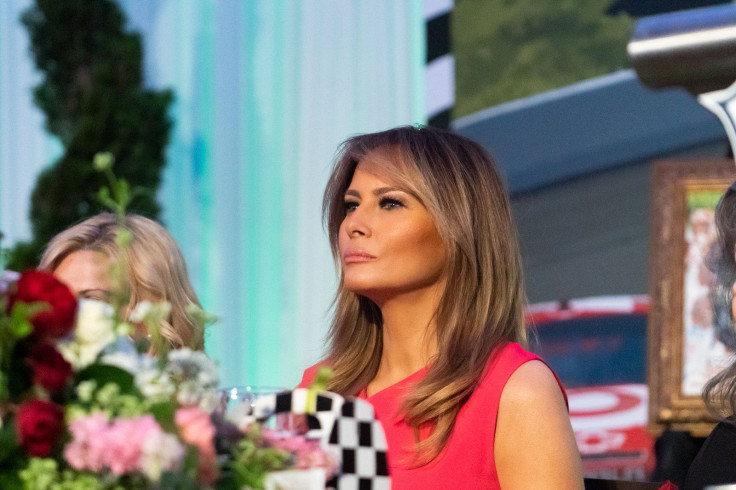 © Copyright IBTimes 2023. All rights reserved.