7 'Game Of Thrones' Characters We'd Like To See Reunite In Season 6 After Jon Snow And Sansa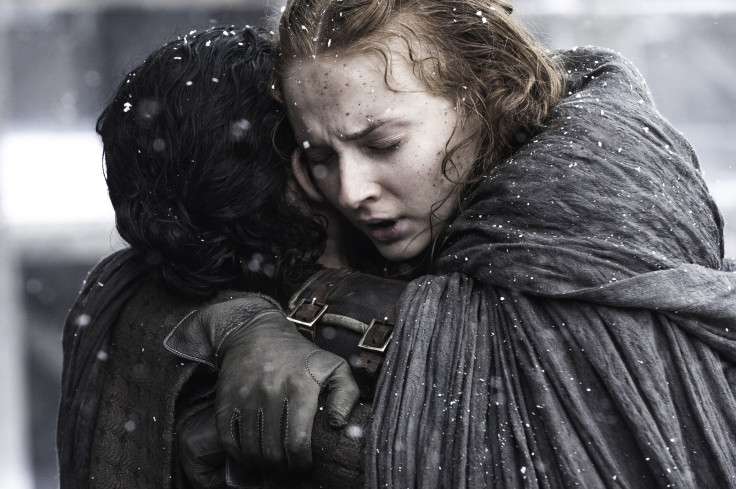 "Game of Thrones" is normally a show that breaks the hearts of its fans, as favorite characters are killed off frequently. However, episode 4 of Season 6 gave viewers a nice moment when long-lost siblings Jon Snow and Sansa Stark were reunited at Castle Black.
When Sansa (Sophie Turner) made her way through the gate, she locked eyes with Jon Snow (Kit Harington) and the two shared a long hug. Sansa went to the Wall to not only go to Snow for protection but to also motivate him to march south and help her take back Winterfell. The two now appear to be ready to go off to battle, and their reconnection has fans hoping to see more characters come back together on the show in the near future. Here are seven reunions we want to see happen on the HBO drama.
1. Arya and Jon Snow
One of the closest bonds between the Starks was the relationship between Jon Snow and Arya Stark (Maisie Williams). Snow was the one who gave Arya her sword, Needle, and she was always the sibling that was nicest to her half-brother. The love is strong between these two, and the show even hinted at it recently when she said she has four brothers, even though only three are fully related to her. Both have become skilled fighters since the show started, and to have them find each other once again would make for great TV.
2. Sandor and Gregor Clegane
The last time we saw Sandor Clegane (Rory McCann), also known as the Hound, he was left for dead, but we didn't actually see him die. The Hound is rumored to return at some point this season, and many would like to see him reunite with his brother Gregor Clegane (Hafþór Júlíus Björnsson), who is now Ser Robert Strong. Gregor is the one who left the Hound scarred, and the latter would love nothing more than to kill his brother. Fans hope to someday see an epic battle between these two characters, and it just might happen if the Hound comes back.
3. Bran and Any Other Stark
Let's be honest. Bran's (Isaac Hempstead Wright) reunification with any one of his brothers and sisters is something most "Game of Thrones" fans want to see happen. Bran last saw his brother Rickon (Art Parkinson) before sending him south so he could continue his journey to find the Three-Eyed Raven. Bran was also close to seeing Jon Snow again, but instead he chose not to see his brother out of fear he wouldn't let him continue on his path. Whether he comes across Sansa, Arya, Jon or Rickon in the future on the show, it will make for another heartwarming moment like the one between Sansa and Jon.
4. Jaime and Tyrion Lannister
While Cersei Lannister (Lena Headey) can't stand Tyrion Lannister (Peter Dinklage), Jaime Lannister (Nikolaj Coster-Waldau) has always had a soft spot for his brother. He showed how much he loves Tyrion when he let him out of King's Landing when Tyrion was going to be executed. If the two do find each other again it will be interesting to see how they reconnect. Would Jaime be angry with Tyrion for murdering their father or would he be happy to see his brother alive and well?
5. Littlefinger and Varys
Two of the biggest wildcard characters on the show are Littlefinger (Aidan Gillen) and Varys (Conleth Hill). You never know what the motives of these characters are, and anytime they share the screen is special. The two have unique conversations with each other as they search for power. Littlefinger and Varys have come a long way since the last time they saw each other, and who knows what opinions they have now about what they've done?
6. Jon and Tyrion
Jon and Tyrion are arguably the two most popular characters on the show. The two bonded in Season 1 after having grown up feeling like rejects. Their meeting was a special moment on the show, and so much has happened to them throughout the seasons. It would be fun for the show to somehow bring these two together again, and maybe they'll fight alongside each other in the wars to come.
7. Sansa and Arya
The last time these two sisters were together they couldn't stand each other. Arya wanted to be a knight, while Sansa couldn't wait to be Joffrey Baratheon's queen. Both siblings have been through hell since and haven't seen each other since Season 1. After all they've been through, the two sisters would likely put their past to the side and would be beyond happy to see each other. However, with Arya becoming "no one" who knows if we'll get to see this.
"Game of Thrones" Season 6 airs Sundays on HBO at 9 p.m. EDT.
© Copyright IBTimes 2023. All rights reserved.