8-Month-Old Florida Baby Dies Inside Hot Car After Father Gets Busy With Work
KEY POINTS
Preliminary investigation revealed the child's father had gone to a residence to do some work
He left the child inside the vehicle and got busy with work
When he returned after an hour, he found the baby girl unresponsive
An 8-month-old baby girl died Tuesday after she was left in a hot car outside a residence in Jacksonville, Florida.
The police and members of the Jacksonville Fire and Rescue Department responded to the scene after receiving a call from Newbury Road about an unresponsive child.
Sgt. Silcox with the Jacksonville Sheriff's Office told local media the child was taken to a hospital, where she was declared dead.
The residence, outside which the car was parked, also acted as a business, Silcox told News4Jax. A preliminary investigation revealed the child's father had parked the car outside the house, and gone inside to do some work. He had left his daughter inside the vehicle for nearly an hour, before remembering the child was in the car. The unidentified man then ran to the vehicle, and got the child out.
"He pulled the child out, began CPR and called 911," Silcox added.
The police have conducted a neighborhood search, and are looking for videos that could help in the probe, Yahoo News reported.
Silcox told local media the car's engine was off at the time of the incident. The Weather Authority estimated the temperatures inside a car at the time of the incident to be approximately 114 degrees after 20 minutes. The temperatures likely could have gone up to 123 degrees after 40 minutes and 128 degrees after an hour, authorities reportedly said.
Jessica Winberry, an injury prevention coordinator at Wolfson Children's Hospital, said hot cars are dangerous, especially for children.
"Small children heat up three to five times faster than adults," Winberry said.
She also gave a tip for parents, suggesting: "Putting a purse in the back or briefcase in the back so it makes a habit to look in the backseat."
Amber Rollins, director of Kids and Car Safety said, "This isn't a failure of love, or a failure of attentiveness to your child. It is something that could happen to anybody."
"It's really impossible to believe that something like this could happen to you. And that is the big concern, because when people believe they're not going to be affected by something, they're not taking steps to prevent it," she added.
Kids and Car Safety reported 28 hot car deaths so far this year across the United States. Rollins said about 39 children die in hot cars in the U.S. on average each year.
"The last couple of years have been what we would call outliers. We've seen a drastic decrease in the number of hot car deaths, and that's directly related to parents who are working from home, less children who are going to daycares, less people making that morning drop-off which is really when a lot of these tragedies occur," she said.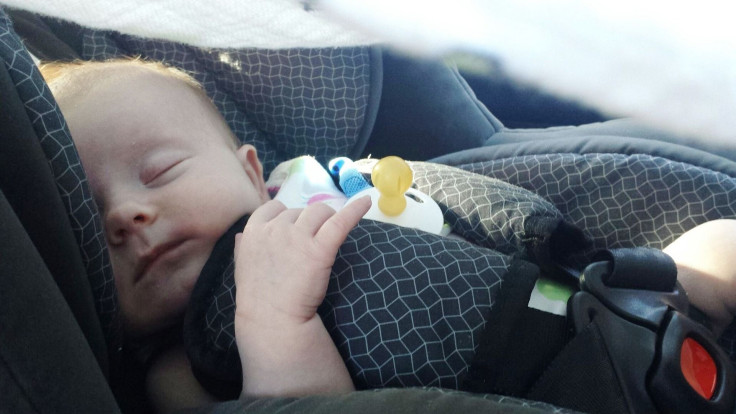 © Copyright IBTimes 2023. All rights reserved.