Aakash and Other Low-Cost BSNL Tablets Dominate Indian Market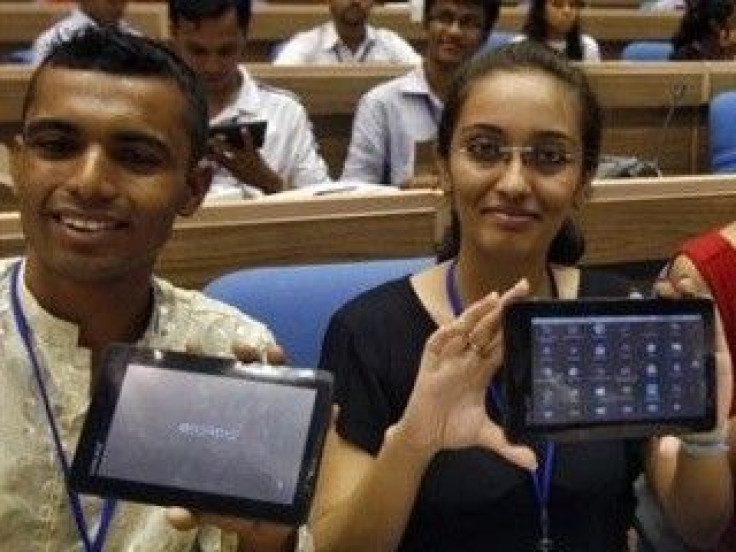 Market for cheap tablets is booming in India. With the launch of Aakash, the $35 tab, and recently released BSNL tablets, the battle of low-cost tabs is getting fiercer in India.
The Bharat Sanchar Nigam Limited (BSNL), India's largest provider of telecommunication services, has recently launched low-cost tablets along with two mid-range tablets in collaboration with the Noida-based Pantel Technologies. All these budget tablets, ranging between Rs 3,499 and Rs 12,500, with the BSNL connection, have got rave reviews and tremendous response from Indian consumers.
Virendra Singh, the managing director of Pantel Technologies informed, We have received more than one lakh pre booking orders over phone and online for the three tablets which we have launched in association with BSNL. Apart from the consumers' interest, we have also got an order for two lakh tablets from Sahara India.
The Aakash tablet, on the other hand, is the first low-cost Android-based Made in India tab that comes with a price tag of $35. Aakash, hailed as an achievement of Indian engineering aiming to end the digital divide in a country where only one in every 10 of its 1.2 billion people have Internet access, was never in competition for Apple or Samsung tab devices. Although the Indian tab, which was aimed at university students for digital learning via a government platform that distributes electronic books and courses, faced initial hiccups in rolling out and received lukewarm response from critics and users, did amazing business since its launch.
Now the success of the world's cheapest tab has made the Indian Ministry of Human Resource Development to soon propose a Cabinet note to obtain a permit for obtaining 5 million Aakash tablets, which will be distributed among college students by the end of this year-- a project that may cost above Rs 1.1 billion. The Indian government is also planning to come out with the next generation Aakash tablet.
Check out the features of the three BSNL Tabs: the Penta TPAD IS7O1R, the Penta TPAD WS704C and the Penta TPAD WS802C and compare them with Aakash.
Display: While the BSNL TPAD IS701R and TPAD WS704C feature a 7-inch resistive and capacitive touchscreen, TPAD WS802C sports an 8-inch capacitive touchscreen. Aakash, on the other hand, features a 7-inch resistive display with 800x480 pixels units.
Processor: While both the IS701R and WS704C come with a 1 GHz processor, WS802C comes with a 1.2 GHz processor. IS701R has 256 MB RAM, WS704C and WS802C pack 512 MB RAM. Aakash, however, packs a Cortex A8, 700 Mhz processor with HD video co-processor with 256MB RAM.
Operating System: All Indian tablets run on Android 2.3 Gingerbread. News of any upgrade of OS is not available for any of these devices.
Storage: The BSNL tablets come with 4GB internal memory that can be expanded up to 32 GB via microSD card while the Aakash tablet comes with 2 GB internal memory, expandable up to 32 GB.
Camera: The BSNL tablets are surefire winners in this feature as even the entry level BSNL tablet IS701R features a basic 0.3 megapixel rear camera and a front VGA camera. The WS704C and WS802C sport a 2 MP rear camera and a 0.3 MP front camera for video calling. Aakash, however, does not come with any camera.
Connectivity: The BSNL tablets come with 3G dongle Wi-fi support, Bluetooth and USB port. Aakash also comes with 3G dongle and supports GPRS and WiFi IEEE 802.11 a/b/g and also has USB version 2.0.
Battery: Reportedly all the BSNL tablets are expected to come with a standard Li-Ion 3000mAh battery, whereas the Aakash battery can work up to 180 minutes without running out of battery.
Price: IS701R costs $66.14, WS704C costs $223.83 and WS802C is priced at $274.73, while Aakash costs only $50 (the latest version).
The delivery of the pre-booked BSNL tablets will start after March 5 and the tablets will hit retail stores and BSNL outlets from March 1. The latest version of Aakash is expected to hit the market in April.
© Copyright IBTimes 2023. All rights reserved.