Aaron Hernandez Arrest Warrant: NFL Player Had History Of Guns And Gangs Prior To Obstruction Of Justice Charge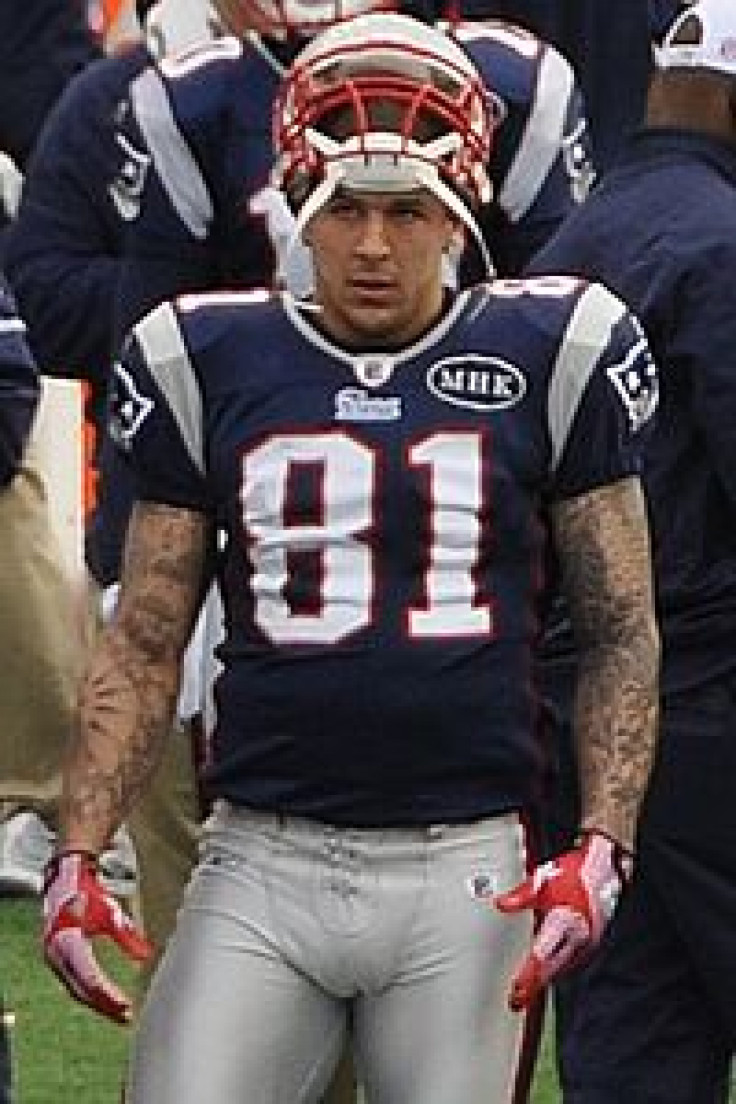 Authorities are still investigating Aaron Hernandez's possible involvement in the death of an acquaintance of the NFL player. On Monday, police searched a pond in Massachusetts near the home of the New England Patriots tight end.
Saturday marked the third time in a week that Hernandez's home was searched in connection with the death of Odin Lloyd, whose body was found in a nearby park five days earlier. Police said Lloyd, who was dating the fiancé of Hernandez, had been shot in the head. Hernandez does not appear to be a murder suspect.
An arrest warrant for Hernandez for obstruction of justice was expected to be issued on Friday, according to ABC News. The report stated that police found Hernandez's home security system destroyed, as well as his cell phone. ABC News also reported that, on the day Lloyd's body was found, Hernandez had his house professionally cleaned.
This isn't the first time the NFL star has been linked to illegal activity. In a civil complaint filed against Hernandez on June 13, Alexander S. Bradley claimed that the tight end shot him in the face with an illegal gun. The acquaintance of Hernandez, who is seeking damages in excess of $100,000, alleged the gun discharged while the two were on their way to Palm Beach from a Miami strip club.
Before Hernandez was drafted by New England in 2010, there were concerns about his off-the-field activities. Sources have told Sports Illustrated that teams had questions about gang activity from some of Hernandez's associates in his hometown of Bristol, Conn. The publication was also told by a law enforcement official that there were worries about the 23-year-old's "circle of influence."
Hernandez's house is a two-hour drive from where he grew up. One of his former teammates told Sports Illustrated that the former Pro Bowler moved to escape the "thug life" that some of his friends has been involved in.
While in school at Florida, Hernandez had gotten himself into some minor trouble. At the Scouting Combine, he admitted to failing a drug test for using marijuana. He reportedly failed several drug tests in college.
© Copyright IBTimes 2023. All rights reserved.