Aaron Hernandez Court Details Update: 4 Of The Former Football Player's Associates Face Charges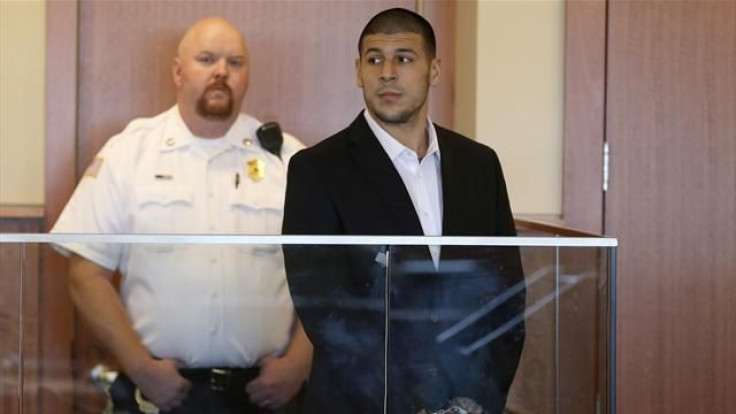 It's been three months since Aaron Hernandez was arrested for the murder of Odin Lloyd. Now, many of the former football player's associates are facing charges of their own in relation to the case.
This past week, Hernandez's girlfriend and cousin were indicted for trying to protect the ex-New England Patriot. His fiancée, Shayanna Jenkins, is facing charges of perjury. Tanya Singleton, the daughter of Hernandez's uncle is being charged with conspiracy to commit accessory after the fact. She had been previously been indicted for criminal contempt after she refused to testify before a grand jury.
Jenkins faces up to 20 years in prison for lying under oath. Her attorney has accused Bristol County prosecutors of trying to coerce her to offer up incriminating evidence against Hernandez by using abusive tactics.
In addition to Hernandez's family members, two of his friends have also been indicted on charges that relate to Lloyd's death. Carlos Ortiz has been indicted for accessory to murder after the fact. The charge, which could land Lloyd in jail for seven years, comes after he plead not guilty to gun charges.
Ortiz is viewed as a key witness in the trial, but his account of what happened on the night of Lloyd's death has changed. Ortiz originally stated that Hernandez and Ernest Wallace, who has been charged with assisting Hernandez in the murder, both left the car when Lloyd was killed. On Thursday, Ortiz claimed only Hernandez was away from the vehicle with Lloyd when he heard gunshots. Ortiz says he didn't see who fired the gun, but Wallace told him it was Hernandez who pulled the trigger.
Wallace remains in jail after facing a charge of accessory to murder. The bail was set at $500,000 for the man that is described as Hernandez's "right hand man." He reportedly slept at Hernandez's home a lot, where maids often saw guns being kept. The firearm that was used to kill Lloyd still has not been found by police.
Hernandez claims he is innocent of the charges. He remains at Bristol County Correctional Center, where he was not granted bail.
© Copyright IBTimes 2023. All rights reserved.