Albino Cyclops Shark: Yup, It's Real! Scientists Say [PHOTO]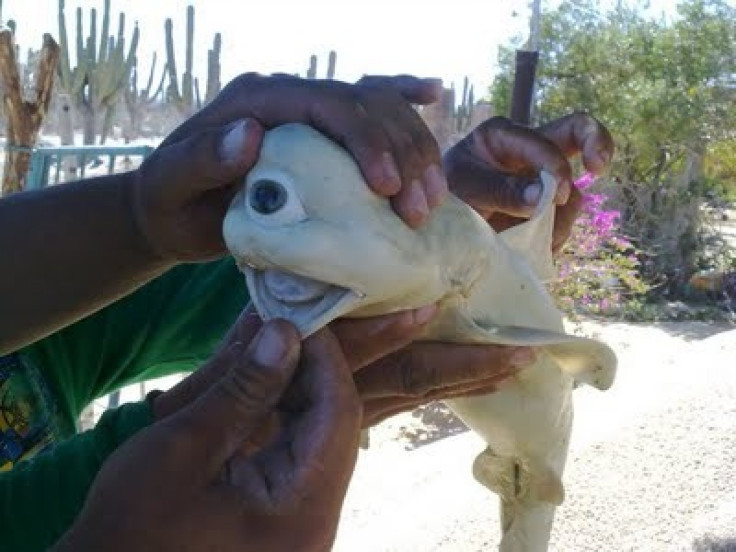 An albino cyclops shark that was found in the belly of its mother during the summer is the real thing and not just some spoof, scientists say.
The Pisces Sportfishing Fleet posted photos of their unusual catch on their blog.
We have had a lot of skeptics telling us that this is a joke, that a 'cabbage patch doll must be missing an eye somewhere' etc but this is real and these new photos seem to prove it, the fishermen wrote in the July 13 blog post.
The little shark has a milky white exterior and a large eye in the middle of its face.
The shark's mother, a Dusky shark, had been caught in the Sea of Cortez, Discovery News reported. The Sea of Cortez is located between the Baja California peninsula and Mexico's mainland.
When the adult Dusky shark was cut open, her fetal albino cyclops shark was found.
Biologists Felipe Galván-Magaña and Marcela Bejarano-Álvarez of Mexico's Centro Interdisciplinario de Ciencias del Mar said that the fetal shark is real and will publish a paper on their research, Discovery News reported.
This is extremely rare, as far as I know less than 50 examples of an abnormality like this have been recorded, Galván told the fishing blog. The water in the Sea of Cortez is one of the cleanest in the world, so it is not likely that this is a factor.
© Copyright IBTimes 2023. All rights reserved.