Aluminum In Nigeria: A Tale Of Corruption, Conglomerates And Cold War Conflicts
ANALYSIS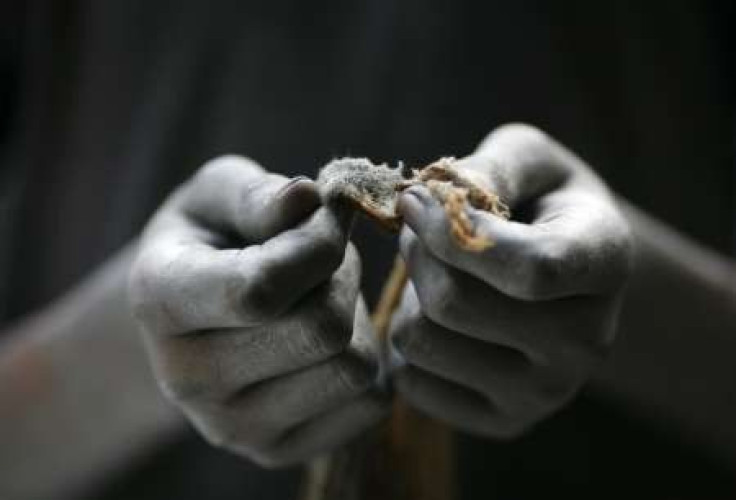 It's common knowledge that aluminum conducts electricity. But who knew it could be such a lightning rod in a global economic showdown, linking Russian and the American interests to a developing country in Africa?
The Nigerian Supreme Court has ruled that the 2007 sale of a Nigerian aluminum enterprise to RUSAL, a Russian conglomerate, was, illegal. Instead, the court declared, The Aluminum Smelter Company of Nigeria (ALSCON) should have gone to the original highest bidder: a U.S. firm called Bancort Financial Investment Group (BFI).
BFI had taken the Bureau of Public Enterprises (BPE), the Nigerian government agency which supervised the privatization of ALSCON, to court eight years ago after RUSAL's $205-million bid was accepted in favor of its own bid of $410 million.
On Friday, Justice John Afolabiyi Fabiyi said that BFI had been wrongfully disqualified.
The decision marks a long-awaited triumph for the U.S. company over its Russian counterpart. It was a protracted battle hearkening back to Cold War-era rivalries, when the United States and the Soviet Union competed for influence in developing countries all over the world.
The United States now stands to gain a bigger piece of the Nigerian aluminum industry.
But Russia will remain well in the lead of the U.S. in terms of global production; in 2010, it produced 3.8 million tons of aluminum, compared to 1.7 million from the United States, according to the U.S. Geological Survey. (Both countries trail far behind China, which had an aluminum output of 16.8 million tons in the same year.)
Mighty Metal
Aluminum is an amazing material. Within the crust of planet Earth, no other metal can be found in greater abundance. It usually bonds with other elements to form compounds -- like bauxite -- since its high chemical reactivity makes it unable to exist alone in nature.
The density of aluminum is extremely low, and it has a high resistance to corrosion. These characteristics make it indispensable to myriad industries, including transportation, construction and aerospace. Today, aluminum is an extremely valuable commodity -- despite the fact that most individual consumers associate it with the crinkly, disposable material commonly used to preserve leftovers for lunch.
So when Russia began privatizing its industries with the collapse of the Soviet Union, bauxite was a big deal. During the 1990s, the so-called aluminum wars broke out as businessmen fought for control oVER smelting and mining operations in Russia and all over the world. Underhanded dealings, mob involvement, and even violence turned the battle into a national drama.
Enter RUSAL, a Russian conglomerate born of the 2000 merger between rising aluminum giants Sibirsky Aluminum and Millhouse Capital, which were run by oligarchs Oleg Deripaska and Roman Abramovich, respectively.
RUSAL went global shortly after its formation, acquiring large shares of equity interest in aluminum-related enterprises in countries as diverse as Ukraine, Australia, Guyana and China. The company purchased majority shares of Nigeria's ALSCON in 2007.
Open Roads, Dead Ends
Meanwhile, Nigeria was going through privatization pains of its own. As in Russia, corruption dogged early efforts to revolutionize various industries.
Nigeria went from military rule to civilian elections in 1999, and thus began its period of economic liberalization. Until then, state-run enterprises had failed to effect sustainable development in the country; official figures held that the approximately $46.6 billion invested into public enterprise in 1996 yielded only about 2 percent in average returns.
In 1999, then-President Olusegun Obasanjo oversaw the foundation of the National Council on Privatization, with an administrative wing called the Bureau of Public Enterprises.
But since then, privatization has not been a smooth process.
The telecommunications industry, for instance, was brought to the market in 2001 with the attempted auction of state-owned Nitel, a major fixed-line and mobile provider -- there were no buyers, and a guided liquidation is now in order. The airline industry was liberalized in 1999, but cupidity and lax safety protocols have led to several fatal passenger plane accidents over the past several years. As for electricity, in 2005 the ineffectual state-owned power company was replaced by an equally crooked monopoly; today, most Nigerians are forced to get the bulk of their power from independently-owned generators.
Privatization hasn't done much to increase governmental transparency, either. The country's crude oil revenues, which have helped the sub-Saharan country achieve an impressive GDP of about $250 billion, have not resulted in developmental progress. It is no secret that a select few Nigerians -- those at the upper levels of politics and finance -- enjoy opulent lifestyles, even while poverty plagues the general population. A full 94 percent of Nigerians believe that the government is pervasively corrupt.
And with last week's court ruling against the BPE, word is out that the liberalization of aluminum may have also involved some shady dealings.
The Lowest Bidder
It was 1997 when ALSCON was launched by Nigeria in the town of Ikot Abasi, not far from the southern coast. Primarily an aluminum smelter, the facilities also include a gas-fired power station and a port in the nearby Imo River.
Privatization efforts had the then-struggling company up for auction in 2004. The highest bid came from BFI, which was headed up by Reuben Jaja, a Nigerian-American. Compared to RUSAL's bid, BFI offered double the amount of money for the rights to run the struggling company.
It was the clear preferred bidder, but the BPE disqualified BFI's claim for hazy reasons.
In 2007, RUSAL formally purchased a majority stake of 75 percent. A later acquisition brought its share up to 85 percent, where it stands today. The smelting facility has an annual capacity of 120,000 tons, which helps RUSAL to maintain its position as the world's leading aluminum-producing company.
Meanwhile, Jaja charged that BPE's disqualification of his bid was illegal. BFI took the bureau to court -- first the federal high court, which ruled against BFI, and then the appeals court. Finally, on Friday, Nigeria's Supreme Court decided in BFI's favor.
RUSAL reacted with a shrug. [The] ruling of Nigeria's supreme court neither does change, nor can change the owner of ALSCON shares belonging to... RUSAL, said a company spokesperson to Reuters on Monday.
This litigation relates to claims of BFI Group to BPE of Nigeria, which means that it's Nigerian government to bear responsibility for such ruling and that it cannot have effect on RUSAL's ownership of ALSCON shares.
But there may not be much that RUSAL can do to retain their stake in the company, as BPE has already pledged to abide by the court's ruling. And in any case, the Russian conglomeration has bigger fish to fry; its chief executive Oleg Deripaska is being charged by a former alleged business partner who claims he was cheated years ago. Pending a ruling from the High Court in London, RUSAL stands to lose 13.2 percent of its assets.
It looks like BFI may finally reap the rewards of its winning bid, which is in line with an overwhelming trend: The United States has been Nigeria's largest foreign investor for years.
Today, those investment dollars are concentrated in oil, mining, and wholesale trade. Aluminum may become the next Nigerian industry in which the United States plays a strong role.
FOR FREE to continue reading
✔️ Unlock the full content of International Business Times UK for free
offer available for a limited time only
✔️ Easily manage your Newsletters subscriptions and save your favourite articles
✔️ No payment method required
Already have an account? Log in
© Copyright IBTimes 2023. All rights reserved.