American Express 4Q Beats Analysts Consensus Expectations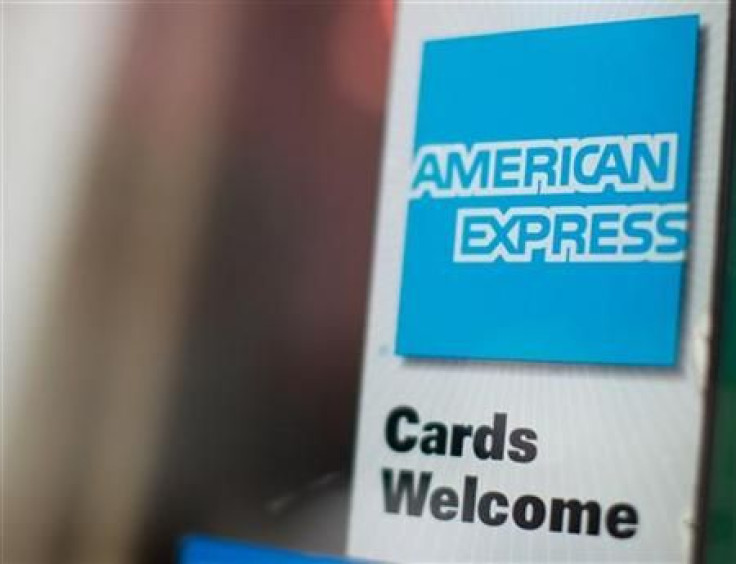 (REUTERS) -- American Express Co reported a quarterly profit that topped expectations, as cardholders spent more and expense growth slowed.
The New York-based company with 97.4 million outstanding cards at the end of the quarter, said on average, American Express cardholders spent more than they did last year. Average spending per card rose 8 percent to $3,933.
Consumer spending, once a key pillar of the U.S. economy, remains lacklustre but consumer sentiment hit an eight-month high in early January as Americans grew more optimistic about job prospects, a survey released last week showed.
"Cardmembers spent a record amount on their American Express cards," Chief Executive Kenneth Chenault said. "Billed business rose 11 percent, showing broad-based improvements from the strong levels of a year ago."
For the fourth quarter, net income was $1.19 billion, or $1.01 a share, compared with $1.06 billion, or 88 cents a share, last year.
Total revenue, net of interest expense, was $7.74 billion, up 7 percent. Expenses totaled $5.6 billion, up 1 percent.
Analysts expected the company to earn 98 cents a share, on revenue of $7.92 billion, according to Thomson Reuters I/B/E/S.
American Express which has been reporting the lowest rates of late payments and defaults among major credit card issuers largely due to its affluent client base, set aside $409 million for bad loans in the quarter, up 71 percent from a year ago.
Share of the company closed at $50.95 Thursday on the New York Stock Exchange.
© Copyright Thomson Reuters 2023. All rights reserved.