Analysis: What Killed Yellow Corp.?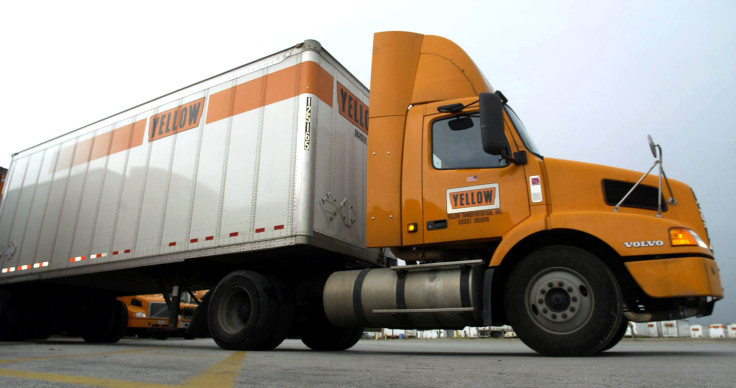 The demise of Yellow Corp. should not be interpreted as a sign of weakness in the overall U.S. economy; rather, it is indicative of the lengthy decline of one of the nation's largest truckers.
Yellow (NASDAQ: YELL), formerly known as YRC Worldwide Inc., announced on Sunday night that it is declaring bankruptcy and seeking Chapter 11 protection. The company, which employed about 30,000 people, has been facing financial challenges.
In a press release on Sunday, CEO Darren Hawkins blamed the International Brotherhood of Teamsters for the company's demise. In response, the Teamsters issued a press release on Monday, saying the management of the company had no one to blame but themselves.
In an interview with International Business Times, Bruce Chan, director of transportation and logistics equity research at Stifel Financial Corp. (NYSE: SF), said the failure of the third-largest less-than-truckload carrier and the loss of about 30,000 jobs should not been seen as a sign of weakness for the US economy. Instead, he said, most of Yellow's struggles originate from what he called an ill-conceived and poorly executed merger.
Jack Atkins, an analyst with Stephens Inc., also acknowledged that Yellow's decline had been a long time in the making. In an interview, he said there is no simple explanation of who to blame and he can understand the arguments made by both the Teamsters and Yellow management.
In 2003, under the leadership of then CEO William Zollars, Yellow acquired Roadway Corp. for $1.05 billion to form Yellow Roadway Corp. or YRC. In 2005, the company purchased USF Corp. for $1.5 billion and purchased assets in China. In 2006, it renamed itself YRC Worldwide Inc.
Atkins said the debt-financed transactions, and the failure to integrate the operations of the new companies with the old one, put the leadership of the company in a spot it could never recover from.
"They put too much debt on top of the company," Atkins said. "It forced the leadership of the company ... to choose between suboptimal choices this entire time."
That merger, Chan said, placed Yellow in a tough spot ahead of the global financial crisis and then a price war in the transportation industry. All of which, he said, led to consistently underinvesting in the business. This caused deficient service relative to the rest of the market, which prevented Yellow from pricing competitively with the rest of the market.
"Up until a few days ago, (Yellow) in our estimate (was) still 20% to 30% below average market pricing and that's not by desire or intention, its because of the level of service that's all they were really able to command," Chan told IBT. "That's problematic, because if you can't price appropriately, if you can't price to your cost of capital, you can't reinvest in the business you're going to be stuck in this essentially endless loop of poor performance, poor service, poor pricing and underinvestment."
Chan agreed that no one party gets all the blame for Yellow's collapse but Zollars and his management team deserve some credit because his merger destroyed the company's core competitive advantages and the shareholder's value.
According to Chan, subsequent administrations also bear responsibility for the situation after Zollars. He noted that these administrations failed to effectively implement multiple changes aimed at integrating the acquired companies under Yellow's leadership. Moreover, they didn't effectively work with the union nor did they anticipate a change in rhetoric and leadership style that would be brought on by Teamsters General Secretary Sean O'Brien.
Atkins told IBT the downfall of Yellow was a long time coming but happened relatively quickly. In May, the company said that it was advancing in its efforts to execute a turnaround through the implementation of its One Yellow plan, which, in his opinion, had the potential to succeed. Then, in June and July, Yellow said it was running out of cash and couldn't make a deal with the Teamsters that would allow it to get another loan. Next, news emerged Yellow had lost up to 80% of its business and that it would soon be liquidating.
In 2020, the company received a $700 million loan from the federal government under a federal coronavirus pandemic relief program placed the company under partial ownership by U.S. taxpayers. In 2021 and 2022, Chan said, Yellow was doing relatively well in what was a peak earnings environment for the transportation industry. Nevertheless, the age of its fleet and its debt servicing kept it from keeping up with its competitors.
Chan said he did not blame the Teamsters for saying enough is enough. The union made repeated concessions to the company in the past which they were told would be temporary when Yellow got back in order. The company never made good on those promises. Management, he said, should have worked better with its union and Teamsters leadership.
As for what comes next, both Atkins and Chan closed the door on Yellow somehow getting back into business. While Chapter 11 bankruptcy is not an outright liquidation event like Chapter 7 bankruptcy, Yellow will only exist as a skeleton operation selling what it has of value to satisfy its creditors.
Chan said there is "almost no chance" of a revival as Yellow already closed shop and it would take a tremendous amount of energy, and money, to get it back open and running again.
Atkins and Chan said other truckers will stand to gain as Yellow was one of the largest companies. Atkins told IBT the move will further consolidate the trucking industry. Chan said it will be a "windfall" for others in the LTL space where everyone picks up more freight and can incrementally raise their prices.
Neither Chan nor Atkins were concerned with U.S. taxpayers losing out on the $700 million loan, which gave the US Department of the Treasury an about 30% ownership stake in the company. Chan said the treasury should be made whole as Yellow sells off its real estate — which still retains good value — and its other assets.
"I think there's a temptation to look at a major trucking bankruptcy, especially in a freight trough as a sign that economic conditions are deteriorating but I want to be very clear that this is very much company specific," Chan said. "This is something that has been 20 years coming. It's not an indication that the sky is falling and that we should be concerned about the underlying economy."
© Copyright IBTimes 2023. All rights reserved.