Anna Duggar Speaks About Josh Duggar's 'Betrayal' In 'Jill And Jessa: Counting On' Sneak-Peek Video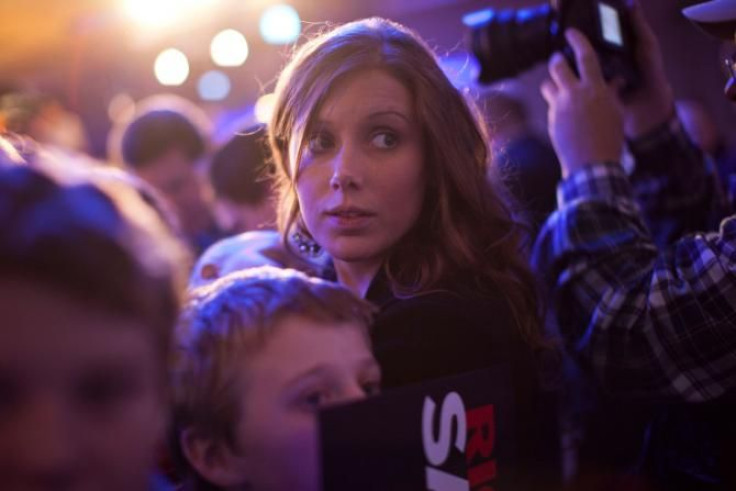 The Duggars have returned to TLC, but they aren't avoiding the past. Though "Jill And Jessa: Counting On" focuses on Jill Dillard and Jessa Seewald, the rest of the former "19 Kids and Counting" cast also makes appearances. They acknowledge Josh Duggar's recent scandals, and in Sunday's episode, his wife Anna Duggar will speak out. A sneak-peek video shows her emotional interview.
Anna, who shares four children with Josh, tells the cameras about the pain Josh caused. "I think it is such a betrayal for a spouse to go through what we're walking through," she says.
It was reported that Josh had an account on Ashley Madison, a website for married people to have affairs. He admitted to being unfaithful and having a porn addiction, and he wrote an apology before he checked into a long-term treatment program.
"Not only was it a betrayal against me, but it was a betrayal for those that call themselves Christians because here we were as a Christian couple," Anna explains in the clip. "Everyone was able to see us get married and to vow before God to be loyal to each other and that loyalty was broken."
Anna also notes that she turned to God for help. "So for my heart it was just like, 'How could this happen in our marriage?' Josh is my first love. He is my one and only. But I knew that my only hope was to cling to my faith because I know that if I went off of what I was feeling, I would turn a mess into a disaster."
The Duggar family supports Anna, and sister-in-law Jinger Duggar makes that clear. "Anna is amazing," Jinger adds. "She displays to each one of us what it means to have unconditional love."
Watch the clip from "Jill And Jessa: Counting On" episode 2 below:
The first episode of the three-part special also addressed Josh's scandal. Jessa and Jill both admitted that they shouldn't have defended Josh from criticism after it was first revealed that he molested several young girls when he was a teenager.
"Jill And Jessa: Counting On" airs Sunday at 9 p.m. EST on TLC.
© Copyright IBTimes 2023. All rights reserved.