Anonymous Group LulzFinancial Hacks Westboro Baptist Church Over Powell Funeral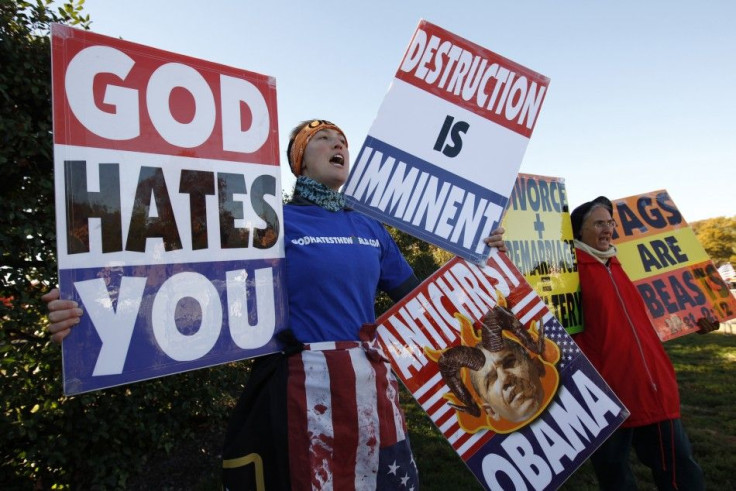 An off-shoot of hacktivist group Anonymous went after Westboro Baptist Church on Thursday after the controversial congregation announced that it would picket the funeral of Charlie and Braden Powell, the two boys murdered by father Josh Powell earlier this week.
Westboro Baptist Church claimed that the two boys' deaths were God's punishment for Washington state's new law legalizing same-sex marriage, a claim that prompted the Anonymous-affiliated group not only to hack the organization's main web sites but to release the personal contact information of the church's members.
'This is why God's cursed you'
Westboro will picket the funerals of the Powell boys, Sa. 2/11 12:15p, to remind @GovGregoire they died because of her rebellion, Margie J. Phelps, the daughter of Pastor Fred Phelps, tweeted on Wednesday.
This is why God's cursed you w Josh Powells blowing up kids.
The Westboro Baptist Church is notorious for picketing funerals, as well as for preaching a gospel that emphasizes homophobia (picketers often carry signs emblazoned with the words God Hates Fags) and a vengeful God.
Occupy Seattle has already announced its intention to stage a counter-protest if Westboro members show up at the funeral.
Introducing LulzFinancial
For LulzFinancial, a new crew of hackers associated with Anonymous, Margie Phelps' tweets were too much to take in the wake of the Josh Powell murders.
LulzFinancial had already made their mark as a part of the loose collection of hacktivists known as Anonymous earlier in the week. On Monday, they hacked into 78 email accounts at the Syrian Ministry of Presidential Affairs.
The group released hundreds of emails from Syrian President Bashar Assad's offices, including messages from Minister of Presidential Affairs Mansour Fadlallah Azzam and Assad's media adviser, Bouthaina Shaaban.
On Tuesday, the Anonymous off-branch hacked WBC site godhatesfags.com, as well as leaking information about alleged members of Stormfront, a neo-Nazi hate group.
Taking Down Westboro Baptist Church
But on Thursday, Westboro Baptist Church became LulsFinancial's primary target, and the hackers in charge of taking it down held nothing back.
According to The Examiner, the church's two most frequented web sites, godhatesfags.com and godhatesamerica.com, were both unavailable for several hours on Thursday. Spotty connections continued until Friday morning. Both sites are now running again.
But Anonymous hackivists didn't stop there. All Westboro Baptist Church members in the system have allegedly been doxed, with their personal information, including home addresses and phone numbers, posted on Pastebin.
'We are the final boss of the Internet.'
The Westboro Baptist Church has yet to release a statement regarding the LulzFinancial hack, although Margie Phelps has posted a tweet alluding to the Josh Powell case that seems to indict the church will no longer be protesting at the Powell boys' funeral.
Listen to @WBCFredJr @bobbydshow at 7:30PT (9:30CT) tell why Powell boys died for same-sex marriage, Phelps tweeted on Friday. Live radio in lieu of picket!
The LulzFinancial web site has also offered a statement of sorts on its motives for the Westboro and Syrian hacks in its FAQ page.
We wish to expose the fraudulent and humble the arrogant among us, the site reads.
We like to consider ourselves hacktivists. We want you to acknowledge that we are the final boss of the Internet.
FOLLOW MORE IBT NEWS ON THE BELOW CHANNELS