Anti-Semitism At Very High Levels In Europe: ADL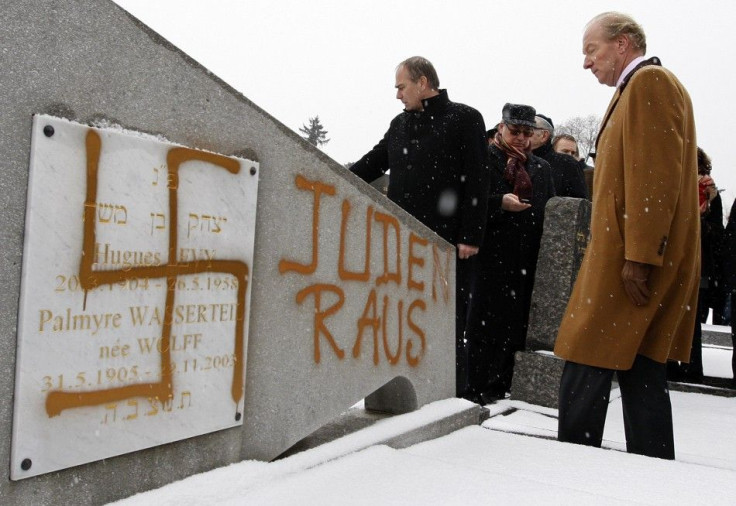 In the wake of the massacre of four Jews in Toulouse in the south of France, the Anti-Defamation League released a report Tuesday indicating that anti-Semitism is at disturbingly high levels across Europe.
According to a poll taken in 10 European nations, the ADL found that many non-Jews adhere to classic anti-Semitic canards of Jews having too much political influence, too much financial power, maintaining too much loyalty to Israel and of "talking too much" about the Nazi Holocaust.
The survey suggests that almost one-third of Europeans surveyed hold strong anti-Semitic prejudices.
The ADL said its study was conducted in January in Austria, France, Germany, Hungary, Italy, the Netherlands, Norway, Poland, Spain and the United Kingdom.
The survey is disturbing by the fact that anti-Semitism remains at high levels across the continent and infects many Europeans at a much higher level than we see here in the United States, said Abraham H. Foxman, the ADL's national director, in a statement.
In Hungary, Spain and Poland, the numbers for anti-Semitic attitudes are literally off the charts and demand a serious response from political, civic and religious leaders.
Indeed, the ADL survey indicates that 63 percent of Hungarians, 48 percent of Poles and 53 percent of Spaniards are anti-Semitic. All three countries have notorious histories of persecuting Jews.
In France itself, ADL said, almost one-fourth (24 percent) of the non-Jewish population hold anti-Semitic views, up from 20 percent in the previous ADL poll taken in 2009.
In addition, 45 percent of French respondents think Jews are more loyal to Israel than to this country; 35 percent believe Jews have too much power in the business world; and 24 percent say that Jews still talk too much about what happened to them during the Holocaust."
Foxman said of France: You have a volatile mix. France has seen an increase in the level of anti-Semitism. At the same time, more people today believe that violence directed against European Jews is fueled by anti-Jewish attitudes as opposed to anti-Israel sentiment. Those increases are all the more disturbing in light of the shooting attack at the Jewish school in Toulouse.
Levels of anti-Semitism in Germany, Austria and Britain are relatively low -- at about 20 percent in each country.
© Copyright IBTimes 2023. All rights reserved.