Apple Inc. Grows In India: iPhone Fever Spreads On Subcontinent Among Middle Class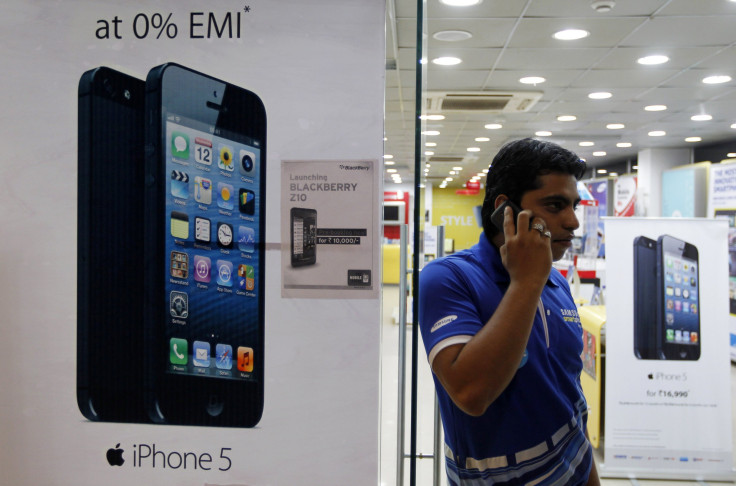 Last Christmas, 39-year-old Bangalore entrepreneur Sreekanth Sastry did what would have been unthinkable just a few years ago for most Indians: He walked into a mall on a whim and snapped up an iPhone 6 for nine monthly installments of approximately 6,000 rupees each (about $97).
For his purchase he was rewarded with a cash-back offer and a Bluetooth speaker. The phone was for his wife, a digital marketer switching from her Nokia, and he is himself using an iPhone 5s.
That contrasts with 2008 when the first iPhone hit the subcontinent. Back then, Sastry did not think he could afford an iPhone, much less an iPhone as a gift. But he knew he wanted one. "When I walked in and saw it, for me, it was a 'wow moment,' " Sastry recalled.
Apple is still a niche player in India, with less than 2 percent of the smartphone market. The company's experience in China showed how fast a market can flip to Apple, the most powerful lifestyle brand in tech. Before iPhone 6, the consensus was that Apple would never win in China because the phones were too expensive and not much better than cheaper competition.
But that turned out to be totally wrong: The Chinese did not want iPhone 4 or 5s; they wanted the iPhone 6 no matter what the cost. Today the iPhone 6 is the top-selling smartphone in China.
In Apple's second big attempt to win over India, it is making inroads thanks to a growing middle class, carrier subsidies and an increasing desire among Indians to own the world's most powerful tech brand. "Apple products have great future in India market," said Karan Thakkar, a senior market analyst at IDC.
In Apple's first foray into India, there were no carrier subsidies. But now Vodafone stores are requiring zero down payment and bundling the handset with full-fledged phone and data plans that cost as little as 3,600 rupees a month ($58). At that price, many more among India's upper middle class are likely to be tempted. "Channel sales via telecom operators were not so successful to date in India," Thakkar said. "However, the Apple-Vodafone tie-up is shaping well, given the price point of the product."
Small Market Share
The consensus in India is that while many people wanted an iPhone, and while a few lucky ones like Sastry could afford one, most balked at the price in a market where carriers don't subsidize handsets. At about 54,000 rupees ($872), the cost of a 16GB iPhone 6 is easily more than a month's salary for most middle-class Indians.
India had about 50 million people in what consultancy EY called the "Global Middle Class" category in 2013, which it defines as people earning between $10 and $100 a day -- about 5 percent of the country's population. China had three times as many, EY estimated, in a report titled "Hitting the Sweet Spot" that was released in April 2013.
By 2030 around 1 billion people in China could be middle class – as much as 70 percent of its projected population. EY estimates India's global middle class will grow steadily to hit 200 million by 2020, and accelerate thereafter to touch 475 million people by 2030. India will add more people to the global middle class than China after 2027, EY said in the report.
IDC estimated 107.5 million smartphones were sold in China in Q4 of 2014. That is more than five times as many as in India.
First iPhone
Cities such as Bangalore, Mumbai and New Delhi are where India's upper middle class are concentrated, and even more so when it comes to mid- to senior-level professionals and executives, who wouldn't mind paying the steep cost of an iPhone 6.
In 2008, Sastry ultimately did spend 36,000 rupees (about $715) on his first iPhone. Since then, his family has added iPads, MacBooks and an assortment of earlier makes of the iPhone that are trickling down the line to nieces and nephews. "It's an emotional connect that no other phone will do for me," he said.
In 2008, Sastry's iPhone 3G was probably one of only about 5,000 handsets that were sold across India between Vodafone and Bharti Airtel in the first month they were available. That was then. In the last three months of 2014, Apple sold more than half a million iPhones in India, after hitting the million-units-a-year milestone for the first time in the 12 months ended Sept. 30, according to Hong Kong-based Counterpoint Technology Market Research.
Overall, about 64.3 million mobile phones were sold in the three months ended Dec. 31, 2014, IDC estimated. Smartphones accounted for about 35 percent of these. While the total number actually dipped from the previous quarter as well as from the year-earlier period, this seemed to be more from a fall in sales of feature phones.
Apple shipments have more than doubled in Q4 2014 over Q3 2014, Thakkar said, adding that for Apple, Q4 is usually the best quarter as the company launches new products around that time.
At the current rate of growth, sustained by the expansion in distribution and attractive financing schemes, it's not inconceivable that Apple next year will join the top five handset makers -- Samsung Electronics Co. Ltd., Micromax Informatics Ltd., Intex Technologies India Ltd., Lava International Ltd. and Xiaomi Inc.
Trains, iPhones
Trains are synonymous with India's middle class, with about 12,600 trains carrying some 23 million passengers every day over 40,660 miles. iPhone-toting commuters and inter-city travelers on Indian trains becoming commonplace is a clear sign that Apple is finally making serious headway in the market.
"Not long ago, one only saw some Indians at airports carrying iPhones, but the other day I was dropping someone off at a railway station and there were so many people carrying iPhones," said one executive who asked not to be named.
Xiaomi's Mi series phones might have caught the imagination of the youth, with their higher-end features for midlevel prices, but most Indians still agree that Apple remains in its own league for the sophistication it is perceived to lend to an owner.
When Vishal Sikka, CEO of Infosys Ltd., India's best known software services company, chose to reward 3,000 top performers with a memorable gift for the new year, he had the company send each of them an iPhone 6, Times of India reported in January.
© Copyright IBTimes 2023. All rights reserved.
FOLLOW MORE IBT NEWS ON THE BELOW CHANNELS