Apple Leaks Next iPod Nano: Photos Reveal Return of the Camera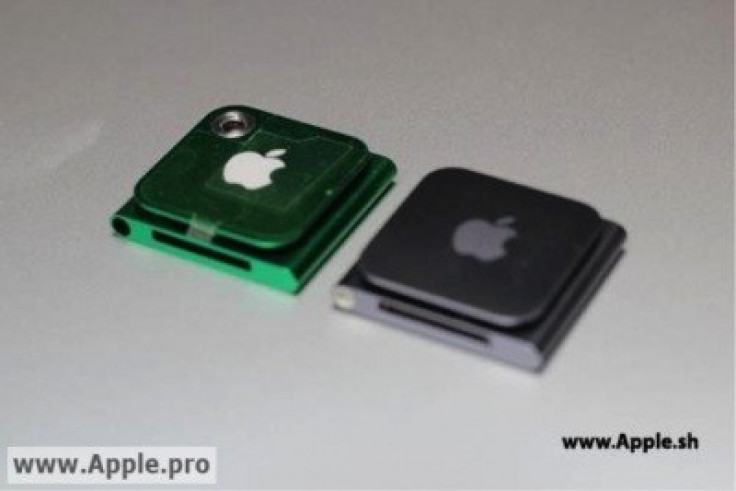 Apple's seventh-generation iPod Nano will come with a built-in camera, if the photos from Taiwanese site Apple.pro are accurate. In April 2011, the site released similar photos of an iPod Nano prototype with a camera hole, but hype officially ramped up in November, when the U.S. Patent and Trademark Office granted an Apple patent for an iPod Nano with a giant hole in its back.
The iPod Nano only measures 1.48 inches tall, 1.61 inches wide and 0.35 inches deep, so it would be incredible if Apple were able to get a fully functional camera inside a device smaller than one cubic inch. The design for the new iPod Nano has the same dimensions as its predecessor, but reportedly carries a 1.3-megapixel camera.
Photos of the iPod Nano prototype feature the camera lens on the upper right corner of the device. One would assume that the iPod Nano's 1.54-inch color TFT multitouch display, which currently features a 240 x 240 pixel resolution, will also double as the camera's viewfinder. If Apple releases a camera-equipped iPod Nano in the future, there's a great possibility that its pixel resolution will double that of its predecessor for the sake of high-quality photos.
The photos also show the iPod Nano prototype without its clip, which explains how Apple could fit an entire camera inside such a small device. The lens and the camera's sensor hardware use a small portion of the gap between the clip and the iPod itself, and the camera's infrastructure is built into and along the clip's hinge so it won't break when you squeeze the clip open.
In late 2009, Apple included a video camera and microphone in its fifth-generation iPod Nano, but the camera filmed in low-resolution, and it only filmed videos. The feature was scrapped in the sixth generation iPod Nano, which resembles the iPod Shuffle's clip design, but it looks like Apple hadn't given up on cameras inside tiny iPods, but it was waiting for the technology to get better and cheaper.
In September, reports said Apple would ditch the iPod Classic and iPod Shuffle, leaving the iPod Nano and the iPod Touch as the only two Apple-made digital music players. Unfortunately, iPod sales have perpetually dwindled since the introduction of the iPhone in 2007. In the first fiscal quarter of 2012, Apple sold 15.4 million iPods, a decline of 21 percent from the same quarter a year ago.
© Copyright IBTimes 2023. All rights reserved.