Apple MacBook Pro 2012 Release: From May Or June Release Rumors To Top Speculated Features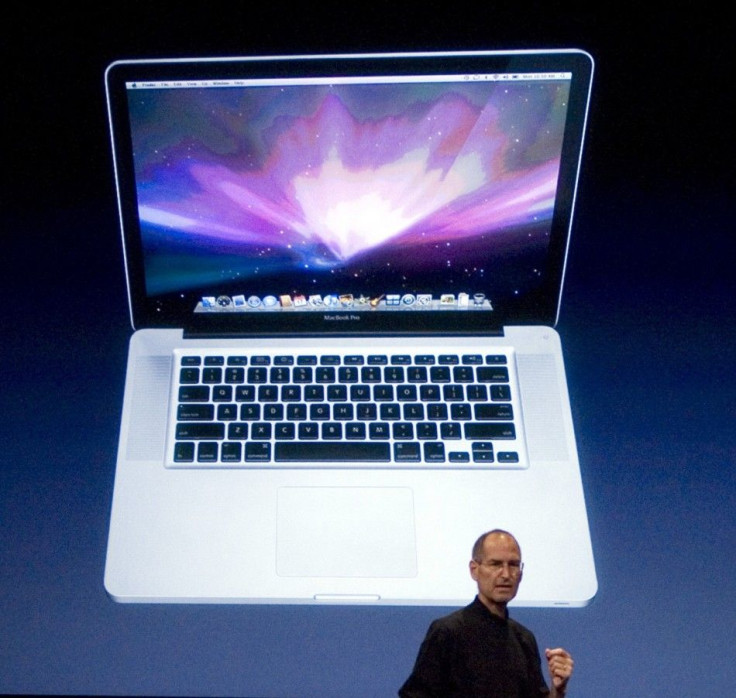 Apple always manages successfully to create suspense and anticipation among fans. This time too, the Cupertino tech giant has generated enough rumors around all its devices, which can possibly be released by the end of this year. The probable device list includes some heavyweights like the next generation iPhone (popularly known as the iPhone 5), iOS 6, iTunes 11 and so on. The latest additions to the list are MacBook Pro laptops.
There are speculations that the MacBook Pro 2012 release date could be very close and Apple is expected to give a complete makeover to its latest portable computer. The current version of the MacBook Pro hit stores in October 2011 and features Sandy Bridge chips and Thunderbolt port.
Rumors about the features of the new line of MacBook Pros are already flying high in the market. But we have received information only in bits and pieces till date. Here is a comprehensive list of highly expected features of the latest Apple device.
Speculated Features For MacBook Pro 2012
Slim but not so light Pro: The 15-inch Pro (the 13-inch and 17-inch models will launch following the 15-inch before the year is up) will be lighter than its previous models but not as light as MacBook Air, rumors suggest. But it is also expected to feature super-slim wedge profile similar to the MacBook Air. Exact measurement, however, has not been revealed but you can expect a super slim and light MacBook Pro.
Intel Ivy Bridge processor: Walt Mossberg, one of the most famous Apple insiders from the Wall Street Journal and an old friend of the late Steve Jobs, reported that Intel, whose processors are used by most Windows PC makers and Apple, is launching its new family of chips, the Ivy Bridge, which the chip maker claims will offer much faster graphics performance without sacrificing battery life.
This new breed of Intel chips will be available in the market on April 23 and April 29, reports CNET.
The 15-inch version of the Pro will get Intel's Core i5 and Core i7 Ivy Bridge chipset, while the medium version currently features only Core i7 chips, say sources. The machines could also feature 2.7GHz Intel Core i7-3820QM with Intel HD 4000 graphics boosting the graphics power and multimedia processing by about 65 percent over previous Intel chips. The devices can have Turbo Boost speeds up to 3.7GHz indicate reports.
Apple has also reportedly been considering using integrated graphics only in some of its mid-range MacBook Pro models, with the HD 4000 chip making it feasible for the company to drop the dedicated graphics chip on some of those models while still being able to offer acceptable graphics performance, says MacRumors' Eric Slivka.
Moreover, Ivy Bridge is also the first chip developed by Intel to employ 3D transistors and will support the newest USB version 3.0.
New Thunderbolt Connector: VR-Zone has recently reported that Intel has shipped its second-gen Thunderbolt controllers, codenamed Cactus Ridge, and Apple lovers can expect to see the new Thunderbolt to be released alongside the new MacBook Pro line-up.
According to the VR-Zone report, Intel is going to offer different controllers: the 12x12mm DSL3310 and DSL3510.
While DSL3310 offers two lanes worth of PCI Express bandwidth and draws 2.1W, DSL3510 offers four PCI Express lanes, draws 2.8W.
The Thunderbolt, introduced just over a year ago, was co-developed by Apple and Intel. It is a high-speed connector technology that transfers data among computers and with peripherals. This technology can be considered a faster alternative to USB 3.0, with transfer speeds of up to 10Gbps.
Retina Display: After Apple's resolutionary New iPad, iPhone 5 or MacBook Pro, all are expected to sport the same Retina display with the revolutionary 2048 x 1536 screen resolution with 3.1 million pixel color support.
A Retina Display is one of the most probable features in Mac computers and Mac's OS Mountain Lion already drops a few clues through its use of HiDPI Retina images.
The new MacBook Pro is also expected to get Retina Display with better anti-glare protection, but to enhance the display quality Apple has to compromise the ultra-thin and light qualities of the device.
A laptop with a Retina Display requires a bigger battery to run the display, which would make the case thicker and larger than the MacBook Air.
DigiTimes reported that While the prevailing MacBook models have displays with resolutions ranging from 1680 x 1050 to 1280 x 800, the ultra-high resolution for the new MacBook Pro will further differentiate Apple's products from other brands.
While this report confirms Apple's move to HiDPI, other few sources have mentioned that Apple is very much into increasing the screen resolution of the Pro but Retina display may not be on cards.
Full-surface Trackpad: One of the highly likely features of the MacBook Pro 2012 is its full-surface trackpad. Apple already has won patents for full-surface trackpad, including accidental touching by the finger and the ability to distinguish between a palm and a finger.
Surround Sound System: Patently Apple has reported that Apple is working on a surround sound system for MacBook-like devices. The sound system will contain an audio transducer, including a magnetic coil, and a magnet in communication with the coil and will provide a near full range response frequency resulting in both low- and mid-range frequencies.
A Complete Overhaul Planned for MacBook Pro: Why Is It Needed?
Apple launched the MacBook Pro line in January 2006. Since then, the Cupertino-based company has never brought any major overhaul to the product. It was only four years ago that the company did design touchup for the MacBook Pro.
Therefore, some major changes in the design and functionality were due for the Pro. Some news sources had also reported that Apple was trying to bridge the gap between its MacBook Pros and lightweight MacBook Airs to a significant level with the new upgrade.
Possible Release Date
While there are some reasons why Apple could release a new lineup of MacBook Pro laptops as early as May, many believe that the laptops will be launched in June at the Worldwide Developer's Conference in San Francisco.
According to reports obtained by 9to5Mac, the next generation Intel chips will launch on April 23 and the new refurbished MacBook Pro line will be unveiled soon after. Several authorized resellers, including Best Buy's online store, are also reporting that the 15-inch MacBook Pro is out of stock, which indicates that the company might process the release of the Pro as fast as possible.
Meanwhile,The Economic Daily Times of China has reported that the new MacBook Pro is currently under production at Foxconn and Quanta Computer and will be shipped in June.
© Copyright IBTimes 2023. All rights reserved.