Are Striking Actors And Writers Gaining The Advantage Over Hollywood?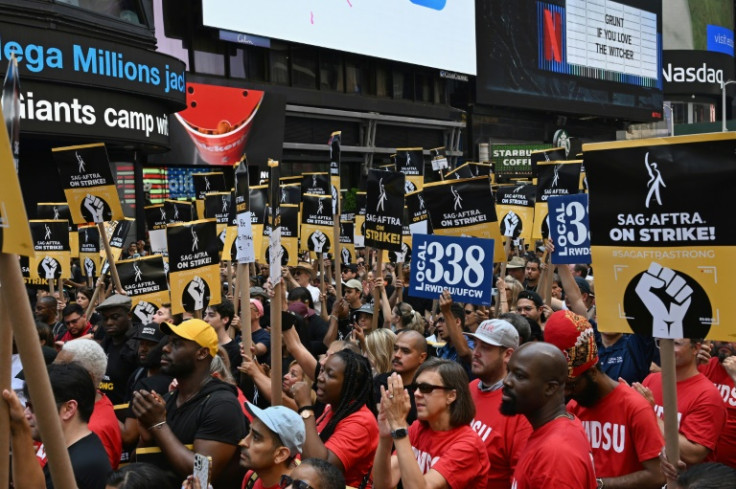 KEY POINTS
The WGA, SAG-AFTRA and AMPTP may resume contract negotiations on Friday
Production companies are seeing short-term gains but losing future scripted content
Disagreements remain over pay and the use of artificial intelligence in writing and art
The voices representing the leaders of the American entertainment industry are apparently set to begin talks that could end their highly publicized work stoppage.
On Tuesday, the Writers Guild of America announced the Alliance of Motion Picture and Television Producers requested a meeting on Friday to "discuss negotiations."
In an email to International Business Times, Writers Guild of America West spokesman Bob Hopkinson declined to comment on the potential events of Friday. He said the union will continue to update the public via its website.
Rick Munarriz, a senior media analyst with Motley Fool, said both sides are likely ready for talks to begin. For the studios, Munarriz said, a labor stoppage is making the production of new movies and television programs virtually impossible.
While consumers do not feel it right now — millions flocked to theaters in July to see smash-hit movies "Barbie," released by Warner Bros., and "Oppenheimer," released by Comcast's Universal — they will start to notice it in fall 2023 and in 2024 when anticipated scripted entertainment does not materialize.
The studios may see a short-term financial benefit from not paying for new production right now, Munarriz said. On Thursday, Warner Bros. Discovery said in its second quarter earnings release that it saved $100 million in production costs during the quarter due to the WGA strike.
Nevertheless, producers will feel the pinch in 2024 or sooner as new, scripted content starts to dry up. "The studios need (a deal) because that's their future. The writers and the actors need it because that's their livelihood. I think it will happen," Munarriz told IBT.
Already, he said, the value of major entertainment companies' stock is falling as a consequence of the strikes. For example, between May 1 and Thursday, Disney's stock fell to less than $85 a share from more than $102 a share. Paramount's fell to less than $15 a share from $23 a share, while Warner Bros.' fell more modestly to less than $12 a share from more than $13 a share.
A deal, Munarriz said, would be a relief to investors and would help the struggling entertainment stocks bounce back as production resumes.
The WGA began striking on May 1 after its contract with the AMPTP — a body representing the interests of Netflix Inc. (NASDAQ: NFLX), Amazon.com Inc. (NASDAQ: AMZN), Apple Inc. (NASDAQ: AAPL), The Walt Disney Co. (NYSE: DIS), Warner Bros. Discovery Inc. (NASDAQ: WBD), Comcast Corp. (NASDAQ: CMCSA), Paramount Global (NASDAQ: PARA) and Sony Group Corp. (NYSE: SONY) — ended without a new labor deal.
On July 14, the Screen Actors Guild-American Federation of Television and Radio Artists went on strike as its contract with AMPTP expired as well. Its the first time the two bodies jointly protested since 1960.
Representatives of the SAG-AFTRA and AMPTP did not immediately respond to a request for comment from IBT.
On Tuesday, at an appearance in New York City, representatives of the unions said their main concerns lie with compensation for streaming and the implications of artificial intelligence technology's rapid proliferation in both written and visual arts.
In a Tuesday release, Writers Guild of America's East Executive Director Lowell Peterson said the streaming video distribution model radically transformed how writers are paid. Middle-class writers, he said, now face "longer gaps between employment, fewer paths up the career ladder, lower pay rates (and) lower residual payments.
"If people can't make a living writing scripts, then scripts won't get written," Peterson said in a release. "The companies' refusal to bargain about our core proposals – proposals that would enable writers to build and sustain their careers – is a threat to the whole industry."
In the same release, Rebecca Damon, SAG-AFTRA's executive director for its New York local, labor policy and international affairs, said along with money, the actors are concerned about AI's ability to replicate their likenesses and allow studios to use it in perpetuity without compensation.
"In the negotiation conversations from both unions, artificial intelligence remains a sticking point," Damon said in a release. "(AI) threatens to displace human labor and disrupt local economies as workers struggle to find stable work and earn living wages."
The two unions said more than 170,000 workers represented by the bodies are out of work as they "push for better wages, streaming residuals, protections from AI, health insurance, and other labor agreements."
For its part, the AMPTP said in a release it offered "generous increases in compensation for writers as well as improvements in streaming residuals."
"The primary sticking points are 'mandatory staffing,' and 'duration of employment' — (WGA) proposals that would require a company to staff a show with a certain number of writers for a specified period of time, whether needed or not," the AMPTP said in a release on May 1.
After the SAG-AFTRA contract expired, AMPTP said in a release that the union walked away from "more than $1 billion in wage increases, pension & health contributions and residual increases and includes first-of-their-kind protections over its three-year term, including expressly with respect to AI."
"A strike is not the outcome we wanted," AMPTP said in a July 17 release. "For SAG-AFTRA to assert that we have not been responsive to the needs of its membership is disingenuous at best."
The producers represented by AMPTP are particularly troubled by streaming, Munarriz said. While subscriptions for services like Disney+, Peacock and Paramount+ are plentiful, the companies are simply paying too much for streaming-exclusive content and not making enough money off their subscriptions.
Studios may be reticent to pay actors and writers more because they still feel like they are taking on all the risk of producing and distributing content. Nevertheless, Munarriz said, consumers can only handle so many unscripted reality and game shows before they tune out. Viewers want to see professional, star actors not "scabs." Eventually, the AMPTP will be driven to make a deal.
The striking actors and writers may look desperate, with claims of some living paycheck-to-paycheck, but the studios may be more troubled. Media executives will not admit they are sweating to avoid weakening their negotiating position, but they likely see how their stocks are declining or staying stagnant during a general market rally. Moreover, they realize they are losing more future content with every lost working day.
"People are now scared. They are not excited about the potential of near-term profits growing because there's a lack of production," Munnariz said. "They are worried about what the lack of production means to a company's business and its brand."
© Copyright IBTimes 2023. All rights reserved.