Are Trump And Putin Friends? What You Need To Know About US-Russia Relations Under New President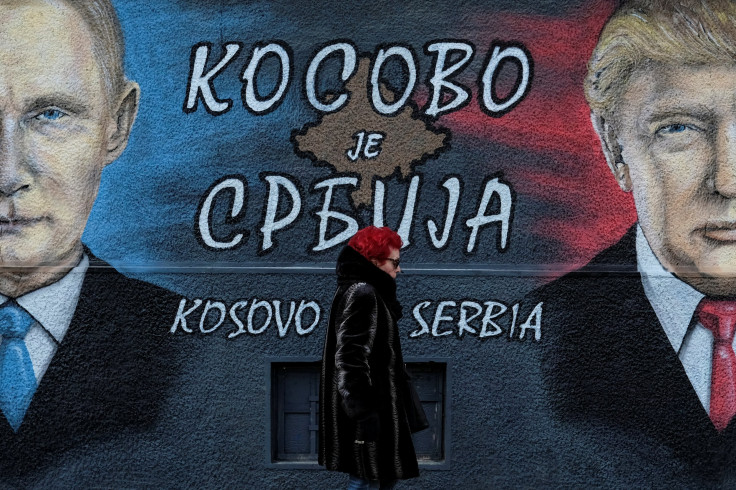 President Donald Trump rejected Tuesday morning the allegation that he has anything to do with Russian President Vladimir Putin. "I don't know Putin, have no deals in Russia," he tweeted.
But, according to Trump's own words from the past, that's not entirely true.
The relationship between Trump and Putin has been an object of speculation — and worry — for political analysts in recent months, especially after allegations of Russia hacking the U.S. presidential election in favor of Trump. In fact, Trump's Democratic rival Hillary Clinton called Trump a puppet during the third presidential debate.
In light of Trump's latest claim, here's a breakdown of Trump and Putin's sometimes confounding relationship.
In October 2007, Trump indicated his admiration in an interview with Larry King: "Look at Putin — what he's doing with Russia — I mean, you know, what's going on over there. I mean this guy has done — whether you like him or don't like him — he's doing a great job."
In 2008, Donald Trump, Jr. claimed the Trump family businesses had ties in Russia: "Russians make up a pretty disproportionate cross-section of a lot of our assets. We see a lot of money pouring in from Russia."
Trump has since denied his alleged business ties to Russia several times, including last summer when he was on the campaign trail:
In December 2011, Trump published a book called "Time to Get Tough." He criticized President Barack Obama while applauding Putin: "Putin has also announced his grand vision: the creation of a 'Eurasian Union' made up of former Soviet nations that can dominate the region. I respect Putin and the Russians but cannot believe our leader allows them to get away with so much...Hats off to the Russians...Obama's plan to have Russia stand up to Iran was a horrible failure that turned America into a laughingstock."
From 2012 to 2014, Trump tweeted about Putin… a lot.
In May 2014, Trump, while speaking to the National Press Club, claimed he had spoken to Putin: "I own Miss Universe, I was in Russia, I was in Moscow recently and I spoke, indirectly and directly, with President Putin, who could not have been nicer, and we had a tremendous success."
In 2015, Trump said twice he had met Putin. In an October radio interview, Trump said he had met the Russian leader "one time … a long time ago" and he "got along with him great." And during a primary debate in November, Trump said, "I got to know him very well because we were both on '60 Minutes', we were stablemates. We did well that night."
On Dec. 17, 2015, Putin complemented Trump. "He's a very lively man, talented without doubt. He's saying he wants to go to another level of relations — closer, deeper relations with Russia. How can we not welcome that? Of course we welcome that," Putin said.
The next day, Dec. 18, 2015, Trump said on "Morning Joe": "He's running his country, and at least he's a leader. Unlike what we have in this country." When host Joe Scarborough, pointed out that Putin has killed journalists who disagree with him, Trump said, "I think our country does plenty of killing, also, Joe."
In July 2016, after reports that Russia had hacked the Democratic National Committee's emails surfaced, Trump told Putin to hack Clinton's emails: "Russia, if you're listening, I hope you're able to find the 30,000 emails that are missing."
The CIA later concluded Russia had indeed hacked DNC emails, and after the story broke in December 2016, Trump rejected the hacking report. "They have no idea if it's Russia or China or somebody sitting in a bed some place," he said.
On Dec. 13, 2016, Trump nominated ExxonMobil CEO Rex Tillerson to be secretary of state. Tillerson has had extensive business dealings with Russia and was reported to be friendly with Putin. Tillerson's nomination was approved the Senate, and he was sworn in last Wednesday, Feb. 1.
In January 2017, Trump accepted the CIA's intelligence report that Russia had hacked into the DNC's emails to influence the election.
On Jan. 10, 2017, Buzzfeed published an unverified dossier alleging Trump had "deep ties" to Russia, which included unsavory details about Trump's sexual encounters in Russia. But Trump vehemently denied the allegations, and Buzzfeed acknowledged the dossier was unsubstantiated and included errors.
On Jan. 28, 2017, Trump and Putin spoke on the phone for the first time since Trump was inaugurated. The world leaders spoke about how to defeat the Islamic State group.
Last Sunday, on Feb. 5, Trump spoke with Bill O'Reilly and echoed his comments from his 2015 interview on Morning Joe.
"But he's a killer, though. Putin's a killer," O'Reilly said.
Trump responded: "There are a lot of killers. We've got a lot of killers. What do you think? Our country's so innocent?"
© Copyright IBTimes 2023. All rights reserved.