'Are You The One?' Season 5 Couples: Who's Still Together, Who Cheated And Who Broke Up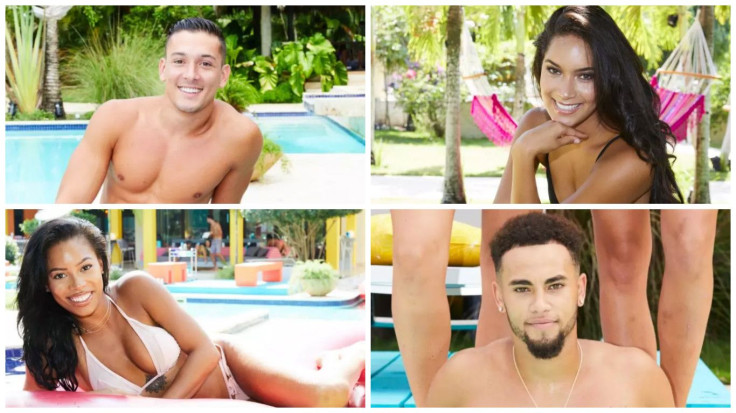 Not every "Are You the One?" couple is a match made in reality TV heaven, especially when they are not ones put together by MTV's matchmakers. Following the shocking Season 5 finale Wednesday night, the 22 contestants gathered for a first-ever reunion special. There, MTV revealed the confirmed perfect matches - three couples were incorrect during the final matchup ceremony - and which pairs were still an item.
Andre and Taylor
Andre and Taylor are no longer together but they did give it a shot after the show. Andre blamed himself for their split at the reunion and admitted to cheating. "We had to step back to realize how much we really appreciate each other and I'm starting to see that again," Andre said.
Taylor accused Andre of ghosting her, which led to the demise of their relationship, but said she still loves him. "I think it's worth it and I don't really care what any of ya'll have to say about it," Taylor said to her cast mates.
READ: Where to follow every "Are You the One?" Season 5 cast member online
Alicia and Eddie
While many women in the house made their issues with their relationship known during the reunion, including Eddie's perfect match, Kam, Alicia and Eddie told viewers they were still a couple. On Instagram, however, Alicia told a different story.
Tyler and Shannon
Shannon said she had been faithful to her unconfirmed perfect match but Tyler couldn't say the same. He admitted to kissing Taylor at a New Year's Eve party, a fact which Andre wasn't surprised by. Taylor confirmed they also slept in the same bed that night.
Gianna and Hayden
Hayden and Gianna were a non-confirmed perfect match week one, but they continued to hook up during and after the show. During the reunion, Hayden explained that his feelings for Gianna were hard to shut off and admits he led on Carolina, his confirmed match, during filming. Despite not being put together by the matchmakers, Hayden has since gifted Gianna with a promise "appreciation" ring.
Before the reunion, Gianna revealed she and Hayden are in a good place. "This guy right here is the most AMAZING man in the entire world and will have my heart till I die. I'm not a perfect human being but if someone asks, this guy is my PERFECT match. Every day I'm learning to be a better version of myself," she wrote on Instagram.
Hannah and Ozzy
These two are definitely no longer an item. While Ozzy remained friends with house flings Alicia and Kathryn he confirmed things are done with Hannah. On Instagram, Hannah addressed their failed relationship. According to her, she and Ozzy dated after the show after he claimed the way he treated her during filming was just for "TV" only to cut off communication with her following a trip to LA.
"I was naive enough to believe what we had was real and I blame myself.. but thank you Ozzy," read Hannah's caption of a video of she and Ozzy during happier times. "Thank you for showing me what I don't want. And for making me appreciate all the right kind of love I have in my life."
"Are You the One?" continues next Wednesday, March 22, with the spinoff, "Second Chances." Three Season 5 stars are members of the new MTV cast.
© Copyright IBTimes 2023. All rights reserved.