Argentina Vs. Iran: Prediction, Preview And Betting Odds For World Cup 2014 Group F Match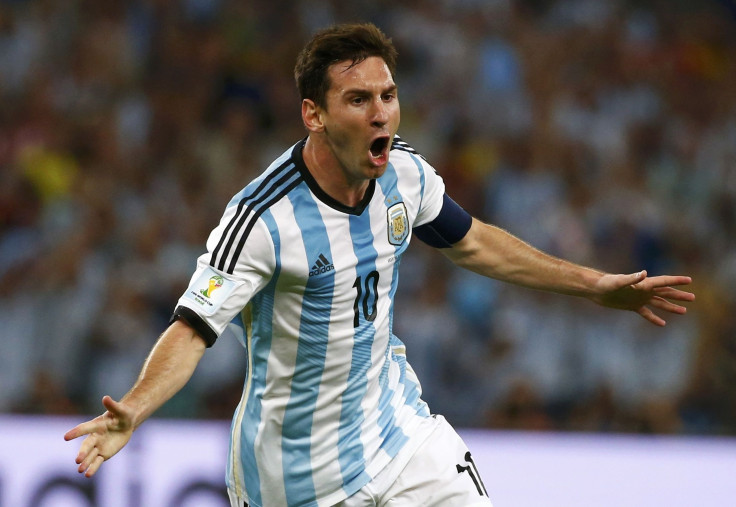 Argentina began the World Cup with a game of two halves and likely a lesson learned for coach Alejandro Sabella.
With Gonzalo Higuain not 100 percent fit, Sabella went with an ultra-cautious five-man backline to start the opening match of Group F with Bosnia-Herzegovina. It soon became clear, as it should have been beforehand, that their opponents' one striker rendered the extra defender redundant, while Lionel Messi was left isolated alongside Sergio Aguero in front of a midfield lacking the ability to connect the side.
Given how Sabella had devised a system during qualifying that finally got the best out of Messi in an Argentina shirt, it was a bizarre decision. It is to the credit of the former Estudiantes coach, though, that he acknowledged his error at the first opportunity. At half time, Higuain came on alongside Fernando Gago, the man who has become the key supplier for Messi at international level. Despite the irony that Argentina won the first half 1-0 and drew the second half-1-1, the performance after the break was positively transformed. There would be a major surprise were Argentina not to begin their second match against Iran with the same lineup that kicked off the second half at the Maracana.
It is a lineup that can surely go a long, long way, if not all the way, in Brazil. Messi's brilliant goal that truly announced his arrival on the World Cup stage was an illustration of the space his high-quality forward partners create for him around the edge of the box. In midfield, Javier Mascherano is an excellent anchor, Angel di Maria provides vital dynamism and Gago showed signs with his crisp passing in the second half of overcoming a buildup to the tournament blighted by injury and poor form.
Issues with the defense are of course the major caveat when talking about Argentina's chances of a first World Cup triumph since 1986. And they, too, were in evidence against Bosnia. For what turned out to be a late consolation goal, Napoli center-back Federico Fernandez allowed Vedad Ibisevic to run in behind him before goalkeeper Sergio Romero, who has been sat on the bench at Monaco all season, allowed the striker's shot to squirm through his legs.
Plenty to consider then as the tournament moves on, but, in truth, unlikely to be a factor against Iran in Belo Horizonte. Under Carlos Queiroz, Portugal bored their way out of the last World Cup with far more talent to offer than his current Iran side possesses. Known for his defensive organizational skills, Queiroz led Iran to their fourth World Cup courtesy of eight goals scored and two conceded in their eight games played in the final round of Asian qualifying.
That focus on the defensive side of the game unsurprisingly came to the fore when Iran began their 2014 World Cup campaign against Nigeria. In a tournament which has thus far been characterized by teams' commitment to attack, it was a goalless draw that stood out starkly from the pack. Iran were happy to sit men behind the ball and a Nigeria side lacking creativity and based on speed on the counter attack couldn't break them down. Job done for Queiroz and Iran.
Given a limited squad and the lack of financial support for the team that saw them struggle to simply arrange warm-up matches before the tournament, Queiroz and his players already deserve plenty of credit. Yet if Iran did have any ambitious hopes of taking their participation in the World Cup beyond the first round for the first time in their history then surely a win was required against Nigeria. The fact that they were still time-wasting in the closing stages showed there were no such thoughts.
Thus there surely won't be against Argentina. The 4-5-1 formation will aim to frustrate Argentina and try to garner a draw that would still be the most famous result in the country's soccer history. And Iran's coach does have some pedigree for keeping Messi quiet. Queiroz was the assistant manager at Manchester United and largely responsible for the defensive tactics that saw the Premier League side keep Messi and Barcelona scoreless over 180 minutes in a 1-0 aggregate win in the 2008 Champions League semifinals.
Prediction Iran could certainly make life difficult, but unlike Nigeria, Argentina have ample creativity and far more attacking weapons. A comfortable win should eventually be the outcome.
Argentina 3-0 Iran
Betting odds (bovada.lv)
Argentina win: 1/9
Iran win: 18/1
Draw: 9/1
Match Facts
- Argentina will progress to the second round with a win.
- Iran will remain in contention to qualify regardless of the result.
- The two countries have only met once before; a friendly in Madrid in 1977 which ended 1-1.
When and where: The 2014 World Cup Group F match will kick off from the Estadio Mineirao in Belo Horizonte at noon ET.
© Copyright IBTimes 2023. All rights reserved.