Arizona Midterm Election Becomes Battleground: Accusations Of Voter Intimidation, Election Denial And Fraud Conspiracy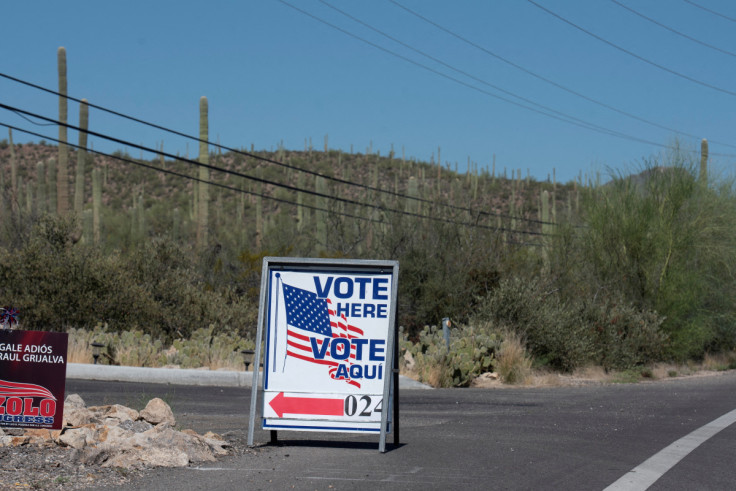 The midterm elections are a couple of weeks away, but one state has captured America's attention as being one to watch early on: Arizona.
Arizona's contentious election climate has been in the news since 2020 when President Joe Biden won the state by 0.4%, taking its 11 electoral votes. The state became a focus of the claims that election fraud occurred and the election was stolen from then-President Donald Trump. An independent audit in the state was concluded in September of 2021 proving the claims were false, but the drama has had a lasting impact on the state.
The midterms in Arizona are significant as Trump has also endorsed multiple candidates in the state, and even held a rally in Mesa, Arizona on Oct. 9 where he called for Arizona to vote and make a "clean sweep" of Republican wins in November,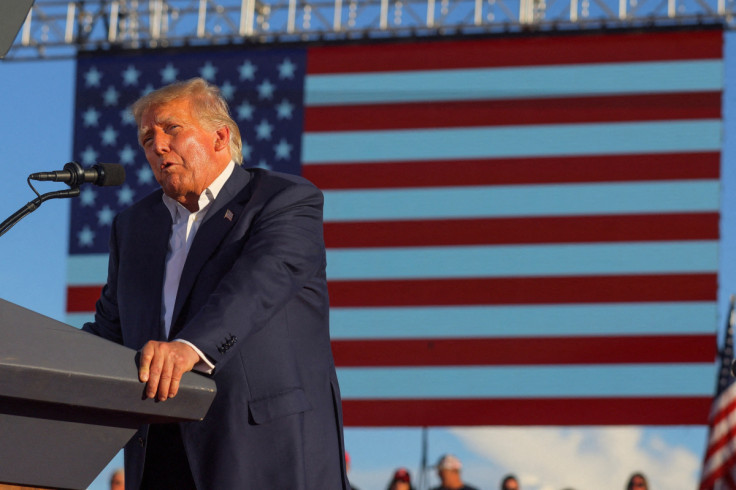 Trump's endorsements for Republican gubernatorial candidate Kari Lake, Senate candidate Blake Masters and Secretary of State candidate Mark Frenchman. All three are supporters of the former president and have said they would not have certified the 2020 results and pledged to make changes to current election laws in the state if they win their races.
Lake's bid for Governor is one of the most interesting cases going into November. Coined "Donald Trump in heels," the former television news broadcaster for KSAZ-TV, Phoenix's Fox affiliate station for over two decades has made her support of Trump a vital part of her platform. She also appeals to longtime state residents who have watched her on TV.
In June, while campaigning in the GOP primary, Lake said the 2020 election was stolen and "we actually have an illegitimate president sitting in the White House."
Lake has refused to accept the possibility that she would lose the election.
"I'm going to win the election, and I will accept that result," Lake said in an interview with Dana Bash on CNN's State of The Union on October 16.
When asked by Bush if she would accept voting results if she were to lose, Lake repeated that she would win and accept the result when she did win.
Several Arizona Republicans have said they would vote for the Democratic candidate for Governor, Katie Hobbs, over Lake. Hobbs is Arizona's current Secretary of State and the state's top election official. Hobbs has generated the support of several prominent Republicans in the state, including Scottsdale Mayor Sam Campana and former Republican member of the Arizona House of Representatives Steve May.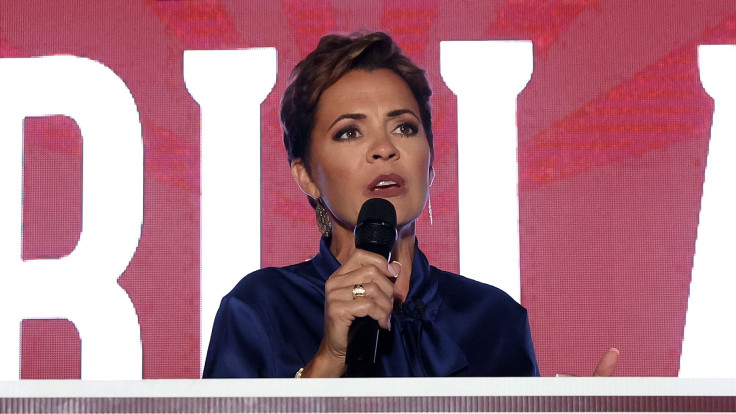 Hobbs recently faced backlash for choosing not to have a public televised debate with Lake, stating that she did not want to give Lake a platform. The decision has been called "political malpractice" by Arizona Republic columnist Laurie Roberts.
Lake has been vocal in her opinions of Hobbs's decision, telling Bash on Sunday that "the people of Arizona will never support and vote for a coward like Katie Hobbs." Lake also had a man in a yellow chicken suit come on stage during one of Lake's campaign appearances. Chicken suits have become common among Lake supporters criticizing Hobbs both on social media and at campaign events.
In other prominent races, Blake Masters is running against current Arizona senator, former astronaut, and U.S. Navy Captian Mark Kelly. Kelly is the husband of a retired member of the U.S. House of Representatives for Arizona, Gabrielle Giffords. Giffords was shot in the head in 2011 during a campaign event in Tucson, Arizona, which left six people dead and 19 injured. Giffords and Kelly have since become advocates for gun control.
Masters is endorsed by Trump and has been gaining ground on Kelly in election polls. Recent political advertisements have called Master's "too extreme for Arizona," highlighting his opinions on abortion and calling him an extremist. Recently, Masters made statements blaming gun violence on "Black people." Masters and Kelly did participate in a televised debate several weeks ago where hot-button topics of abortion and the legitimacy of the 2020 election were front and center. Kelly is leading by a slim margin of 4.6 points.
Frenchman is running against Democrat Adrian Fontes. Frenchman currently serves in Arizona's House of Representatives for District 11. Fontes was elected to the Maricopa County elections recorder position in 2016 and held the post through the 2020 elections. Frenchman revealed during a September debate with Fontes he was interviewed by the Department of Justice and the January 6 committee because of his presence at the capital insurrection. Frenchman has said he was at the capital on January 6 to deliver election information to Republican Representative from Arizona Paul Gosar but did not actively participate in the insurrection.
As early voting and mail-in voting have started in Arizona, there are growing concerns about voter intimidation. There have already been instances of advocates searching for evidence of voter fraud have been watching ballot drop boxes and photographing voters and license plates. Reports of voter intimidation have been sent by the Arizona Secretary of State office to the DOJ.
"There's a group of people hanging out near the ballot dropbox filming and photographing my wife and I as we approached the dropbox and accusing us of being a mule," a report delivered Monday through the virtual voting incident form. The encounter was captured on surveillance footage from the parking lot. The term 'mule' comes from a reference to the movie 2000 Mules, a documentary film about voter fraud that is factually inaccurate. Three other cases of voter intimidation were reported during the week in Mesa and Pheonix. Videos by journalists and citizens of people watching ballot drop boxes with cameras and recording equipment are circulating on social media.
Nicole Grigg, a reporter for ABC15 in Pheonix, has been reporting on cases of voter intimidation for several days and interviewing those who are surveilling ballot drop boxes. One individual told Grigg they were outside to get some "Vitamine D" while standing next to recording equipment. Other people were reported wearing tactical gear.
Frenchman tweeted on Friday his support for those watching the ballot boxes.
There are three weeks left till the midterm elections. Tensions are high, and races are tight. The election in Arizona could be an example of what elections in the U.S. will look like going forward and into 2024.
© Copyright IBTimes 2023. All rights reserved.