'Arrested Development' Season 4 Spoilers: Henry Winkler And Scott Baio To Bring The Bluth Family More Bad Legal Advice? [PHOTO]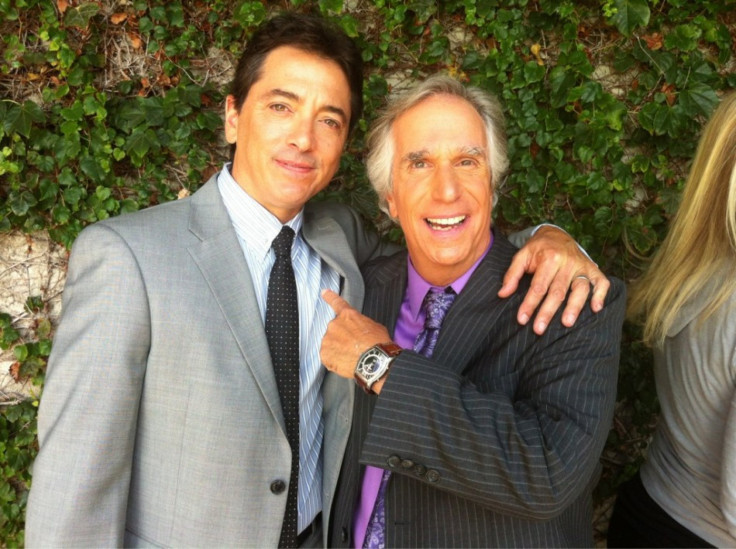 When "Arrested Development" returns for its fourth season it looks like the Bluth family will still be in a heap of legal trouble! How do we know this? Henry Winkler, who played Bluth family attorney Barry Zuckerkorn, is tweeting up a storm!
"I AM SUPPOSED TO BE MEMORIZING an ARRESTED DEVELOPMENT scene with MAYBE for today...don't tell anyone I was here OK????" Winkler tweeted on Aug. 31.
Winkler kept audiences laughing (and George Sr. in jail) as Barry Zuckerkorn, possibly the worst attorney ever. The incompetent family lawyer failed to keep up with the case against George Bluth (Jeffrey Tambor), was always late to court and was eventually fired by Michael (Jason Bateman) in the episode "The Cabin Show."
Judging by Winkler's tweet though, it looks like his days working for George Bluth are behind him. In a family who seems to need legal representation with each way they turn, it appears that Maeby (Alia Shawkat) is the one with the legal issues this time.
So what exactly is Maeby in trouble for? It could be the fact that she has been skipping school to pose as a big Hollywood executive, or it could be the small issue of accidentally marrying her cousin George Michael (Michael Cera).
Henry Winkler tweeted another "Arrested Development" reference that has us leaning towards Maeby and George Michael going through a divorce.
"Oh my goodness...What a Development!!!!!!" Winkler tweeted of a photo of his character Barry Zuckerkorn with actor Scott Baio. Baio, who played attorney Bob Loblaw on the series, had actually replaced Zuckerkorn as the Bluth family attorney. Besides attempting to help the imprisoned George Bluth, Bob Loblaw also was the attorney involved in Tobias (David Cross) and Lindsay's (Portia de Rossi) attempted divorce. Initially representing Lindsay, who had her heart set on seducing the lawyer, Loblaw eventually took over as Tobias' attorney in the divorce. Could Zuckerkorn and Loblaw be representing George Michael and Maeby next?
Henry Winkler's character isn't the only one set for a return to the series. Judy Greer, who played Kitty Sanchez, the horrible receptionist and mistress of George Michael, tweeted a photo at the end of August teasing her return as well. "Guess what I'm doing today...." Greer tweeted along with a photo of her "Arrested Development" dressing room door.
While the Hollywood Reporter can only confirm Henry Winkler's Zuckerkorn reprisal in season four of "Arrested Development," we're keeping our fingers crossed for the return of Scott Baio's Bob Loblaw as well.
"Arrested Development," which ended in 2006 after three seasons on Fox, will return for a fourth season on Netflix in the spring of 2013. Initially only supposed to be 10 episodes, the fourth season is expected to stretch to 13.
© Copyright IBTimes 2022. All rights reserved.
FOLLOW MORE IBT NEWS ON THE BELOW CHANNELS