Arrowverse Crossover 2018 To Introduce Batwoman And Gotham City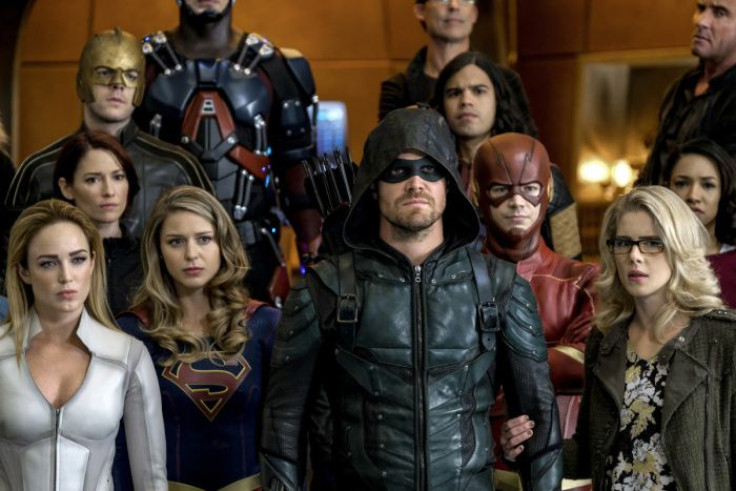 This year's Arrowverse crossover event between "Arrow," "The Flash," "Supergirl," and "Legends of Tomorrow" will feature DC character Batwoman and Batman's home city, Gotham.
The big news was announced by "Arrow" star Stephen Amell at The CW's upfront presentation on Thursday. "We're incredibly excited to announce that we'll be doing another crossover event this fall on the CW, and we'll be introducing a new character," Amell said (via Entertainment Weekly). "For the very first time appearing, we'll be fighting alongside Batwoman, which is terrific. The crossover is going to make it to air in December. I need to leave right now and start filming it."
Created by Bob Kane, Edmond Hamilton, and Sheldon Moldoff, Batwoman first appeared in Detective Comics #233 in 1956. The original Batwoman is Kathy Kane, a female counterpart to Batman with Bat-Girl as her sidekick. Kathy's legacy is later taken up by the army brat Kate Kane, who is expelled from United States Military Academy at West Point for being a lesbian. Kate is Batman's cousin.
On TV, Batwoman first appeared on the Cartoon Network animated series "Batman: The Brave and the Bold" in 2008. On the film side, Kyra Sedgwick voiced the character in "Batman: Mystery of the Batwoman," a 2002 direct-to-video animated film based on animated series "The New Batman Adventures."
Batwoman also made a cameo appearance in the 2015 direct-to-video superhero film "Batman vs. Robin," and appeared in its 2016 sequel "Batman: Bad Blood." Yvonne Strahovski voiced the character in both movies.
Along with Batwoman, Gotham City will also be added to the ever-expanding Arrowverse. "We are adding the city of Gotham into the Arrowverse," The CW president Mark Pedowitz said during the network's upfront presentation. "This will be another full-throttled, action-packed event."
Though Gotham will officially be brought into the Arrowverse, The Hollywood Reporter pointed out that The CW shows will not be crossing over with Fox's Batman prequel "Gotham", despite sharing the same producers DC and Warner Bros. TV.
Shortly after the upfront presentation, Amell took to Twitter to reveal how thrilled he is to welcome Batwoman to the Arrowverse. "So... pretty excited to fight alongside Batwoman," tweeted Amell, who plays Oliver Queen on The CW's superhero universe.
What do you think of Batwoman and Gotham City's addition to the Arrowverse? Let us know your thoughts in the comments section below!
© Copyright IBTimes 2023. All rights reserved.