Arsenal Vs. Bayern Munich: Injury News, Prediction And Probable Lineups For Second Leg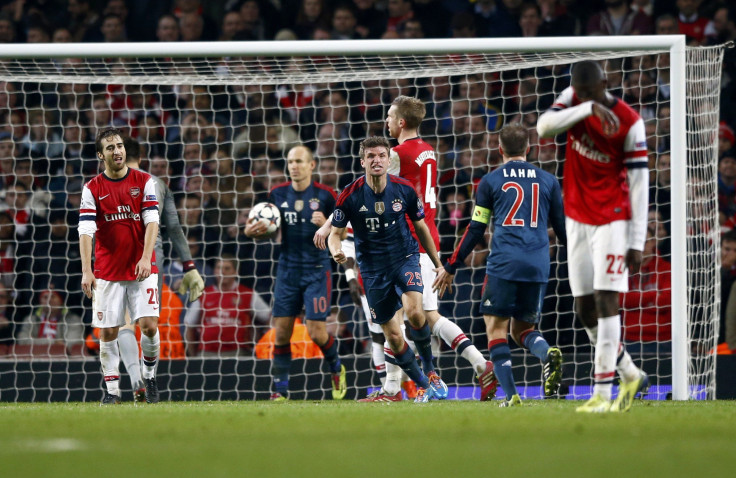 Arsenal face a daunting task on Tuesday when they head into the home of all-conquering European champions Bayern Munich, without a league defeat all season, and have to overturn a 2-0 deficit to continue their run in the Champions League. Yet, despite Arsenal also having fresh injury worries, they may not be completely without hope. After both sides recorded big wins at the weekend, here's how they might lineup in the Allianz Arena for the second leg of their last-16 tie.
Goalkeepers
Wojciech Szczesny's sending off in the first leg means that Lukasz Fabianski will take over in goal in Munich. The elder of the two Poland internationals also came into the side in the second leg in Germany last season when Szczesny was dropped from the team. While Szczesny has come back strongly this season, Fabianski has looked solid in his limited appearances this season, including in Saturday's win over Everton. The loss shouldn't be that greatly felt.
Manuel Neuer is arguably the world's best goalkeeper and provides a formidable obstacle for Arsenal in getting the two goals they will need to at least take the tie to extra time and potentially penalties. Yet, he is not completely alien to blunders. He made one such error in the first leg against Arsenal last year when he was caught in no man's land to allow Lukas Podolski to score from a corner.
Defenses
Arsenal have gained one and lost one from their back four at the weekend. Crucially Laurent Koscielny has returned to fitness and will return in place of Thomas Vermaelen alongside Per Mertesacker. Yet an injury that rules out Kieran Gibbs gives Arsene Wenger a major problem, with his other left-back Nacho Monreal still a doubt. It could mean Vermaelen moving to left-back, which would be far from ideal, both from an attacking and defensive point of view.
Bayern Munich have conceded just 11 goals in the Bundesliga this season. They have conceded more than one goal in a match just once this season (excluding the German and European Super Cups). Yet, Bayern's center-back duo is perhaps not as impassable as those statistics suggest. That was certainly hinted at three weeks ago when Arsenal got at them in the opening minutes more than any team has in the Bundesliga this season. Jerome Boateng looked particularly vulnerable and, indeed, was withdrawn at half-time having already been booked for conceding a penalty. If Arsenal start with the same intensity at the Allianz Arena then they could get that early goal they sorely need.
Midfields
Pep Guardiola may well move Javi Martinez into the defense in place of Boateng, however, with Philipp Lahm going back into midfield and Rafinha coming in at right-back. Lahm's position as the midfield pivot will help enable the team to control the game as they did in the second half at the Emirates. What makes Bayern so difficult to play against is that they have so many players in the middle, including left-back David Alaba, capable of passing the ball all night and then biding their time to pick their opponents off. And Bayern's forward threat will be boosted by the return from injury of Franck Ribery.
In contrast, Arsenal will be without their two most talented central midfielders after Jack Wilshere joined Aaron Ramsey on the injury list since the first leg. The likely starting pair, Mathieu Flamini and Mikel Arteta, will provide a solid base but lack the attacking threat of Ramsey and Wilshere.
Further forward there were encouraging signs in the victory over Everton. Mesut Ozil suggested he had recovered both from the disappointment of missing a penalty in the first leg and from the mental and physical fatigue he has displayed of late. Meanwhile, Alex Oxlade-Chamberlain showed the threat his energy and intelligence could provide, while Santi Cazorla reproduced the form he showcased for much of last season and that has been absent for much of this.
With Tomas Rosicky also coming on and showing his continued quality, Wenger has a selection headache. Given his side's predicament, he could even move Oxlade-Chamberlain back to use his running from deep. The concern is that, whoever is selected, Arsenal's creative players won't see enough of the ball against the Bayern machine.
Forwards
Wenger sprung a major surprise by handing a first start to Yaya Sanogo in the first leg. It's a decision he is unlikely to repeat in Munich. Sanogo caused problems early on three weeks ago but gradually faded and in his performances since his rawness at this level has continued to be exposed. Meanwhile, Olivier Giroud struck twice after coming on at the weekend. The Frenchman's ability to link the play as the team's focal point will be much needed.
Like Giroud, Bayern's Mario Mandzukic scored a brace off the bench at the weekend. His double in a 6-1 win over Wolfsburg on Saturday made it nine goals in seven games for the Croatian. Not bad for a player who will seemingly find himself sidelined next season by the arrival of Robert Lewandowski. It's also not bad for a player who is not seen as a prolific scorer, but instead more highly regarded for his work rate. That industry will ensure that Arsenal's defense will not enjoy an easy time whatever the circumstances of the match. Guardiola also has other options, with Thomas Muller, who also scored twice against Wolfsburg, and Mario Gotze, who could operate as a false nine to provide even more control of the midfield.
Probable Lineups
Bayern Munich
G: Neuer
D: Rafinha, J. Martinez, Dante, Alaba
M: Lahm
Robben, Kroos, Thiago, Ribery
F: Mandzukic
Arsenal
G: Fabianski
D: Sagna, Mertesacker, Koscielny, Vermaelen
M: Arteta, Flamini
Oxlade-Chamberlain, Ozil, Cazorla
F: Giroud
Prediction
There are reasons to be hopeful for Arsenal. They have tended to play better when the pressure is off, as they have shown in similar situations in the Champions League in recent years. Losing 4-0 to Milan and 3-1 to Bayern Munich, on both occasions Arsenal came within a goal of providing a sensational comeback in the second legs. Arsenal also showed in the opening 30 minutes at the Emirates that they can be a match and even get on top of the European champions. That should breed confidence.
Yet it's difficult to imagine Bayern making the same mistakes as they did three weeks ago or in last year's return leg. The Bavarians appeared stunned by the way Arsenal took the game to them so boldly in the opening stages at the Emirates. It is unlikely they will be again, while that experience should also help ensure that there is no complacency as there was 12 months ago. Guardiola's constant experimentation this season coupled with his greater intensity also seems designed to prevent any complacency in a squad who won everything last season. With everything taken into account, it's hard to see anything other than Bayern progressing to keep their hopes firmly alive of becoming the first team in the Champions League era to retain the European Cup.
Bayern Munich 2-1 Arsenal (4-1 on aggregate)
© Copyright IBTimes 2023. All rights reserved.