Artist, Descendants shine at Golden Globes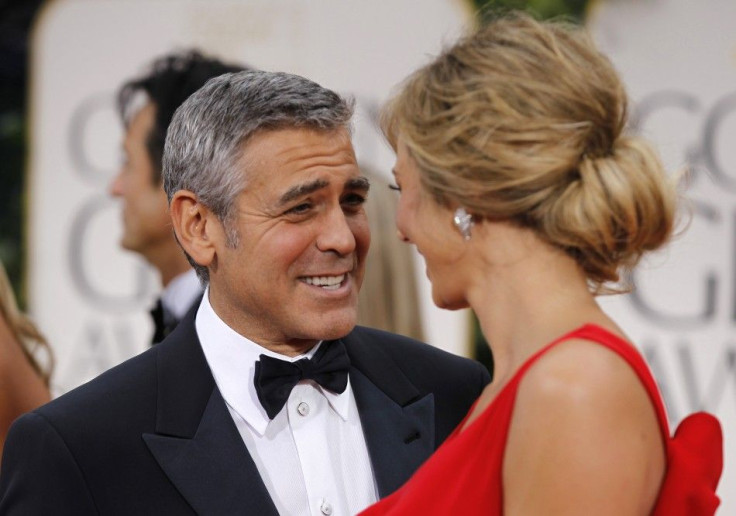 Silent-era film The Artist and family drama The Descendants were the top film picks at the Golden Globe Awards on Sunday in a loose-lipped awards show that even had host Ricky Gervais walking onto the stage with a drink in his hand.
The Descendants, starring George Clooney as a man steering his family through a tragic time when his wife is in a coma, won two Golden Globe trophies, including the top honor of best dramatic movie and another for Clooney as best dramatic actor.
Onstage he thanked writer/director Alexander Payne and backstage told reporters, he knows how to tell stories. He knows how to make something funny and how to turn it around.
Clooney called the movie a coming-of-age film for a 50-year-old and a lot of us have dealt with people like that.
The Artist, a romantic tale about a failing actor who finds love at a time when movies were changing from silents to talkies, picked up three awards including best musical or comedy and best actor in a musical or comedy for its star, French actor Jean Dujardin.
Onstage, Dujardin did the most appropriate thing -- gave his speech, thanked his colleagues, then signed off by not saying a word. And true to stealing almost every scene of his in the movie, little dog Uggie detracted from an emotional speech by the film's director, Michel Hazanavicius, when the dog begged for a treat.
Other key winners included Meryl Streep for best actress in a film drama with her portrayal of former British Prime Minister Margaret Thatcher in The Iron Lady. Streep, who is typically reliable with a funny acceptance speech had a difficult time reading hers this year when she forgot her glasses.
Michelle Williams took the trophy for best actress in a comedy or musical with her role as Marilyn Monroe in My Week with Marilyn.
I consider myself a mother first and an actress second. The person I most want to thank (is) my daughter, my little girl, Williams said referring to her child with the late actor Heath Ledger. I want to say thank you for sending me off to this job everyday with a hug and a kiss.
Veteran Christopher Plummer, 82, won supporting actor with his portrayal of an elderly man who comes out as gay to his family in Beginners, bringing both poignancy and a touch of humor to their lives. Octavia Spencer, playing a beleaguered housemaid in the U.S. South during the civil rights era in The Help was best supporting actress.
Woody Allen was given a Golden Globe for his screenplay for Midnight in Paris and Steven Spielberg won best animated film with his rollicking The Adventures of Tintin.
Iranian film A Separation was named best foreign language film, and its director, Ashgar Farhadi, used the opportunity to tell world audiences that my people. I think they are a truly peace-loving people.
OSCAR RACE LOOMS
The Golden Globe Awards are given out by the roughly 90 members of the Hollywood Foreign Press Association at what annually is among the key events during Hollywood's awards season because of the media exposure it brings.
Many of the movies and stars that win here also go on to compete for Oscars later this year, and The Artist, which was the most-nominated film coming into the Golden Globes with six nods overall, will certainly become a frontrunner for the world's top film honors, as will Descendants and The Help.
Oscar nominations from the Academy of Motion Picture Arts and Sciences will given out on January 24.
Unlike the Oscar voters, HFPA members also vote on their favorite TV shows and performances and in that arena Homeland, about a modern-day CIA agent tracking returning war soldiers who may be terrorists, took home two Golden Globes for best drama series and best actress in a drama for Claire Danes.
Best actor in a drama TV series went to Kelsey Grammer for his role as a stern corporate manager in Boss.
Modern Family, a take on extended families in current-day America, took the prize for best comedy and its stars enjoyed one of the more memorable moments of the night when star Sofia Vergara gave their acceptance speech in Spanish, with English translation from creator Steve Levitan.
Best actress in a TV comedy went to Laura Dern for Enlightened and the comedic actor trophy was won by Matt LeBlanc for Episodes.
Coming into the show, all eyes were on host Gervais, who ruffled the feathers of many a Hollywood celebrities last year at the Golden Globes. While he didn't tone down his jokes for the 2012 audience -- making fun of Johnny Depp, Jodie Foster, Kim Kardashian and the HFPA itself -- it seemed the stars were in the mood for his biting wit this time around.
I thought he did a great job, Clooney told reporters backstage. I think he handled tonight like a proper good host again ... people were expecting a lot of trash talk, and he did a little bit of that, and he made me laugh, he was very funny.
In fact, it seemed Gervais' humor was rather tame at some points compared to others who made penis jokes onstage and used foul language. At one point, Gervais came onstage drinking a beer, but somehow that seemed fitting for an awards show that bills itself as one big Hollywood party.
© Copyright Thomson Reuters 2023. All rights reserved.