ASEAN-Only Joint Drills Kick Off In Display Of Unity Amid South China Sea Tensions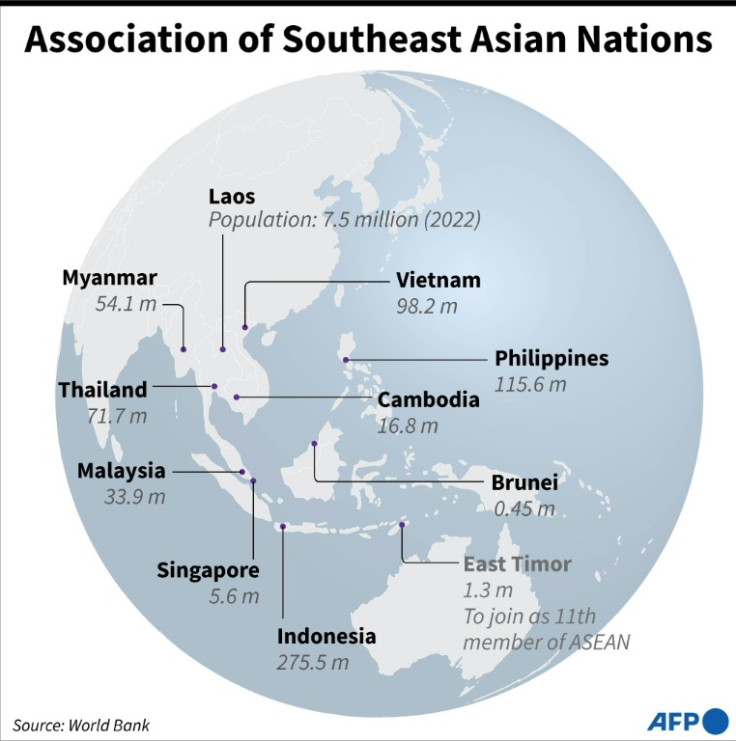 KEY POINTS
Indonesia's military chief said the drills were all about 'ASEAN centrality'
The troops conducted maritime security and rescue drills on the first day
This comes amid increasing tensions in the South China Sea
Military forces from the Association of Southeast Asian Nations (ASEAN) have gathered in Indonesia to kick off the bloc's first-ever joint military exercises in a show of unity amid tensions in the South China Sea.
The Indonesian National Armed Forces (TNI) shared photos of the troops conducting medical evacuations and maritime security and rescue (SAR) drills. Two Republic of Indonesia warships (KRIs) – KRI Jhon Lie and the KRI dr. Radjiman Wedyodiningrat – were involved in the first day of the drills Tuesday.
The joint military drills, called ASEAN Solidarity Exercise Natuna (ASEX 01-Natuna), will continue until Thursday. It is the first time the 10-country bloc has conducted joint drills without the participation of non-member nations.
Indonesia, which has not made any formal claims to areas of the South China Sea but has seen Chinese incursions in its exclusive economic zone (EEZ), held military drills with troops from the U.S. and several other countries on the island of Java earlier this month.
Indonesia's military chief, Admiral Yudo Margono, said the drills were "about ASEAN centrality" and that future drills will be called the "ASEAN Solidity Exercise (ENatuna) or Asec01N."
Apart from the 10 ASEAN members, Timor-Leste will also be part of this week's military exercises. The drills will focus on maritime security and rescue and social services such as humanitarian and disaster relief exercises around the North Natuna Sea.
As part of the joint drills, warships are expected to sail near the Natuna Islands in the South China Sea.
Experts believe the ASEX 01-Natuna exercises are organized to demonstrate unity in the bloc amid concerns regarding internal divisions over the ongoing crisis in Myanmar.
Indonesia hosted the 43rd ASEAN Summit earlier this month. At the event, member states reaffirmed their commitment to maintaining peace in the region. They stressed "the importance of maintaining and promoting peace, stability, maritime safety and security, freedom of navigation and overflight in the region," and promoting "peaceful resolutions of disputes."
The member nations were initially divided on the issue of Myanmar, which was supposed to take over the rotating leadership of the bloc. After the summit, ASEAN leaders decided not to allow Myanmar to take over the leadership. The Philippines will take over the role instead.
The leaders urged Myanmar's military government to de-escalate violence and stop civilian attacks. "We strongly condemn the continued acts of violence in Myanmar," they said in a joint statement.
© Copyright IBTimes 2023. All rights reserved.