The Atlantic Magazine's Scientology 'Screw-Up' Underscores The Risks Of Native Advertising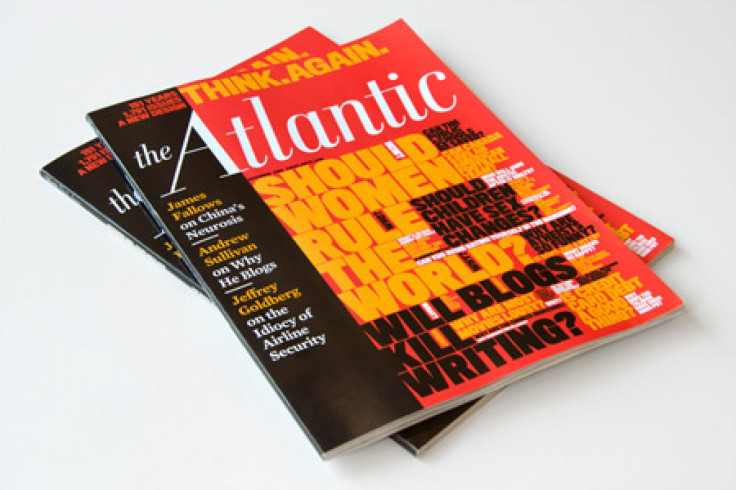 The Atlantic magazine on Tuesday released an apologetic statement regarding the Scientology-sponsored blog post that sparked outrage and ridicule across the Internet this week.
"We screwed up," wrote the magazine's spokesperson, Natalie Raabe. "It shouldn't have taken a wave of constructive criticism -- but it has -- to alert us that we've made a mistake, possibly several mistakes. We now realize that as we explored new forms of digital advertising, we failed to update the policies that must govern the decisions we make along the way."
Journalism circles were aflutter on Tuesday morning, tweeting and blogging relentlessly over the controversial sponsored article, which was part of an advertorial package paid for by the Church of Scientology. The offending post -- a 1,000-word approbation of ecclesiastical leader David Miscavige and his accomplishments -- looked much like an ordinary Atlantic article aside from a yellow button marked "sponsor content."
"2012 was a milestone year for Scientology," read the lead, "with the religion expanding to more than 10,000 Churches, Missions and affiliated groups, spanning 167 nations -- figures that represent a growth rate 20 times that of a decade ago."
When the post first appeared on Monday afternoon, no shortage of online publications quickly saw irony in a 155-year-old magazine co-founded by Ralph Waldo Emerson reducing itself to a shrill for L. Ron Hubbard. "The Atlantic is now publishing bizarre, blatant Scientology propaganda as 'sponsored content,'" Gawker scoffed.
Backlash on Twitter poured in quickly, including criticism from some members of the magazine's own editorial staff. "There's no time like the present to tout my friend Larry Wright's great new investigation of the Church of Scientology," posted the Atlantic's national correspondent, Jeffrey Goldberg, in reference to Wright's highly anticipated Scientology expose, "Going Clear."
The controversy received its share of mockery as well. Comedy Central's Indecision website spoofed the incident with a satirical blog post titled "Presbyterians Are Awesome!"
By 11:30 p.m. on Monday night, the offending blog post was gone, replaced by the following messages: "We have temporarily suspended this advertising campaign pending a review of our policies that govern sponsor content and subsequent comment threads." Its removal didn't stop several websites -- including Ad Age, Business Insider and Gothamist -- from reposting the advertorial in its entirety. The post can also be viewed here via a Google cache.
Despite the ensuing controversy, reactions to the sponsored post have been mixed, with many commenters shrugging their virtual shoulders at what appears to be business as usual on the Internet. "It's an ad," wrote one Gawker reader. "Seriously, aesthetics aside, what's the problem?"
At the heart of the debate is the growing prevalence of so-called native advertising -- sponsored content dressed up to resemble a media company's specific publishing platform, thereby allowing ads to integrate more seamlessly. A native ad can be as simple as a sponsored tweet on Twitter or as expansive as an essay-like blog post like the Atlantic's, which was barely distinguishable from its editorial content.
Depending on whom you ask, native ads are either a scourge to society or the savior of the digital economy. Marketers and advertisers have long bemoaned the ineffectiveness of traditional Web banner ads, and much research agrees with them. According to the 2012 "State of Online Advertising" report, 54 percent of consumers say banner ads do not work, and 68 percent say they find online advertising "annoying."
Conversely, native advertising has a growing chorus of champions, including the Atlantic's publisher, Jay Lauf, who told the website Digiday back in September that the publication was doubling down on its efforts to incorporate native ads on its website. "A lot of people worry about crossing editorial and advertising lines, but I think it respects readers more," Lauf told Digiday's Josh Sternberg. "It's saying, 'You know what you're interested in.' It's more respectful of the reader that way."
IBTimes reached out to the Atlantic for a comment. In response, Raabe forwarded her aforementioned statment, but did not elaborated about the Atlantic's future use of native advertising. Nevertheless, judging from that statement, Lauf may be forced to curb some of that avowed exuberance -- or at the very least, reevaluate it. "It's safe to say that we are thinking a lot more about these policies after running this ad than we did beforehand," Raabe wrote. "In the meantime, we have decided to withdraw the ad until we figure all of this out. We remain committed to and enthusiastic about innovation in digital advertising but acknowledge -- sheepishly -- that that we got ahead of ourselves. We are sorry, and we're working very hard to put things right."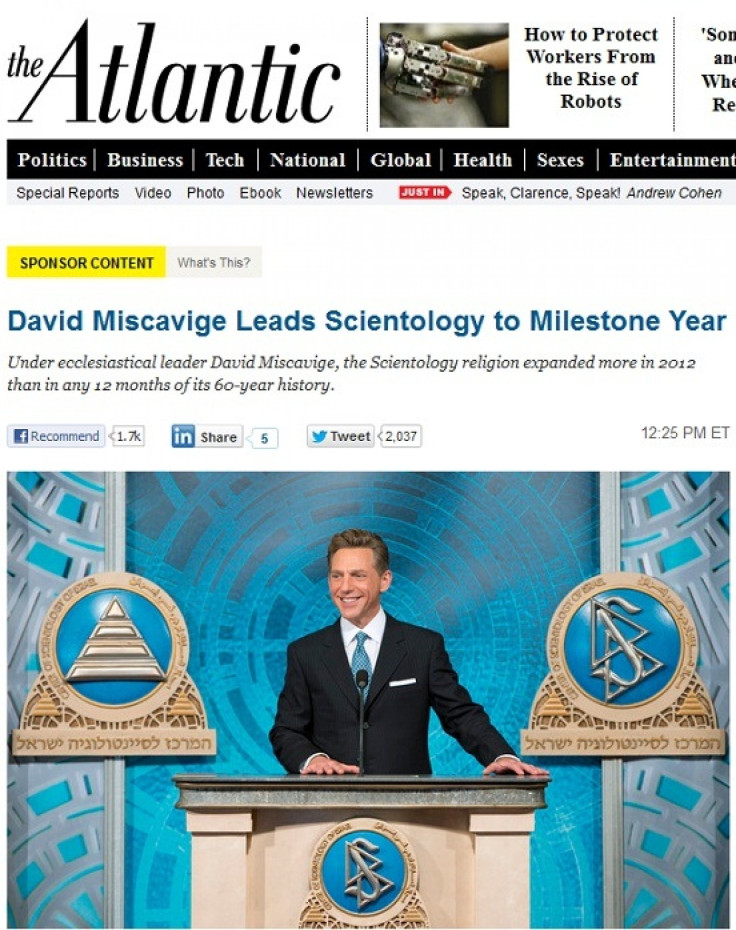 © Copyright IBTimes 2023. All rights reserved.
FOLLOW MORE IBT NEWS ON THE BELOW CHANNELS