'Avengers: Age Of Ultron' Proves To Be An Explosive Ride, But Marvel Sequel Lacks Girl Power [REVIEW]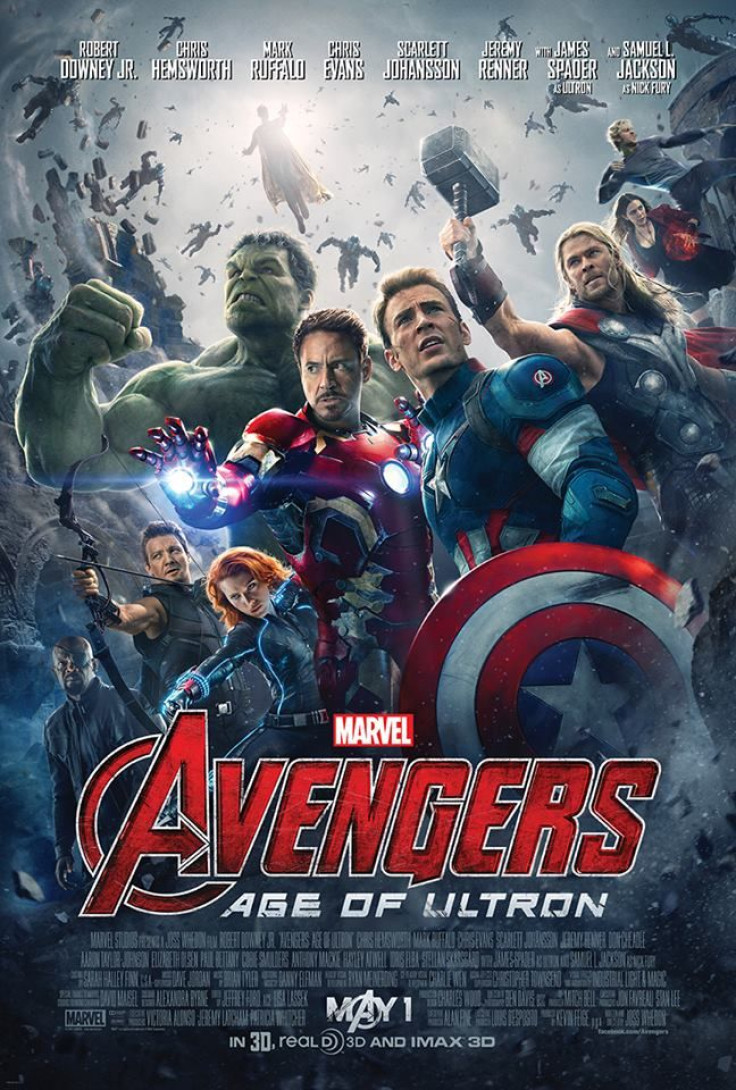 We've hit the point in Marvel's world domination where our heroes need no introduction. Tony Stark (Robert Downey Jr.), in his Iron Man suit, zooms ahead of his comrades waging battle on the ground. Bruce Banner in Hulk form (Mark Ruffalo) smashes the nondescript baddies away, as Thor (Chris Hemsworth) and Captain America (Chris Evans) charge ahead to the Hydra stronghold. The nimble pair of Black Widow (Scarlett Johansson) and Hawkeye (Jeremy Renner) take out agent by agent until Stark can retrieve Loki's scepter (sadly, it's all we'll see of Loki).
Mission accomplished, the team goes home and the title "Avengers: Age of Ultron" fills the screen.
The fast-paced intro may be a little jarring for casual fans who haven't religiously kept up with the ABC spinoff, "Agents of S.H.I.E.L.D.," but returning director Joss Whedon catches the audience up pretty efficiently in the wake of Hydra's demise in a war-torn Eastern European country somewhat reminiscent of Ukraine. Hydra's last stand is also where audiences are introduced to two new genetic experiments, Scarlet Witch (Elisabeth Olsen) and Quicksilver (Aaron Taylor-Johnson).
The pace keeps the script flowing at a sprint: Not long after Stark introduces his Ultron plan to save the world, the artificial intelligence program (voiced by James Spader) becomes sentient and decides for itself that humans are not fit to live. There is a lot of story to cover between the first trip to Wakanda and the creation of the metal humanoid figure meant to supplement the human race (say hello to Vision, as played by Paul Bettany), but Whedon buffers this with the necessary action scenes set around the world. It's become very apparent the Avengers have a global audience to satisfy.
The addition of the mind-bending Scarlet Witch leads to some insight into the superheroes we think we know. Black Widow is transported back to her training days as Natasha Romanoff, and the traumatic past she left behind in Russia. Captain America is haunted by the happy ending he could have had with Agent Carter (Hayley Atwell), while Thor sees a vision of a ruined Asgard. Although Hawkeye is spared a second trip through mind control, audiences see him in a different, unexpectedly kind light.
One aspect of disappointment in "Avengers: Age of Ultron" is the number of female superheroes who must be rescued or carried off from battle. Yes, the Avengers is only up to two women on the team and other guys have their turn with crippling injuries, but having both Scarlet Witch and Black Widow carried to safety is a bit of a letdown from the director who gave audiences "Buffy the Vampire Slayer" and Zoë Washburne in "Firefly."
An untoward note comes when one of the female characters refers to herself as "a monster" after revealing she was forcibly sterilized. Another made light of the absence of Stark's and Thor's partners (Gwyneth Paltrow and Natalie Portman); although they were a successful CEO and scientist, they are neither seen nor heard from at all in "Avengers: Age of Ultron." Those moments are not exactly empowering. With increasing calls on Disney to recognize the female members on the Avengers and Guardians of the Galaxy, such small slights echo the sexism of the Marvel Universe that promises no female-led standalone film through 2018.
"Avengers: Age of Ultron" is an otherwise a solid superhero movie that reinvigorates the sprawling franchise with fresh blood. As in "The Avengers," the team splits off to go their separate ways, so it looks to be their last. This time, that ending is to clear the path for a new group of superheroes. With a fresh team of Avengers, we will see if audiences stick with them without a series of movies to introduce the characters.
Oh, and don't bother staying until after the credits. There's no shawarma scene for fans this time, just an angry Thanos looming in the distance.
"Avengers: Age of Ultron" opens in theaters nationwide May 1.
© Copyright IBTimes 2023. All rights reserved.
FOLLOW MORE IBT NEWS ON THE BELOW CHANNELS