Baltimore Ravens Reportedly Eyeing Kansas City Chiefs' Offensive Coordinator, Says Insider
KEY POINTS
The Baltimore Ravens are reportedly still in the hunt for Kansas City Chiefs' Eric Bieniemy
His stint with the Ravens as an offensive coordinator may open more doors for him in the future
Lamar Jackson's decision to re-sign or go might also depend on Bieniemy's decision
The Baltimore Ravens' 2022 NFL season ended in disappointment after almost pulling off the victory against the Cincinnati Bengals during the Wild Card playoffs and is in search of a new offensive coordinator (OC) after Greg Roman resigned from the position.
NFL insider Ian Rapoport recently made an appearance on "The Pat McAfee Show" and told the panel about the development involving the Ravens and Kansas City Chiefs OC Eric Bieniemy.
"I think Bieniemy's really in play for a play-calling OC job in a couple different places like Baltimore. I think the [Washington] Commanders is really one to consider... He shares play calling with [Chiefs head coach] Andy Reid. He does a lot of it, but he shares it," Rapoport stated.
When asked by the panel to elaborate on what he meant by sharing, Rapoport stated that all he knows is that he "does a lot" and is "very, very, very involved" in the plays that materialize on the field for the Chiefs.
He did not confirm whether Bieniemy tells the quarterback directly or passes it through Chiefs head coach Andy Reid first.
Fellow league insider Adam Schefter was the first to report about the Ravens asking the Chiefs for permission to speak with Bieniemy and Ravens fans could not contain their excitement.
Bieniemy's playing career in the NFL spanned from 1991 to 1999 as a running back for the San Diego Chargers, Cincinnati Bengals and Philadelphia Eagles before transitioning to coaching in 2001 with Colorado–his alma mater.
He made his return to the NFL as a running backs coach with the Minnesota Vikings in 2006 and a one-year stint as an assistant head coach before getting his first shot at being an offensive coordinator with Colorado in 2011 and 2012.
Since the 2019 offseason, Bieniemy has been a primary head coaching candidate in multiple franchises, but he is yet to be hired for the role in any team.
What Baltimore fans look forward to the most from Bieniemy is whether he can unlock the full potential of quarterback Lamar Jackson in the same way that he has with Patrick Mahomes in Kansas City.
Mahomes' rise to superstardom and Super Bowl victory in 2019 was largely credited to Reid, not Bieniemy, and many fear the same outcome if they beat the Philadelphia Eagles in Super Bowl LVII.
The fact that he has not been given a full-on chance to strut his wares as a head coach is a red flag for some more vocal Ravens fans on social media, noting that there may be something about him that prevents him from getting the nod.
It cannot be denied that he has had an impact in the NFL as an OC, but the question of whether he can replicate his success elsewhere remains which may tempt him to take a shot at the Ravens–or any other franchise for that matter.
Should the Ravens steal away Bieniemy from the Chiefs, all eyes will turn to Jackson as he decides whether to re-sign or not.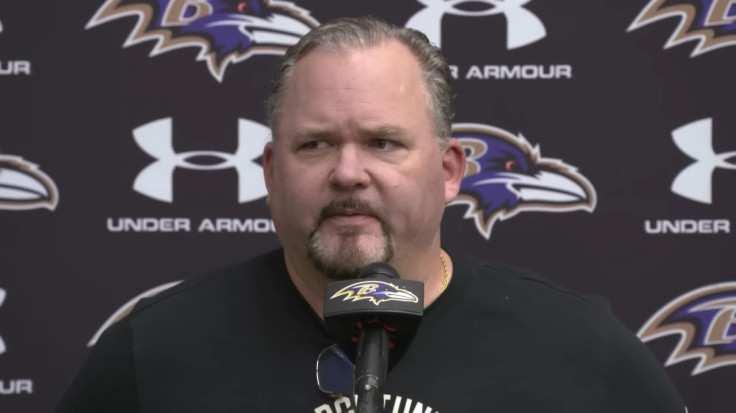 © Copyright IBTimes 2023. All rights reserved.