Barack Obama Ordered To Stay Away From Kim Kardashian By 'Jealous' Wife Michelle Obama, Says Report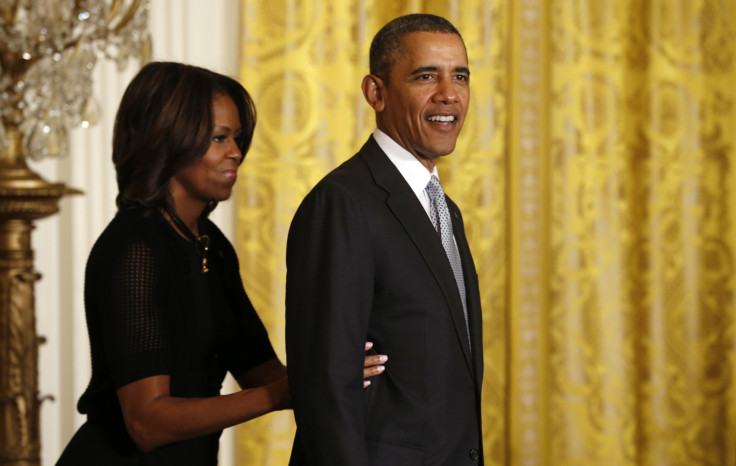 The President of the United States is rumored to be under strict orders to stay away from reality TV vixen Kim Kardashian. According to a report from the National Enquirer on Monday, President Barack Obama is allegedly under instructions from his wife, first lady Michelle Obama, to keep clear of Kardashian, 33, and her infamously "oversized butt."
"Michelle believes any attractive woman is a threat when it comes to Barack," an unidentified D.C. "insider" told the tabloid, adding that the first lady went to great lengths to ensure that the "Keeping Up With the Kardashians" star came nowhere near her presidential hubby at the USC Shoah Foundation's 20th Anniversary Ambassadors for Humanity Gala in Los Angeles on May 7. "She went all out making sure Kim got nowhere near the President," a source said of the Steven Spielberg-hosted charity event.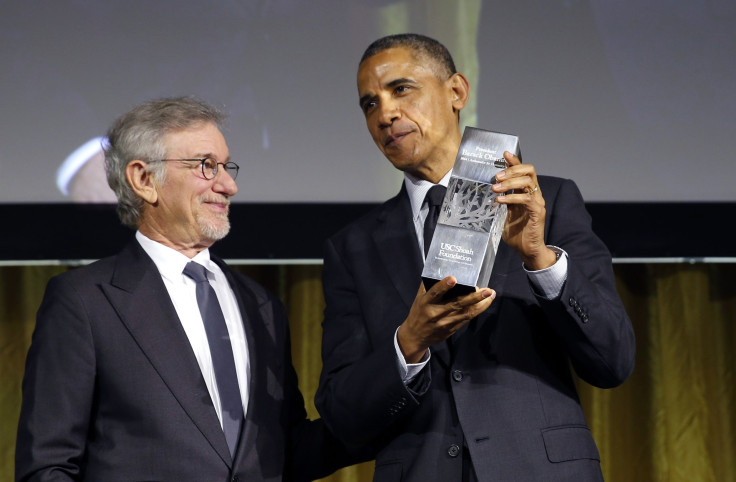 While the report says that Michelle Obama gave Secret Service officials and event security staff orders to keep Kardashian, a fellow guest at the gala, away from her husband, one insider said that Michelle Obama also gave the president husband a stern lecture about keeping his distance from the Armenian stunner.
"She let Barack know he better not get anywhere near Kim's oversized butt," the insider said, adding that Michelle's biggest fear was a potential Kim K. / Obama selfie hitting the Web.
"Michelle believes Kim would do anything for publicity," the source said. "She could just imagine Kim slinking over to Barack and taking a selfie with their arms around each other, or worse, Barack staring at her butt."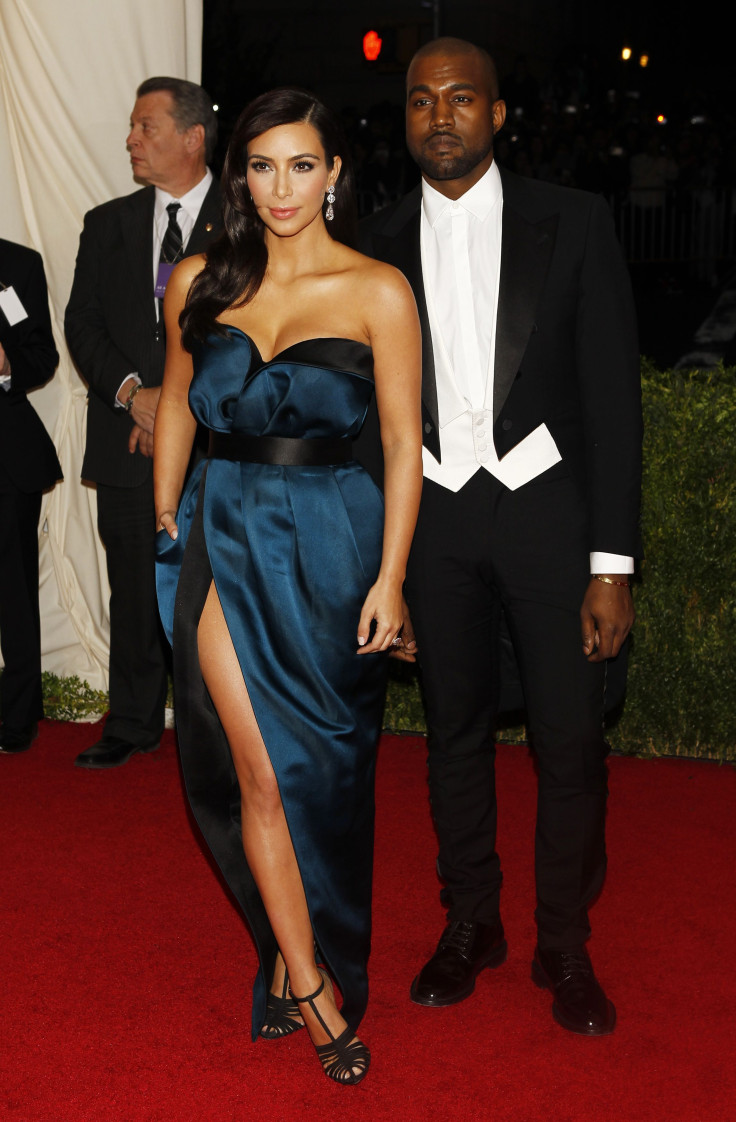 Despite Michelle's best efforts, the National Enquirer reported that Kardashian, set to wed rapper Kanye West on May 24, tried her best to get in some quality time with the President.
"Kim's table wasn't close to President Obama's, so she enlisted one of her minions to scout the opportunity to meet him," a source said. Despite the E! star's best efforts, Kardashian's pal was reportedly told to "get lost" by Obama's security team.
While Michelle Obama was allegedly not keen on her husband getting chummy with Kardashian, in the past, Barack Obama wasn't shy about criticizing the reality star. In an August 2013 interview with Amazon.com, Obama blamed Kardashian for creating a "shift in culture."
"The American Dream involved some pretty basic stuff: A good job where you felt some security, a good education ... '" the president said, who specifically named Kardashian and West, 36, as one of the reasons why America is so obsessed with materialism. "There was not that window into the lifestyles of the rich and famous. Kids weren't monitoring every day what Kim Kardashian was wearing or where Kanye West was going on vacation and thinking that somehow that was the mark of success," Obama said.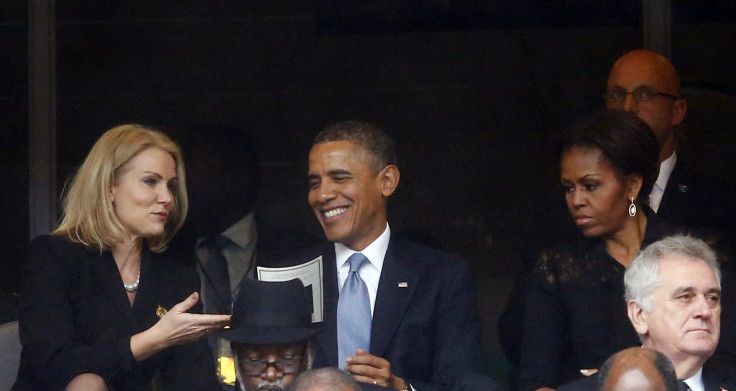 The first lady was last rumored to be jealous of another woman talking to the president after Barack Obama's infamous selfie, taken with Danish Prime Minister Helle Thorning-Schmidt and British Prime Minister David Cameron at Nelson Mandela's memorial service in December. Despite capturing images of Michelle glaring post-selfie, the photographer responsible for the photos, Robert Schmidt, later said his pictures were misleading, and he shot down rumors about Michelle's alleged jealousy.
"I later read on social media that Michelle Obama seemed to be rather peeved on seeing the Danish prime minister take the picture. But photos can lie," Roberto Schmidt said. "In reality, just a few seconds earlier, the first lady was herself joking with those around her, Cameron and Schmidt included. Her stern look was captured by chance."
© Copyright IBTimes 2023. All rights reserved.
FOLLOW MORE IBT NEWS ON THE BELOW CHANNELS