Barack Obama Roasts 'Desus & Mero' Hosts In Hilarious Interview, Jokes About Knicks
KEY POINTS
Barack Obama is appearing on Showtime's "Desus & Mero" to promote his memoir "A Promised Land"
Obama made fun of the hosts' basketball exhibition with Senator Cory Booker
Desus Nice and The Kid Mero pretended to walk out during the interview
Barack Obama just did another interview to promote his memoir and this time, he made fun of the hosts by joking about how they could play for the Knicks.
The former president continues to grace various interviews to promote his book "A Promised Land." His next appearance would be on "Desus & Mero" on Showtime. A preview of the interview was released on Monday on YouTube with the ex-POTUS roasting hosts Daniel "Desus Nice" Baker and Joel "The Kid Mero" Martinez.
"Let me just say that I saw some of the footage of y'all with Booker," Obama said while walking into the room referring to the duo's basketball showdown with Senator Cory Booker that was featured on their show last year.
"Before you say anything, that was a deep fake and fake news. Do not misrepresent us," the pair replied.
"If you post that video on Twitter, it would be disclaimed and there would be a little note on the bottom," they added.
"I'm just saying, here's the good news: Looks like y'all could play for the Knicks," the former POTUS, a basketball fan, said.
The New York Knicks haven't won an NBA title in over four decades. Last season, they went 21-45, The Hill noted.
The hosts laughed hard upon hearing Obama's joke. "Oh, wow! wow," they exclaimed. They acted like they felt bad with Desus Nice saying, "Good luck with your little book," as they stood in unison to walk out.
However, Obama just smiled while telling them to sit down. He asked them what they're about to discuss as he sipped his drink and the pair immediately returned to their seats.
The scene was cut from there and many reacted online because they found it hilarious.
"They got roasted by Obama. LEVELS," one commented.
"'Looks like y'all could play for the Knicks' Obama probably be roasting everybody," another added with laughing emoji.
"That knicks roast hit harder than Jake Paul's KO," a third user joked.
Many also praised the duo's brand for scoring an interview with the POTUS. The hosts had always wanted to invite Obama to their show.
"I don't think I've ever been this happy for 2 people who are basically strangers to me. The Brand is Colossal!" one wrote.
"The brand is legendary," another added with crying emoji.
"The brand is legendary... can't wait to see full interview," a different netizen commented.
"Holy s--t the brand is on HGH! Can't wait for the full interview!" a fourth user added.
Obama's full interview on "Desus & Mero" will air at 11:05 p.m. Sunday, Dec. 13.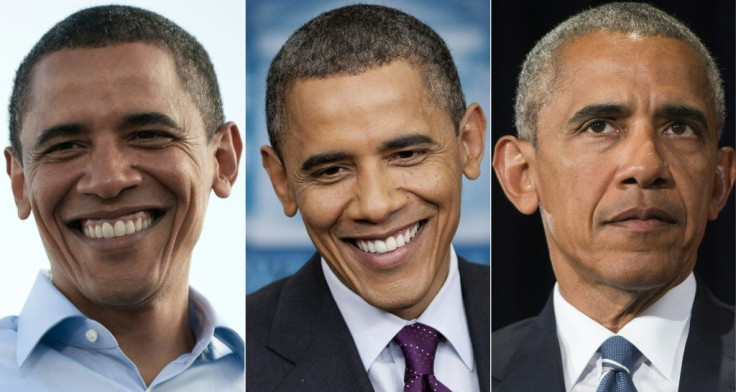 © Copyright IBTimes 2023. All rights reserved.