Barack Obama On Wall Street: Former President's Spokesman Justifies $400,000 Speaking Fee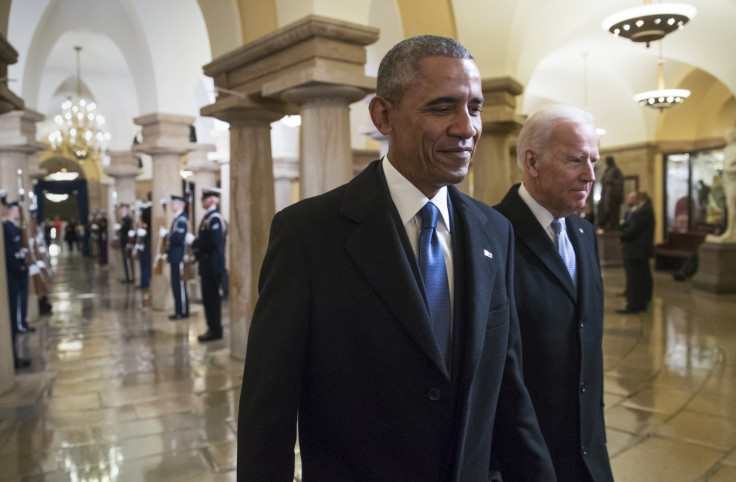 Reports of former president Barack Obama being paid $400,000 to speak at a conference sponsored by a Wall Street investment bank caused uproar Wednesday. However, his spokesman, Eric Schultz said Wednesday Obama will remain "true to his values, his vision, and his record."
In a statement, he said it had been made clear months ago Obama would be delivering speeches – both paid and unpaid – after he stepped out of office in January this year, "regardless of venue or sponsor."
Read: Wall Street Speech May Fetch Former President Barack Obama $400,000
"He recently accepted an invitation to speak at a health care conference in September, because, as a President who successfully passed health insurance reform, it's an issue of great importance to him," Schultz said.
The statement continued, "With regard to this or any speech involving Wall Street sponsors, I'd just point out that in 2008, Barack Obama raised more money from Wall Street than any candidate in history — and still went on to successfully pass and implement the toughest reforms on Wall Street since FDR."
Just as Obama made his first public appearance after leaving the White House in January — at an event in the University of Chicago — reports emerged that the former president would appear at financial services firm Cantor Fitzgerald LP's healthcare conference in September.
Many criticized his decision to accept money from Wall Street firms. Democratic political consultant Hank Sheinkopf was quoted by Fox Business as saying it's "more hypocritical than ironic" he was being "fed by the same people he called 'fat cats.'"
At the same time, many also maintain that Obama is just doing what previous presidents have all done after leaving the White House.
"I don't think that former presidents necessarily take vows of poverty, or should," said David Axelrod, an adviser for the former president told New York Times. "Will he be out there doing good? I think he will be. I watched him for eight years devote every ounce of his energy and thought and attention to the service of this country. I hope that he does find some personal time and solace and enjoyment now. He's earned it."
Some meanwhile, also went on to say that Obama's speech at the conference was making him the target of more criticism than President Donald Trump has received for refusing to make his visitor log public.
Obama's spokesperson maintained that he would be delivering speeches as he works towards youth engagement in politics.
"While he'll continue to give speeches from time to time, he'll spend most of his time writing his book and, as he said in Chicago this week, focusing his post-presidency work on training and elevating a new generation of political leaders in America," Schultz added.
© Copyright IBTimes 2022. All rights reserved.
FOLLOW MORE IBT NEWS ON THE BELOW CHANNELS