Ben Roethlisberger Injury News: Pittsburgh Steelers' QB Available In Week 13 After Concussion Questions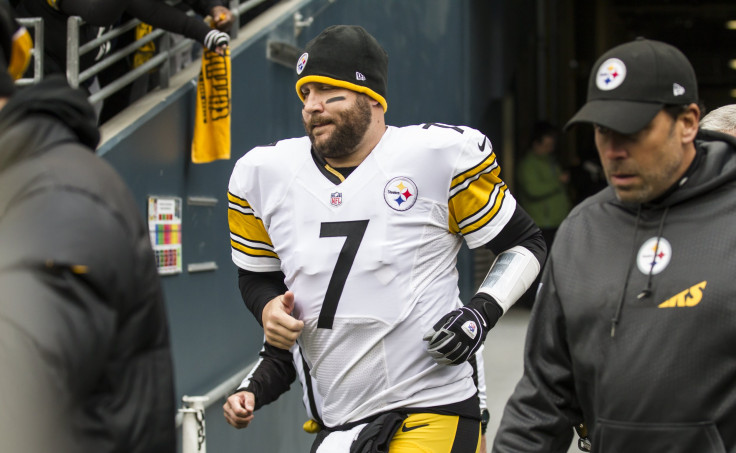 Boosting their postseason hopes at just the right time, Pittsburgh Steelers (6-5) quarterback Ben Roethlisberger was cleared to return to practice three days after sustaining a concussion in Week 12's 39-30 road loss to the Seattle Seahawks.
Roethlisberger will reportedly be ready for Pittsburgh's important in-conference matchup with the Indianapolis Colts on "Sunday Night Football," according to the Pittsburgh Post-Gazette.
However, questions remain unanswered as to whether or not Roethlisberger suffered a concussion in the first place and how the Steelers handled their star's injury.
The All-Pro took a helmet-to-helmet hit from Seattle defensive end Michael Bennett in the fourth quarter, and though he stayed on the field for nine more plays Roethlisberger would eventually self-report an injury and claim his peripheral vision was effected by watery eyes following the tackle.
After the game Roethlisberger's status remained unclear. He failed an ImPACT Test, a computerized concussion evaluation system, administered by team doctors on Tuesday, and then passed the concussion-protocol exam on Wednesday.
Yet Roethlisberger claimed he did not even learn of the diagnosis until head coach Mike Tomlin made the announcement to the media on Tuesday. Prior to Tomlin's press conference, Roethlisberger appeared on his weekly radio program and described his interaction with team trainers after the concussion test.
"I said I didn't know the results then, but I felt good because when I left the training room the trainers told me this looks good," Roethlisberger said to 93.7 The Fan. "Don't see why this would be an issue. That's why I said I didn't have a concussion and would be ready to go.
"He did say he'd have to check with a third party. Obviously, whether that's Coach Tomlin or another doctor, they said you're not clear. Whether they're covering rear ends or what's going on. ... I said, 'OK, I'll take it [Wednesday] morning. I got the same thing from the trainers. They said Ben, 'It's fine.' You're ready to practice.'"
Roethlisberger's confusion, and apparent miscommunication between he, Tomlin, and the training staff is something he hopes Pittsburgh clears up.
"They need to get together and tell their players what's going on because I was just relaying what the doctors told me," Roethlisberger said.
The Steelers sit three games back of Cincinnati for the AFC North lead and are instead pursuing a wild-card berth to reach the playoffs for the second straight season, a goal that would significantly wither away unless Roethlisberger's under center for the final five games.
Roethlisberger already missed four full games this season with a sprained knee, and even dealt with a foot injury, but technically came back earlier than expected when fill-in Landry Jones was went down against Cleveland in Week 10 before Pittsburgh's bye.
Roethlisberger has a 3-3 record in six starts this season, totaling 2,343 passing yards, 11 touchdowns to nine interceptions, and league-best 8.8 yards per attempt along with a 93.9 passer rating.
© Copyright IBTimes 2022. All rights reserved.
FOLLOW MORE IBT NEWS ON THE BELOW CHANNELS