Bernie Sanders Presses Hillary Clinton To Demand DNC Keep Ban On Lobbyist Cash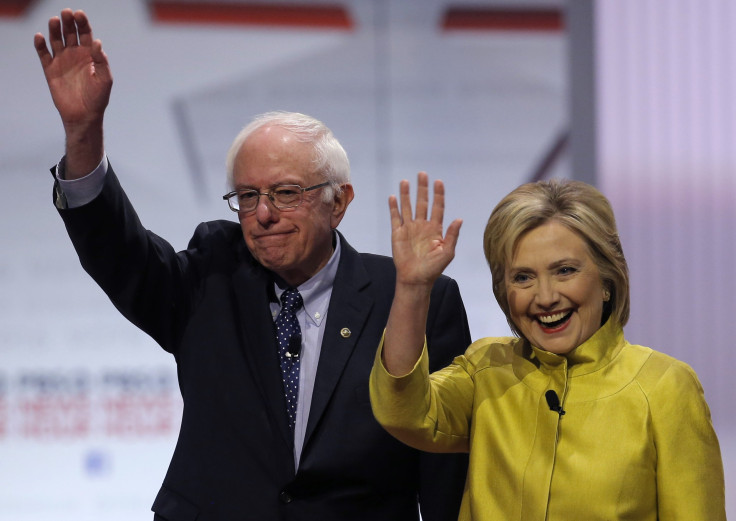 Hours after last week's Democratic presidential debate, where candidates criticized money's influence over politics, word leaked that the Democratic National Committee was overturning President Barack Obama's ban on accepting campaign cash from lobbyists and political action committees. Now, Sen. Bernie Sanders is calling for the DNC to honor Obama's policy and reverse its decision — and is demanding Hillary Clinton join him in that stance.
The Vermont lawmaker's campaign late Friday echoed criticism of the decision by campaign finance watchdog groups. Sanders campaign spokesman Michael Briggs said in a statement: "This an unfortunate step backward. We support the restrictions that President Obama put in place and we hope Secretary Clinton will join us in supporting the president."
Clinton has increasingly predicated her candidacy on the assertion she is the best prepared to preserve Obama's policies, and she has suggested Sanders has been insufficiently loyal to the president. However, Clinton so far has been silent on whether Obama's DNC fundraising policy should be abandoned or honored: Her campaign did not respond to International Business Times' questions about whether the former secretary of state will join Sanders' demand for the DNC to preserve the president's ban on lobbyist campaign cash.
Obama originally announced the ban on the DNC accepting money from lobbyists and political action committees when he became the party's nominee in 2008. At the time, he declared: "We will not take a dime from Washington lobbyists or special interest PACs. We're going to change how Washington works. They will not fund my party. They will not run our White House. And they will not drown out the voice of the American people when I'm president of the United States of America."
When the Washington Post broke the news on Friday that the DNC was reversing Obama's policy, the newspaper noted that "some suggested it could provide an advantage to Hillary Clinton's fundraising efforts." In recent weeks, various reports have documented how Clinton's current campaign is benefiting from the multimillion-dollar fundraising efforts of lobbyists who represent various industries that expect to have business before the next president.
That follows her previous prolific fundraising from those linked to the lobbying sector: From 2000 to 2008 she raised more than $30 million from those classified as lawyers and lobbyists, data compiled by the nonpartisan Center for Responsive Politics show. That group's data show in that same time period, Sanders accepted more than $310,000 from those classified as lawyers and lobbyists.
Clinton's campaign has raised roughly $725,000 from lobbyists for this year's contests. Sanders has received $4,228 worth of contributions from lobbyists during his presidential bid, the center's data show.
The Post reported the DNC's change in policy on accepting contributions from federal lobbyists was "quietly introduced at some point during the past couple of months." FEC reports show the group has taken in donations from lobbyists in recent months — including potentially through a fundraising vehicle set up by Clinton.
Federal elections records show Steve Elmendorf — a former congressional staffer and a lobbyist for companies like Goldman Sachs, Citigroup and Verizon — donated $33,400 to the Hillary Victory Fund in October. The joint fundraising committee collects funds in bulk and splits the proceeds among her campaign, the DNC and state parties. Elmendorf has bundled $172,320 worth of donations for Clinton's campaign, Yahoo reported.
In December, Tony Podesta, a federal lobbyist and the brother of Clinton's top campaign aide, gave $33,400 to the Hillary Victory Fund. A lobbyist for Wells Fargo, Lockheed Martin and Walmart, Podesta has raised more than $205,000 for Clinton's campaign.
© Copyright IBTimes 2023. All rights reserved.