Best Tech Holiday Gifts 2015: From Smartphones To Hoverboards, IBT Editors Bring You The Best Gadget Ideas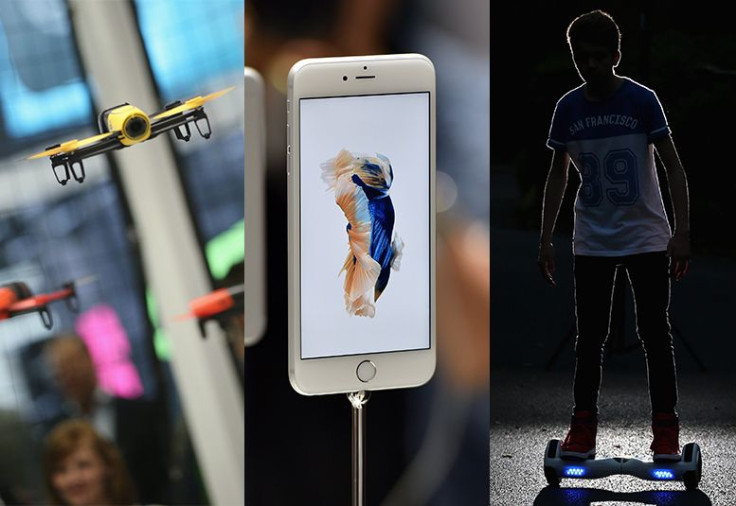 At International Business Times we're tech-obsessed, just like you. This year we've sifted through a mountain of smartphones, hoverboards, game consoles, headphones, wearables, drones, connected appliances and more, and we're here to help you make the best decisions for your needs and budget.
Here are the top picks from IBT's tech reporting staff for the 2015 holiday season. Whatever the gift — whether it's a drone or a smartwatch — we have you covered. Take a look below to see our staff's picks, and be sure to bookmark this page as we add more picks to the list.
Best Hoverboards
From IO Hawk to Hovertrax, here's a look at the two-wheel balancing scooter that's sweeping the globe as one of the hottest holiday gifts. Just don't expect to take it on a plane, as many airlines have banned the gadget from its flights due to fire hazard concerns.
Best Drones
Take to the skies with multicopters that can fit into the palm of your hand, or find one that can turn you into an aerial photographer. Don't forget to keep the rules of the sky in mind, especially if you fly one in the United States.
Best Gifts For The Space-Obsessed
For the space lover, the sky's hardly the limit. Here's a look at everything from art prints of space photos to telescopes for catching a glimpse of the universe up close.
Tech Gifts Dad Will Love
Fathers aren't always the easiest people to shop for. If they need something they often will buy it right away. But there's still plenty of great tech gadgets available that they'll love — from Apple TV to universal remotes such as the Logitech Harmony Elite.
Gifts For The PC Gamer
With long hours of gameplay, PC gamers demand the best of the best when it comes to their accessories. Here's a closer look at several keyboards, mice and headsets they'll be sure to love.
Best iPhone Accessories
If there's one thing iPhone owners can appreciate, it's the slew of accessories that work with Apple's flagship smartphone. Take a closer look at some of the best -- from cases to headphones.
Best Smartphones Of 2015
Whether you're on team iOS or team Android, 2015 brought a lot of great phones to choose from. Here's a look at some great handsets from manufacturers such as Apple, Samsung, OnePlus and more.
Best Smartwatches And Fitness Trackers Of 2015
The smartwatch may not ubiquitous just yet. But this year brought about tons of new gadgets for your wrist, as well as everything from fitness tracking to mobile payments. Here's a look at some of the best smartwatches and fitness trackers released to date.
Best Apple Watch Accessories
Owners of Apple's smartwatch not only have a number of straps to choose from but also a growing number of accessories and stands. Here's a look at some of the best available this 2015 holiday season.
Best Gifts For The Apple Lover
If the person you're shopping for has everything Apple-branded, here's a great place to start for a few unique gift ideas that they can use with iPhone, iPad or whatever else they own.
'Fallout 4' Gift Guide
"Fallout 4" is an incredible game with some intensely dedicated fans. While the best present would be spending countless hours wandering the wasteland with impunity, getting some "Fallout" gear is not too bad either.Here's a look at some of the best "Fallout" gifts available this 2015 holiday season.
Best Internet of Things Gadgets
Know someone who's interested in transforming their home into a smart home? From "learning" thermostats to color-changing light bulbs, there's never been a better time to jump on that IoT bandwagon with some fun internet-connected household gifts. Here's our IoT gift guide for the 2015 holiday season.
Best iPad Accessories
Transform an iPad into an all-singing, all-dancing games console, or hook up an SD card reader for an on-the-go photography studio. There's plenty of add-ons to unlock the iPad's true potential, serving as the perfect gift for the iPad lover. Check out our iPad accessories guide for the 2015 holiday season,
© Copyright IBTimes 2022. All rights reserved.
FOLLOW MORE IBT NEWS ON THE BELOW CHANNELS