Bill Clinton: The Democratic Party's Most Sought-After Surrogate
Analysis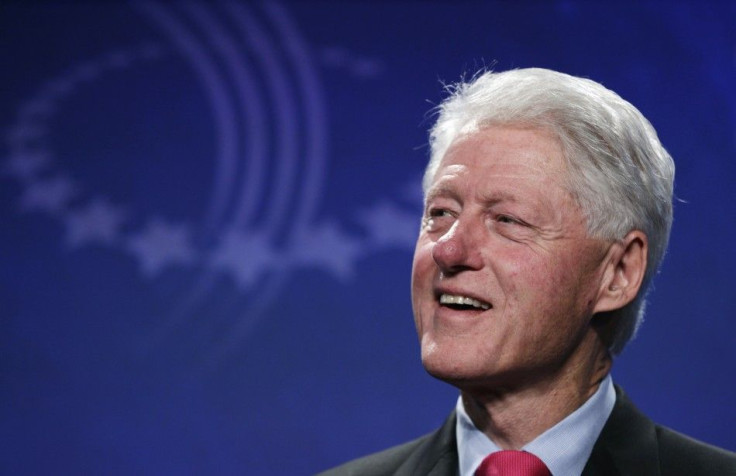 There's been a whole lot of Bill Clinton in the news recently.
The former Democratic president has become his party's go-to surrogate on the campaign trail this year, showing his face in President Barack Obama's re-election ads, advertised as a major draw for swanky fundraisers, and, most recently, raising the profile of Wisconsin's gubernatorial election even further by lending candidate Tom Barrett, also the mayor of Milwaukee, his national voice on Friday.
Cooperation works; constant conflict is a dead-bang loser and you need to get rid of it, Clinton said at Pere Marquette Park in Milwaukee.
A helping hand from Clinton is an important get for Barrett, who hopes to unseat Republican Gov. Scott Walker in a recall election this Tuesday. Wisconsin is a traditionally blue state, but it has had a number of close elections in recent years and is being billed as a dry run for this year's presidential election by Democrats. High-profile Republican governors Chris Christie of New Jersey, Nikki Haley of South Carolina, and Bob McDonnell of Virginia all have visited the state to campaign for Walker.
It's not surprising that Clinton could give Barrett a big boost. President No. 42 has both the star power and the clout of being the only living Democratic former president other than Jimmy Carter, who is the tender age of 87 and did not achieve the same rock-star status as Clinton. Out of the White House, Clinton has the flexibility to make endorsements without political consequences.
I think I know a little bit about what would bring America back and what would bring economic recovery, Clinton told an enthusiastic crowd.
Clinton's face has become an increasingly common image in the media, however, because of the Obama campaign's aggressive effort to advertise him as a surrogate.
For example, Clinton appeared in an almost 20-minute-long campaign documentary praising Obama's leadership skills during the raid that killed Osama bin Laden last year. He offered similar words of praise in an ad that was criticized for implying Mitt Romney would not have taken the same actions Obama did to go after Bin Laden.
Clinton also attended a fundraiser in Virginia in April. On top of a gala dinner and a more affordable Barack on Broadway event in New York next week, the high-profile Democrat is the big attraction in a sweepstakes, An Evening With Two Presidents. Anyone who subscribes to Obama campaign emails or follows @BarackObama on Twitter heard about the contest raffling off tickets for a small donation.
And 2012 is certainly no 2008, where Obama had just beaten Clinton's wife, and his own soon-to-be-secretary of state, Hillary Clinton, in a bruising battle for the Democratic Party's presidential nomination. This time around, the former president has fully embraced the role of surrogate, and the Obama campaign does whatever it can to help the incumbent rack in the funds.
However, Clinton is way more than just a mouthpiece. The great thing about not being president anymore is that you can say whatever you want, Clinton joked at the rally in Wisconsin on Friday.
And he does say whatever he wants. On Piers Morgan Tonight, just the day before, Clinton didn't directly jump off of the Obama campaign message, but meandered a bit, when he said the Republican nominee had a sterling business career as CEO of private-equity firm Bain Capital.
I don't think that we ought to get into the position where we say 'This is bad work. This is good work,' Clinton told guest host and producer Harvey Weinstein of the private-equity industry, which has been the subject of anti-Romney ads that aim to describe him as a cold-hearted job killer.
Clinton said Romney was capable of performing the essential functions of the office and implied that he thought the Obama campaign should focus more on Romney's ideas rather than on his business record.
I think the real issue ought to be, what has Governor Romney advocated in the campaign that he will do as president? Clinton said. What has President Obama done, and what does he propose to do? How do these things stack up against each other?
Still, Clinton's meandering from the Obama message doesn't make him a bad Obama supporter. His voiced support and presence is valuable enough to the Democrats' re-election efforts that he's allowed to express it however he wants.
In fact, his presence is valued anywhere he goes. The star power, the clout, and the flexibility make him the perfect surrogate.
© Copyright IBTimes 2023. All rights reserved.