'The Blacklist' Season 3 Spoilers: 7 Most Emotional Moments, Quotes From Episode 20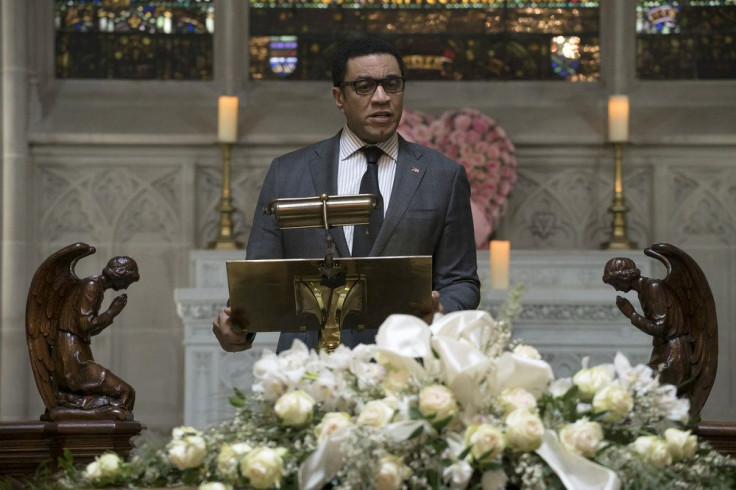 Episode 20 of "The Blacklist" Season 3 was one of the most emotional episodes in the history of the NBC series. Red and the task force had to say goodbye to Liz, who was a friend and someone they loved very much.
The episode was filled with scenes that could make any "The Blacklist" fan tear up, especially if Liz (Megan Boone) turns out to be dead for real. From Cooper's (Harry Lennix) eulogy to Red (James Spader) rejoining the task force, here are seven of the most emotional moments from Thursday's key episode, titled "The Artax Network."
1. Cooper's Eulogy
Episode 20 started with Cooper speaking at Liz's funeral service, which immediately set the tone for the episode. "I wish there was something I could say to stop your tears, to take away the pain of losing her, I can't. What I can do is remind you of how lucky we were to have Elizabeth in our lives," Cooper said in his speech.
While Cooper spoke, the rest of the task force was shown struggling with the loss, as Red avoided the ceremony. "I'll never forget the first day I met her. It was her first day on the job, she had been offered an opportunity that most agents waited a lifetime to get. 'Why me?' she asked. 'I'm nobody special.' I think we all know different," Cooper added.
He closed the eulogy by telling everyone they haven't lost Elizabeth and they know exactly where she is as he points to his heart.
2. Aram's Cemetery Speech
Everyone gathered at the cemetery to say their last farewell to Liz. Just when it seemed the service was over, Aram (Amir Arison) stopped everyone from leaving so he could say a few words.
"When she shall die, take her and cut her out in little stars, and she will make the face of heaven so fine, that all the world will be in love with night, and pay no worship to the garish sun," Aram said, referencing Shakespeare's "Romeo and Juliet," which Liz loved.
He also talked about other things she's loved like little wooden foot massagers and Beyoncé.
3. Aram Finds Red
The task force desperately needed Red in episode 20, but for most the episode he was nowhere to be found. Aram was able to find him and he did his best to try to talk the former criminal into coming back to work.
"You gave me a speech over an empty grave about the foundational elements in our lives. People who form the brick and mortar of who we are, how when they're suddenly not there we collapse into rubble. It was after Agent Keen was almost killed by the Cabal, but I saved her," Aram said. "I understand why you have collapsed into rubble, I really do, but I'm here to collect on your debt."
Aram brought Red to tears, but he turned down Aram and at first refused to go back to help the task force.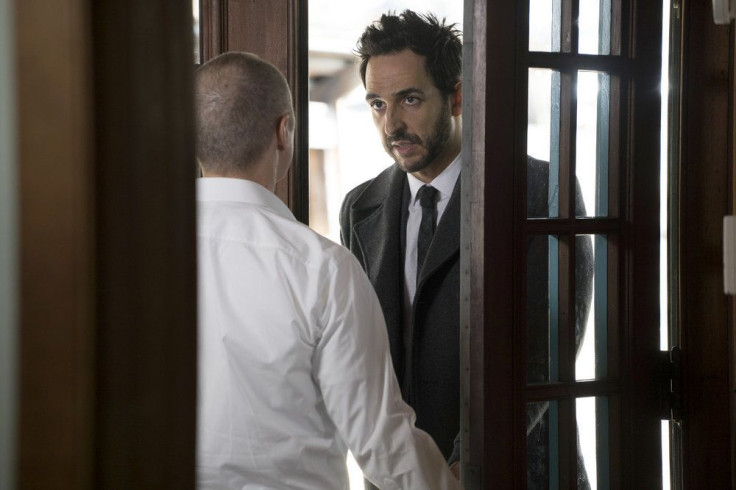 4. Dom Pushed Red Forward
Dom (Brian Dennehy) overheard Red talking to Aram and wanted to know why he didn't go. Dom told him about how he isolated himself after the death of his daughter and tells Red that he has something to live for. "You've got a reason to walk out that door, it sounds to me like there are people out there who are dependent up you, God help them!" Dom said as he laughed.
5. Ressler in Liz's Office
Samar (Mozhan Marnò) was closing up shop at headquarters for the night and she looked to Liz's office where the light was still on. Ressler (Diego Klattenhoff) was in her office looking at the wooden foot massager that was under her desk. The agent cried and took the massager with him to remember Liz.
6. Tom With Agnes
Tom (Ryan Eggold) struggled through most of the episode with being a father on his own without Liz. He tells baby Agnes he's doing the best he can and she brings a smile to his face. By the end of the episode, Tom appeared to be getting the baby care down and fell more in love with his baby daughter.
7. Red Decides To Repay Aram's Debt
Aram gets a knock on the door and is surprised to see Red when he opens it. Red announced he's there to pay his debt to Aram, which made Aram smile.
"Put on your bike helmet, we're going to work," Red said.
Season 3 of the "The Blacklist" continues Thursdays at 9 p.m. EDT on NBC.
© Copyright IBTimes 2023. All rights reserved.