'The Blacklist' Season 3 Spoilers: Episode 21 Synopsis Released; What Will Happen In 'Susan Hargrave'? [VIDEO]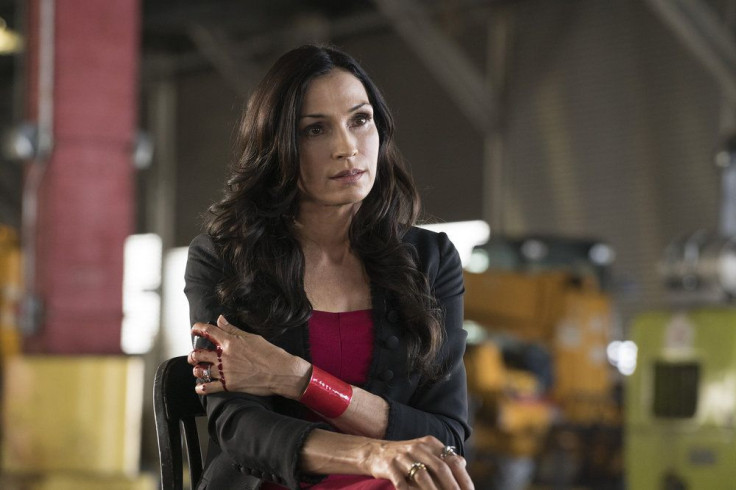 Red and the task force said one last goodbye to Liz in NBC's "The Blacklist" Season 3, episode 20. Everybody will now look to overcome their grief by taking down the person who was after Liz. However, the woman who could be behind everything may be Red's greatest challenge yet in episode 21, titled "Susan Hargrave."
According to the synopsis, Red (James Spader) will link a woman named Susan "Scottie" Hargrave (Famke Janssen) to the tragic events surrounding Liz's (Megan Boone) death. Hargrave is described as "elegant, powerful and extremely dangerous." Hargrave was briefly introduced in episode 20 when Tom (Ryan Eggold) snapped a photograph of her talking to Cynthia Panabaker (Deirdre Lovejoy) and Cooper (Harry Lennix) caught her in security footage. Tom believes she could be Katarina Rostova, especially because Liz believed her mother was after her.
While Hargrave's real identity isn't exactly clear, it's known she's not going to make things easy for the task force. The synopsis says they'll get into a "deadly cat and mouse game" when they attempt to stop her. In the promotional video for episode 21, she's described as "the one person who can go toe-to-toe with Red." Red and the task force want to take down Hargrave because they believe she's the reason why Liz is gone.
"Here's where we stand: Elizabeth Keen is dead, which means you are, too," Red tells Hargrave in the video when they finally come face-to-face.
Red had almost given up on helping the task force and felt he had failed to protect Liz. However, Aram (Amir Arison) and Liz's grandfather Dom (Brian Dennehy) were able to push Red into going after the people who had been hunting down Liz. Now it appears Red is all-in on taking down Hargrave.
Episode 21 is also expected to lay the groundwork for a potential spinoff series of "The Blacklist" starring both Janssen and Eggold. It's rumored Hargrave could actually be Tom's mother, and the two could go on to have a relationship similar to the one Red and Liz had. The backdoor pilot of the spinoff will take place in episode 22 a week later on May 12.
Watch a promo video for episode 21 below:
"The Blacklist" Season 3, episode 21, airs on NBC Thursday, May 5, at 9 p.m. EDT.
© Copyright IBTimes 2023. All rights reserved.
FOLLOW MORE IBT NEWS ON THE BELOW CHANNELS