Bonnie And Clyde Guns To Be Auctioned, Expected To Fetch $100K To $200K Each [PHOTOS]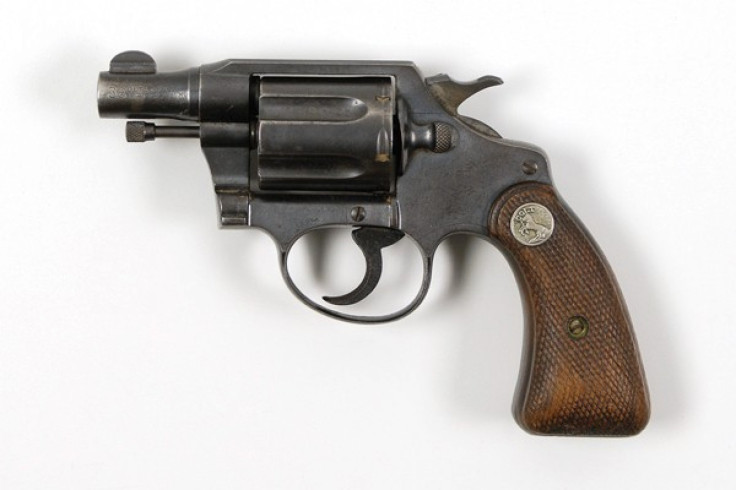 Guns that once belonged to notorious bank robbers Bonnie Parker and Clyde Barrow, a.k.a. Bonnie and Clyde, have been put up for auction, with bidding set to get underway in September.
New Hampshire-based RR Auction is handling the Bonnie and Clyde auction, which includes Bonnie Parker's squat gun, a Colt Detective Special .38 revolver recovered from her thigh after being killed in a police ambush in 1934.
This is a well-known gun in Texas as it was displayed in several major museums (including the LBJ Library in Austin) for a two year exhibition in the early 1980s, RR Auction says on its website. There can be no other gun with a closer association to Bonnie Parker than the one taped to her body at her death.
The auction also includes three guns once handled by Clyde Barrow, including a Colt Model 1911 government model semi-automatic pistol taken from his waistband after a 1934 ambush conducted by authorities in Texas and Louisiana.
The gun was on Barrow when he was killed, according to RR Auction.
Although Clyde Barrow had many guns during his notorious career, there cannot be any with a closer association to him than this one carried at his death, the auction company says on its website.
The Bonnie and Clyde guns are part of a Gangsters, Outlaws, and Lawmen live auction to be conducted by RR Auction on Sept. 30.
Each Bonnie and Clyde gun is expected to fetch between $100,000 and $200,000, Bobby Livingston, vice president of RR Auction, told the Associated Press.
They were pretty famous in their moment and I think that's lasted through time, he said, noting that the auction is highly anticipated.
Just hang on to your hat, because it will be a bidding war, Livingston said.
Other Bonnie and Clyde items are set to be auctioned off besides the firearms.
A pocket watch taken from Clyde Barrow when he was killed in Arcadia, La., on May 23, 1934, is among those items.
The Clyde Barrow pocket watch is accompanied by a 1997 notarized letter from Barrow's sister, Marie Barrow.
The Elgin Pocket Watch...belonged to my brother Clyde Barrow and was being worn by him on the morning of May 23, 1934, when he and Bonnie Parker were killed by Captain Frank Hamer and the other Peace Officers under his command, part of the letter states.
Bonnie and Clyde fans can also bid on a Bonnie Parker cosmetic case that was retrieved from their death car after they were fatally shot.
This case was in the 1934 Ford V-8 car used by Bonnie Parker and Clyde Barrow at the time of the shooting on May 23, 1934. The case at that time contained lipstick and a box of Coty face powder and a powder puff...This case was obviously used by Bonnie Parker for personal grooming purposes. It was about the only feminine touch item in their possession, reads a 1976 notarized letter transferring the case to its current owner, Raymond Brown.
The Gangsters, Outlaws and Lawmen auction also feaures a Colt .25 pistol once owned by notorious Chicago mobster Al Capone, a letter written by infamous gangster John Dillinger from Indiana State Prison and a press card signed by Prohibition agent Eliot Ness allowing a Cleveland reporter to pass through police and fire lines.
© Copyright IBTimes 2023. All rights reserved.