Brian Williams Displaces Staff With Expensive New Set In Return To 30 Rock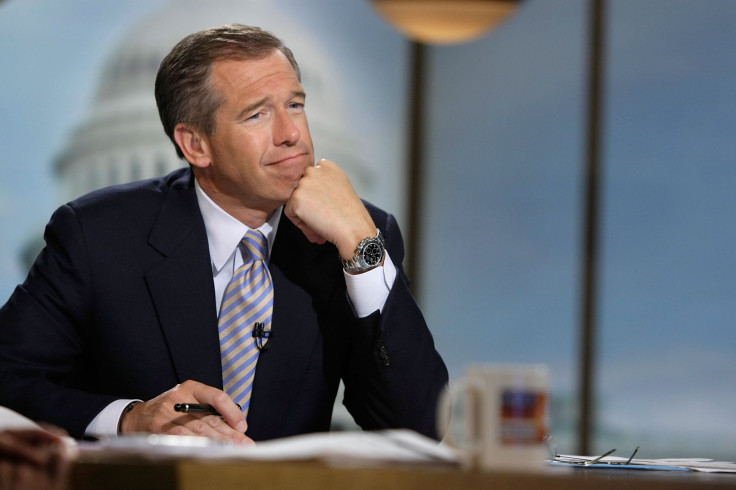 Post-scandal, Brian Williams remains a big name, and he needs a big desk. Returning to the airwaves this week, the former anchor of "NBC Nightly News" will enjoy his new digs at MSNBC with an expensive set that's been built specifically for covering breaking news and construction of which has forced other employees to scatter throughout the studio.
MSNBC confirmed several employees have had to move due to the construction of the breaking news hub, and that some would be relocated permanently. According to sources with MSNBC, entire teams had to change location to accommodate the renovations, with reporters and producers from different divisions mingling amid the construction.
The scope of Williams' reporting duties is unclear to many who work at 30 Rock, aka the Comcast Building in Manhattan. Everyone knows he's coming back to cover the pope and that he will have a breaking news mandate going forward. But how much airtime this actually translates into is anyone's guess. After MSNBC President Phil Griffin blew up daytime programming, there's a large chasm to fill, but sources told International Business Times there could be days when Williams isn't on the air at all.
While anchoring "NBC Nightly News" in January, Williams related a false version of events that occurred during his coverage of the initial 2003 invasion of Iraq. Before long his record came under fire and NBC suspended him for six months and began a review of his past work. In June it was announced he would be moving to MSNBC with a different job and a lower salary.
The channel also told IBT the new set is not exclusively for Williams, but rather a part of its new mission to turn its daytime hours into a hub for hard news rather than liberal-leaning opinion. A handful of opinion and panel shows, including "Now With Alex Wagner," "The Cycle" and "The Ed Show," were slashed from the schedule earlier this year after the return of former NBC President Andy Lack.
An internal memo from Griffin also casts doubt on a report in the New York Post on Sunday alleging Williams himself is making personnel changes at MSNBC -- particularly in the relocation of producer Izzy Povich to mornings, Pat Burkey to producing afternoons, and Mark Lukasiewicz, vice president of news specials and formely vice president of digital media, to breaking news events. Griffin himself outlines the changes in the memo. A source at MSNBC added the decisions were made by Lack, not Williams.
In his role as MSNBC's go-to person for breaking news, Williams will not have his own staff or team like other on-air talent hosting designated time slots, but instead will work with breaking news producer Lukasiewicz and the producer of whatever regularly scheduled programming has been interrupted. His hours will be roughly 9-5 p.m. EDT, closing each day when Chuck Todd's new show, "Meet the Press Daily" begins.
Williams' first assignment will be live rolling coverage of Pope Francis' visits to Washington, New York and Philadelphia. He'll anchor the events along with Kate Snow, Chuck Todd, Steve Kornacki, Andrea Mitchell, Kasie Hunt, and analysis will be by Williams' predecessor at NBC, Tom Brokaw.
© Copyright IBTimes 2022. All rights reserved.
FOLLOW MORE IBT NEWS ON THE BELOW CHANNELS