Britannica Encyclopedia Stops Printing After 244 Years: What They're Publishing Now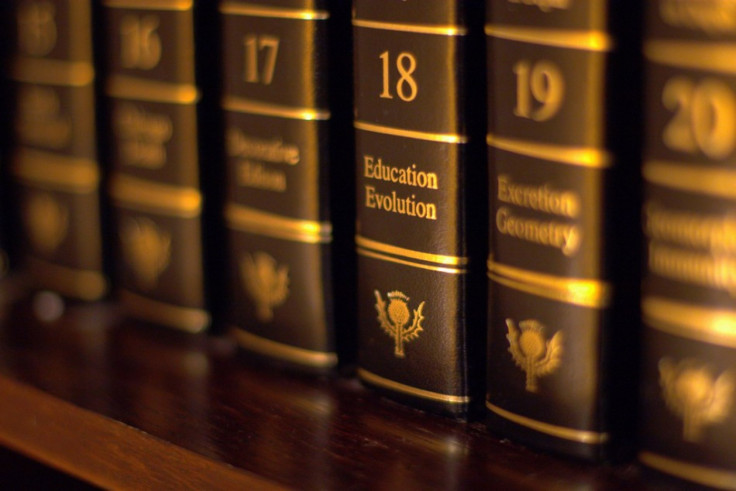 On Tuesday, Encyclopaedia Britannica Inc. announced that it would no longer be printing its venerated yearly reference publication. Instead, the 244-year-old publisher will now focus more fully on its digital content.
Is this the end of an era? Communications Director Tom Panelas doesn't think so. Printed editions have been a very small part of our business for a long time, he said. Despite the brand's prestigious reputation, people weren't exactly beating down Britannica's door for physical sets, which today run for $1,395.
The printed-encyclopedia heyday for the Chicago-based business was back in 1990. That year, Americans purchased about 120,000 copies.
But what a difference two decades make. Britannica printed just 12,000 sets of its 2010 edition; today, there are still a couple thousand unsold copies sitting in the warehouse.
Stopping the presses is part of a long-term realignment for Britannica. We've been going digital for quite a few years, said Panelas. We published our first digital encyclopedia in 1981, we invented the multimedia encyclopedia in 1989, and we put the first encyclopedia on the internet in 1994. Business has been evolving for some time, and it reached a point where it simply made more sense to do everything in digital form, where we can expand coverage constantly and update information instantly.
Some worry that the 244-year-old publisher will have a hard time competing with Wikipedia, which seems to have cornered the market for online reference content. Britannica differs so much from Wikipedia, there's really no comparison, asserted Panelas. Every article that we publish is written by someone who's familiar with the topic--usually an expert--and before publication it's rigorously edited and fact-checked. That makes a big difference in the accuracy and quality of our coverage.
The truth of that claim has been disputed, most notably by the journal Nature in 2005. They conducted a review of online content from the two encyclopedias and found an average of three inaccuracies per Britannica entry and four per Wikipedia entry--for Britannica, that rate of error was too close for comfort. They refuted the study methods in a published statement, which has since been removed from their website. In turn, Nature defended its original findings.
Accuracy disputes notwithstanding, Britannica can certainly boast a much a better reputation than its publicly edited counterpart. The 2010 edition includes content from over 4,000 contributors, many of whom are famous experts and revered authors. An online subscription to this content costs $70 per household, and that includes multimedia as well as mobile applications.
But Panelas emphasizes that these days, Britannica is about much more than encyclopedias. The digital era makes it possible to do many things that you can't do in print, he said. For us, that means not only publishing encyclopedias in digital form; it also means extending our expertise to a variety of other areas, like school curricula. We create e-learning solutions for classrooms that are now used in schools around the world, and that's going to be a big thing for us moving forward.
Once the warehouse is cleared of those last 2010 print editions, Britannica will have turned the final page on the gold-lettered volumes that have lent prestige to household bookshelves for centuries. There are some people who have nostalgic feelings about the printed versions, naturally, said Panelas. But this move is something we have been preparing for.
To celebrate the transition, Britannica will offer free content on its website for a week, starting on Wednesday.
© Copyright IBTimes 2023. All rights reserved.