Britny Haarup, Ashley Key Dead, Two Bodies Found In Missouri After Police Recieve Tip From Suspect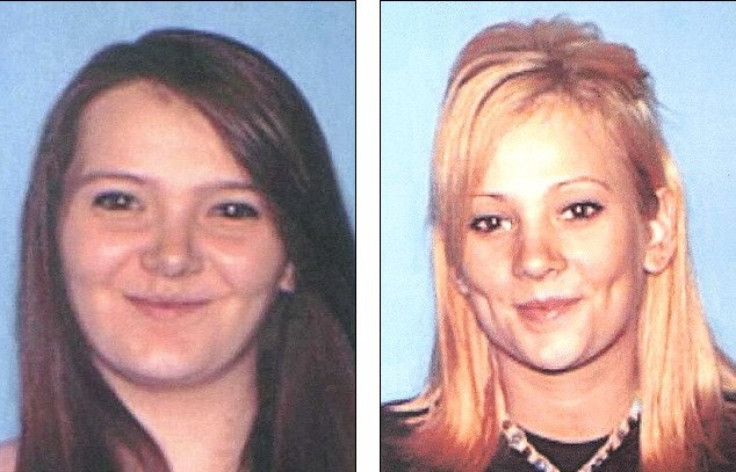 Two bodies believed to be that of sisters Britny Haarup and Ashley Key have reportedly been found in a Clinton County, Mo. field, according to authorities.
A local NBC affiliate is reporting that the unidentified bodies were found in Clinton County, Mo.
Platte County Sheriff's Capt. Erik Holland told KSHB the bodies were those of two white women but he could not immediately confirm the victims' identities or how they had died.
Authorities were apparently led to the location of the bodies after receiving a tip from an unidentified person of interest in the case.
That individual is under arrest and in custody, Holland said.
Haarup, 19, and Key, 22, were reported missing on Friday, July 13, after Haarup's fiance, Matt Meyers, reportedly found their two children, 6 months and 18 months old, alone in their crib when he returned home that night.
According to ABC News, Meyers then ran to his neighbors and told them he had found blood inside the Edgerton residence before Police were called to the scene.
The following Saturday morning, authorities found a white pick-up truck belonging to the father of Haarup's fiancé, abandoned about 35 miles north of Kansas City. No visible signs of foul play were found in or on the vehicle, police said.
After uncovering the missing truck's location, authorities searched the fields surrounding the gravel road in which it was parked on. The truck was towed to the Kansas City crime laboratory to check for evidence, according to USA Today.
The truck was gone, the girls were gone and Matt has some personal guns that had been missing as well. That is all he had to tell me, and I knew something was wrong at that point, the mother of the missing women, Taresa Haarup, told KCTV.
The Platte County Sheriff's Department said they are continuing to speak with the person of interest in the case and have already executed two search warrants.
© Copyright IBTimes 2023. All rights reserved.