Broncos News: Denver To Sign Dwight Freeney If Elvis Dumervil Cut? Cliff Avril, Paul Kruger Other Top Options?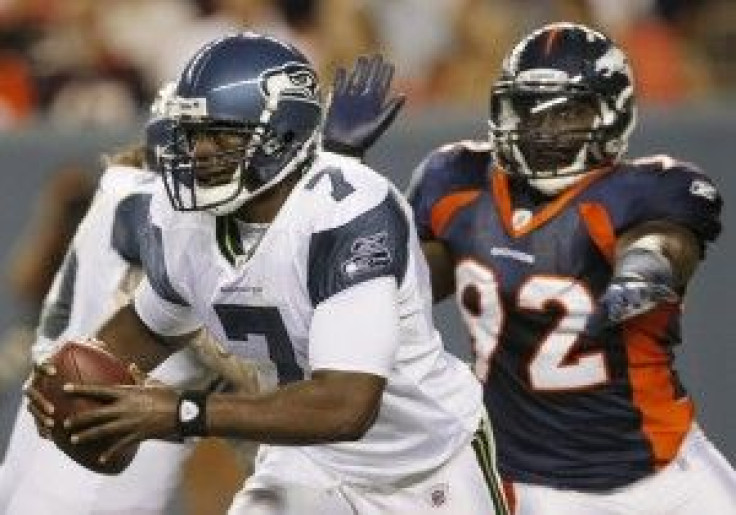 In eight days, Denver Broncos defensive end Elvis Dumervil's $12 million salary will be guaranteed for the 2013 season, and the organization is reportedly looking to slash that number.
Willing to restructure the six-year $61.5 million he signed in 2010, Dumervil wants to stay in Mile High and his agent, Marty Magid, told the Denver Post that they will negotiate with the Broncos in "good faith".
"Elvis wants to return as a Bronco if it all possible, and that's what we're trying to do — make the client happy and try to appease the team," Magid said.
However the Broncos are more interested in a pay cut then a mere restructure, considering Dumervil's diminished stats in 2012.
Denver is already under the $123 million salary cap next season, and the two years remaining on Dumervil's deal doesn't necessarily put them over, but according to NFL.com, his 20.5 sacks over the last two seasons barely eclipses the 17 sacks he generated in 2009 alone, and he also struggled against the run last season.
Denver quarterback Peyton Manning has reportedly already talked to soon-to-be-released Indianapolis Colt Dwight Freeney, giving the Broncos a palpable replacement for Dumervil. Denver might live with the drop-off in age and production, in exchange for a cheaper acquisition like Freeney.
At 33-years-old, Freeney recorded just five sacks and 12 total tackles last season, but his veteran leadership could set an example for rising linebacker Von Miller.
After Freeney, there will be several younger options available for Denver on March 12, when the new NFL calendar year and free agency begins.
Baltimore 27-year-old defensive end Paul Kruger will be a free agent after posting nine sacks and six passes defended last season, not to mention the 4.5 sacks and 18 total tackles he recorded during the Ravens Super Bowl run.
Cliff Avril, 26, has 29 sacks over the last two seasons for the Detroit Lions, and turned down the club's three-year $30 million extension before last season, believing he should be paid like the rest of the NFL's top defensive ends. The franchise tag number for defensive ends in 2013 is just over $11 million.
Both pass rushers may be entering their prime like Dumervil was when Denver re-signed him in 2010. A pectoral muscle tear in the same year forced the 29-year-old to miss the entire season, and since then he hasn't been nearly as dominate.
© Copyright IBTimes 2023. All rights reserved.