Brooklyn Bridge Becomes Scene of 700 Occupy Wall Street Arrests [VIDEOS]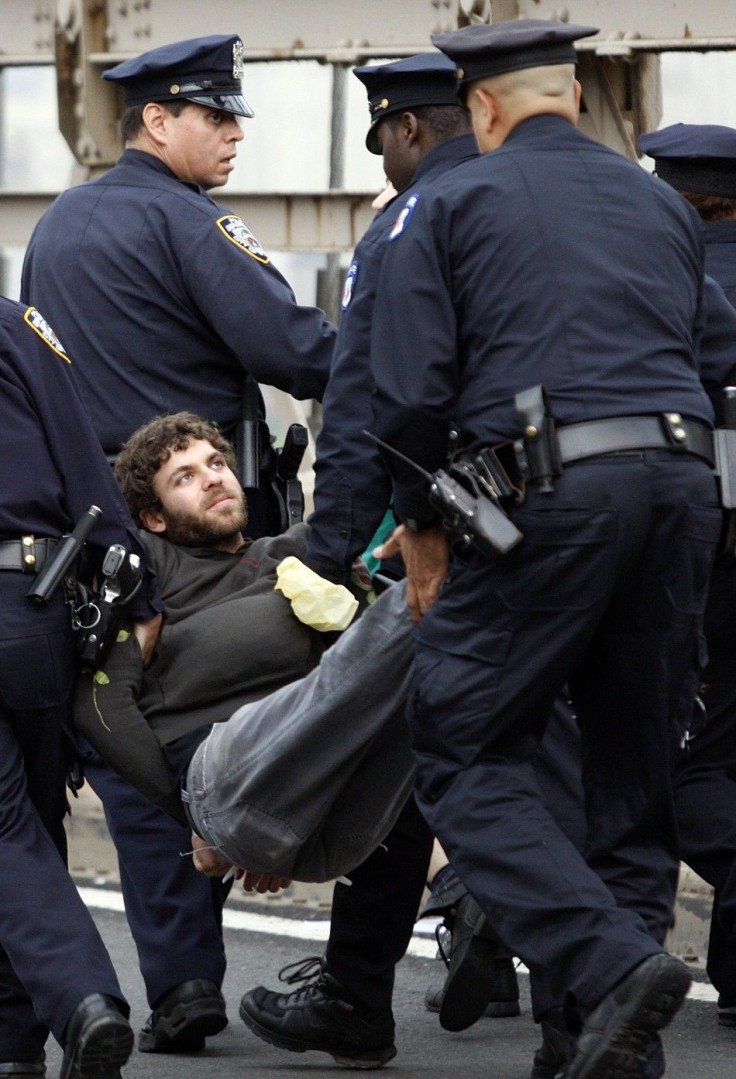 The Occupy Wall Street protest is showing no signs of slowing down, as about 700 protesters were arrested on Saturday after taking on a trek to the Brooklyn Bridge that shut down a lane of traffic for several hours.
Police said the majority of those who were arrested were given citations for disorderly conduct and were released. Others were accused of resisting arrest.
The group dubbed as Occupy Wall Street have been camping out in Manhattan's Financial District for almost two weeks, opposing corporate greed and other grievances that include the foreclosure crisis, work place discrimination, student loan debt, and labor outsourcing to name a few. The group's declaration outlining the grievances for the occupation of New York City was released on Friday.
The protesters have been stationed at Zuccotti Park since Sept. 17.
Reports are that during the impromptu walk, the rows of protesters walking the bridge were so thick that some demonstrators ended up spilling onto the roadway even after being told by authorities to stay on the pedestrian pathway, police told the media.
According to Forbes, some protesters could be seen sitting on the roadway while others chanted and yelled at the police from the pedestrian walkaway. Police reportedly used orange netting to stop the group that gathered from going further down the bridge. The bridge is currently under construction.
Multiple warnings by police were given to protesters to stay on the pedestrian walkway and that if they took roadway they would be arrested, said Paul Browne, the chief spokesman of the New York Police Department, as reported by Forbes.
But some protesters said they were either lured onto the roadway by police, or they didn't hear the authorities' calls. Police has since disputed claims that the protesters were tricked into their arrest. Those who were at the back of the group were allowed to leave, according to Forbes.
The group plans to stay in the park Indefinitely, Shon Botado, a protester staffing the first aid station, told Huffington Post. Until change is made to the financial structure.
The Occupy Wall Street group has sparked similar call to action in other parts of the nation.
On Saturday protesters reportedly gathered in Albuquerque, N.M., Boston and Los Angeles to show their solidarity with those in New York. Celebrities like Michael Moore and Susan Sarandon have stopped by encouraging to encourage the group.
© Copyright IBTimes 2023. All rights reserved.
FOLLOW MORE IBT NEWS ON THE BELOW CHANNELS