BTS Jungkook Releases Recording Film For 'Seven,' Shares Secret To His Amazing Vocals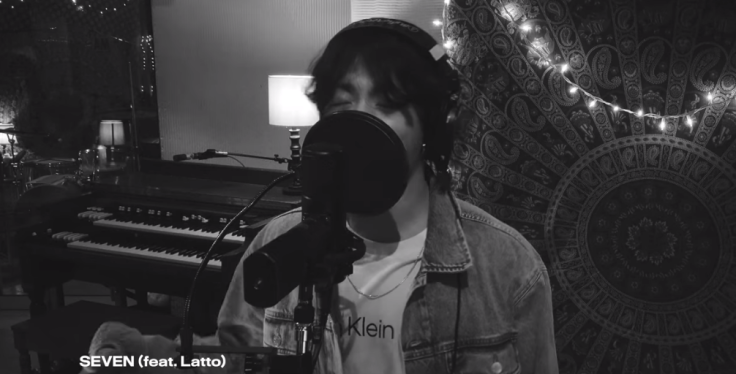 KEY POINTS
Jungkook released the recording film for his solo digital single, "Seven"
He shared the vocal exercise he does to prevent him from losing his voice
Jungkook's "Seven" topped three major music charts simultaneously
Jungkook shared behind-the-scenes footage of the recording process for his record-breaking solo digital single, "Seven."
On Wednesday, Jungkook's recording film for "Seven" was uploaded on BANGTANTV on YouTube. In the behind-the-scenes film, the 25-year-old BTS member shared the journey of his first solo schedule in the U.S. for his solo promotion.
On his way to his recording schedule, he shared that it was his first time recording abroad with a producer who's not Korean, Andrew Watt.
To ease his nervousness and prepare his voice for the recording, he started doing a vocal exercise he discovered using a straw.
According to the "Seven" singer, he searched for information about vocal methods after losing his voice once, which led him to discover the straw vocal exercise. He shared that he watched a video on research dealing with this exercise and found that the straw exercise helps balance the vocal cords.
"I thought I should try it, and I've been doing it. But, there's something I just couldn't do while doing this exercise, so I'm trying to practice it and make it mine," Jungkook shared.
Jungkook's hard work in training his vocals paid off since he got praised by his producer during the recording session.
"He was very positive about my work, and he liked it a lot. I was super nervous at the beginning, but I became relaxed as I was recording," the "Golden Maknae" of BTS happily shared. "I had to catch his instructions instantly, and I think that improved my vocal skills a lot."
In related news, Jungkook made an impressive Billboard debut after "Seven" topped three major music charts simultaneously.
On Tuesday, Billboard released the top 10 list for the Hot 100 music chart, Global 200 and Global (excluding the United States) — all dated July 29 — and BTS' Jungkook ranked no. 1 on all of them.
This makes Jungkook the first-ever K-Pop soloist to achieve this historic feat, while his featured singer Latto earned her first no. 1 on the Billboard charts with "Seven."
"Seven," described by BigHit Music as an "invigorating summer song" that will make listeners feel the full breadth of Jungkook's charm, debuted at No. 1 on Spotify's Global Top Songs chart after garnering 15,995,378 filtered streams on its first day alone, per Chart Data.
This makes the "Golden Maknae" of BTS the first artist, aside from Taylor Swift, to surpass 15 million first-day streams for a song on Spotify, according to Soompi.
© Copyright IBTimes 2023. All rights reserved.