Bumblebee Gecko: Insect or Lizard? Weird New Species Discovered in Papua New Guinea [PHOTO]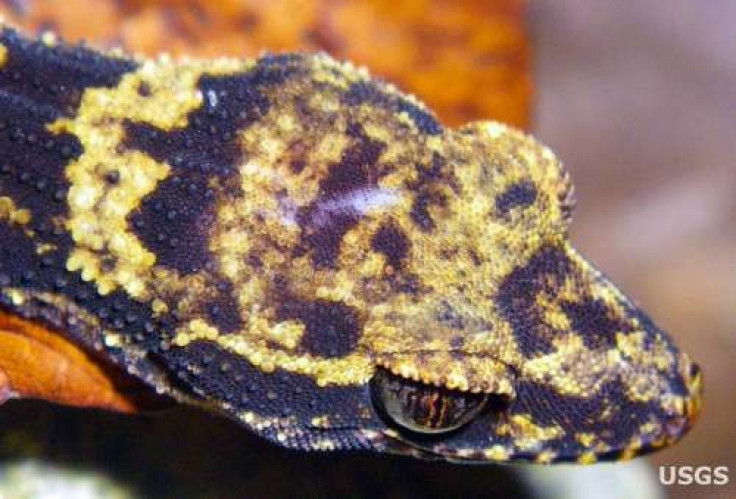 The bumblebee gecko is an interesting creature. It's covered in yellow and black stripes, but the pattern can be modified by adaptive skin modules, just like a chameleon. It can't fly or climb walls; instead, it crawls stealthily along the ground in tropical forests.
Technically, the bumblebee-striped creature is a lizard in the gecko family, according to a report published in Zootaxa. It measures about five inches from end to end, and is closely related to two similar species of gecko in the area. Its official Latin name is Nactus kunan, and it was first found in May of 2010 on Manus Island in Papua New Guinea.
We've officially named it Nactus kunan for its striking color pattern -- kunan means 'bumblebee' in the local Nali language, says Robert Fisher of the USGS Western Ecological Research Center, who coauthored the official report. It belongs to a genus of slender-toed geckos, which means these guys don't have the padded, wall-climbing toes like the common house gecko, or the day gecko in the car insurance commercials.
The bumblebee gecko is hard to spot, and not just because of its camouflage capabilities. The report notes that only two specimens of the species were found over the span of a week.
Both specimens were collected within a hundred meters of each other along a forested ridgeline on the south side of the Lauis River, said the report. The two animals collected were on two different village house structures in small openings in the forest at night at approximately 200 m elevation. Surveys were conducted for more individuals for another couple of hours and no additional specimens were detected.
Apparently, two specimens were enough to make the necessary examinations and declare that the bumblebee lizard has never been documented before.
The Manus Province of Papua New Guinea, where the lizards were found, may be home to a wide range of still-undiscovered exotic species. It is an ecologically diverse area that has not yet been thoroughly explored, and scientists are excited about what else they may find there.
As Bulisa Iova of the Papua New Guinea National Museum explained, Exploration of Manus Province is in its infancy, with many new species possible, and this joint expedition was our first to this region.
George Zug of the Smithsonian Institution, who worked with Fisher to publish the Zootaxa report, is certainly happy with the findings so far. [The bumblebee gecko] species was a striking surprise, as I've been working on the genus since the 1970s, and would not have predicted this discovery, he said.
© Copyright IBTimes 2023. All rights reserved.