California Bullfighting School Should Be Illegal, Critics Say, But San Diego Owner Says He Has Rights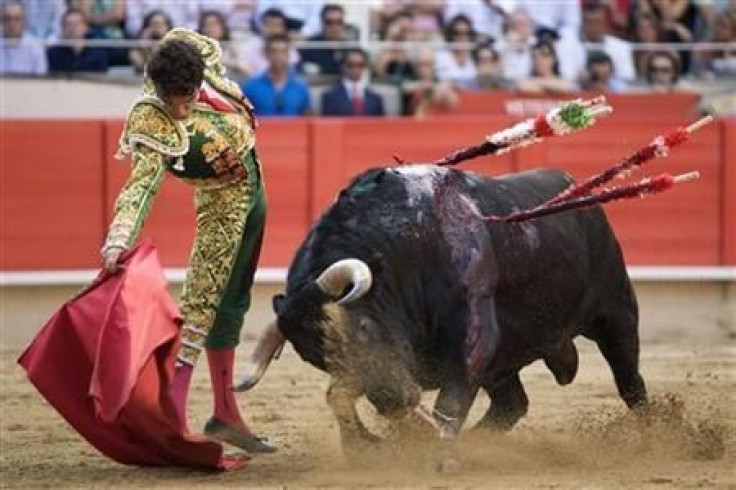 An animal-rights advocate is leading an impassioned charge against a San Diego bullfighting school.
The California Academy of Tauromaquia, which bills itself as the first school of its kind, trains students in the tradition of Spanish bullfighting. Michelle Sibinovic, a Southern California resident who asked that her home city not be named, said the academy is "teaching torture," and she wants city officials to intervene and shut it down. Bullfighting is outlawed in the United States, and Sibinovic called it "mind-numbing" that someone could obtain a business license to teach it in her own backyard.
"It would be like Michael Vick opening up a 'dog-fighting academy' where he would advertise how to teach people all the 'maneuvers' of killing dogs without the killing," she said in an email. "Imagine the public outcry."
The academy, which teaches movements and techniques, has been in operation since 1997. Sibinovic said she only became aware of it recently, and she launched an online petition as a means of gathering support for its closure. After being chosen as a featured petition by the website Care2, she said her petition spread like wildfire, with more than 11,000 shares on Facebook as of Thursday. The petition is seeking 35,000 signatures and currently has just under 25,000.
Coleman Cooney, the school's founder, isn't particularly concerned about the criticism. "We're no stranger to it," he said in a phone interview.
A San Diego native who became interested in bullfighting while living abroad, Cooney defended the practice as a "glorious" art form steeped in tradition, inspiring creative geniuses from Picasso to Hemingway. Bullfighting has been banned in a number of countries, and support for it is declining even in strongholds like Spain and Southern France, but Cooney said he's seen an increased interest from amateurs looking to learn the techniques.
"I would compare it to surfing," he said. "You can practice 'toreo,' Spanish-style bullfighting, as a really fun pastime."
Cooney said no animals are used at his San Diego facilities. However, he and his students travel to bull ranches in Spain and Mexico, where the students interact with one- to two-year-old heifers -- fighting stock specifically specially bred to respond to bullfighting movements. He said students who make a mistake with these 500-pound animals get "thumped."
"These are large, violent animals that throw people up in the air, and bruise them and poke small holes in them, and in some cases put them in wheelchairs," Cooney said.
He's unapologetic about the idea that he could be training the star matador. "Some of my students have gone on to become professionals and they're killing 500-kilo bulls with swords," he boasted.
As for the legal merits of Cooney's academy, he said he's confident that the business is on solid legal footing. "The people who are upset are not attorneys," he said. "We've already been vetted by the district attorney here in San Diego. He can revisit anytime."
Cooney's obstinacy highlights what his foes see as a glaring legal loophole. A statute in the California penal code makes it unlawful to promote "any bullfight exhibition," but Cooney argues that he's not promoting any particular bullfight; he's promoting bullfighting in general.
With her petition, Sibinovic is targeting San Diego officials and local commerce groups, but it's unclear if anyone will listen. Joe Terzi, president of the San Diego Tourism Authority, is one of the petition's targets, but Terzi's assistant said the authority was unable to comment. "We have nothing to do with this school," she said.
The San Diego Regional Chamber of Commerce, also named in the petition, passed the buck as well, telling IBTimes that it's not qualified to speak about the legal merits of the school.
So-called bloodless bullfighting is still permitted in some states, but critics say the animals suffer severe stress during the routine, and are sometimes killed immediately after a performance -- a claim corroborated by a source who was quoted in a 2009 Los Angeles Times story. Many consider the practice a barbaric relic. "Torturing, maiming, mutilating and killing bulls or any other animals for the purpose of public spectacle is an abhorrent remnant of the historical past," Sibinovic said.
Cooney argued that, by someone's measure of ethics, even "cuisine is cruelty," but that most people don't have a problem with animals being sacrificed for a fancy steak dinner. (Many, in fact, do: 5 percent of Americans abstain from eating meat, though not always because of ethical concerns.) "If you and I agree on that, on the ethics of entertaining ourselves on the backs of animals, then we can agree on bullfighting," he said.
Sibinovic doesn't buy it. "Mr. Cooney is conflating animal torture with eating meat," she said. "Bullfighting has nothing to do with the 'meat versus meatless' argument. The bullfight -- and any animal fight for that matter -- glorifies the tortuous bloodletting of beings who cannot voice their position, choose their circumstances or defend themselves."
Despite the petition's reach, Cooney is convinced that the criticism is largely coming from a radical fringe. "They're animal-rights activists," he said. "They're vegans, almost all of them."
Sibinovic disagrees, saying that she has received an outpouring of support from all over the world. Her dietary choices, she added, are beside the point. "While it would be nice to live in a world where animals are no longer used as food, that day is a long way off," she said. "Until that day comes, it's imperative that animals are slaughtered humanely."
Got a news tip? Email me. Follow me on Twitter @christopherzara
© Copyright IBTimes 2023. All rights reserved.
FOLLOW MORE IBT NEWS ON THE BELOW CHANNELS