California Earthquake: Officials Warn Of Aftershocks After 5.6 Magnitude Quake Rocks Northern Coast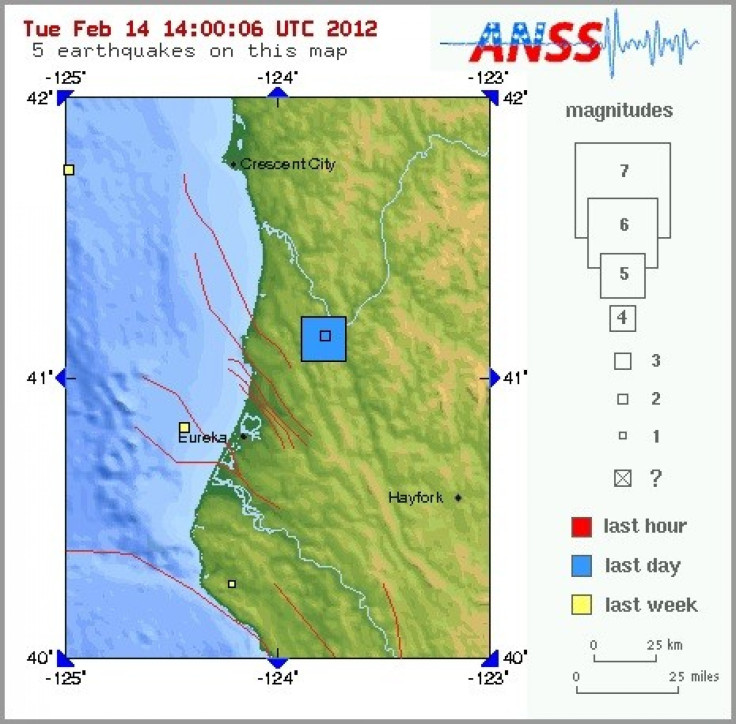 A 5.6 magnitude earthquake rocked the Northern California coast Monday afternoon, yielding no immediate injuries or damage but prompting warnings of several aftershocks throughout the week.
According to the U.S. Geological Survey, the earthquake struck around 1:07 p.m. about 18 miles inland in Humboldt County.
Its epicenter was a rural area near Weitchpec on the Hoopa Valley Indian Reservation. The reservation is about 240 miles north of San Francisco, and 60 miles south of the Oregon-California border.
The Northern California quake was widely felt within a 100-mile radius, according to the USGS web site. The depth of the earthquake was roughly 20.4 miles.
'You have no control of these things.'
The Humboldt County Sheriff's Department and Eureka Police Department sent officials to check on residents, but dispatchers said there were no immediate reports of emergencies. Things also seemed fine on the Hoopa reservation, according to Byron Nelson Jr., the tribe's vice chairman.
It was just a mild shaking. It wasn't a sharp jerk, Sgt. Gene McManus of the Del Norte County Sheriff's Department, a neighboring agency, told the AP.
Debbie Bailey owns in office supply shop about five miles from the earthquake's epicenter. She says only a few items fell off the shelves, and the jolt of the quake itself lasted only a few seconds.
[The earthquake was] like a pick-up-and-move, like a soft wave, she told the AP. It didn't jar you, it was a gradual back and forth.
Other residents were more shaken by the quake.
At Pearson's Grocery Store in Weitchpec, Karen Pearson watched cans fall off the shelves as a man yelled for people to evacuate the store.
It was very scary because you have no control of these things, said Pearson. Hopefully it's over.
USGS Issues Aftershock Warning
Unfortunately for North California, the USGS is now telling residents to prepare themselves for possible aftershocks.
The USGS issued a warning that gave a 28 percent probability that aftershocks measuring 5.0 in magnitude or even higher could ripple through the Pacific state over the next seven days.
The warning also noted that there was a 5 to 10 percent chance that an earthquake of greater magnitude that the 5.6 quake on Monday could occur in the same location.
According to Fox News, California's far-northern coast is the most seismically active area in the state, and much of the region. The potential for damage and injuries is lessened however, by the fact that this area is less populated.
'It definitely got my attention.'
If the 5.6 magnitude earthquake does generate aftershocks in North California this week, at least local residents like Lainey McDonald, who has experienced some of the worst quakes the state has seen, aren't as worried about Monday's tremors.
One of the worst and most recent earthquakes of 7.0 magnitude or greater in the region occurred on June 15, 2005. Its epicenter was about 100 miles northwest of Eureka, Calif., in the Pacific Ocean. That 7.2 magnitude quake generated a very small tsunami.
A 6.5 magnitude earthquake had already hit the Eureka area on Jan. 9, 2010, causing more than $40 million in damage and causing one elderly woman to fall and break her hip.
McDonald, who owns a roofing supply company in Eureka, was there for both those earthquakes. She said Monday's rumblings didn't feel nearly as bad, and isn't too worried about the aftershocks.
Still, the 5.6 magnitude quake made enough of an impression in Eureka for her to sit up and take notice.
I was asking myself, 'Is it really still going or is it my knees?' McDonald said. It was still going. It definitely got my attention.
© Copyright IBTimes 2023. All rights reserved.
FOLLOW MORE IBT NEWS ON THE BELOW CHANNELS