Can Dennis Rodman Work His Magic With Putin As He Did With Kim?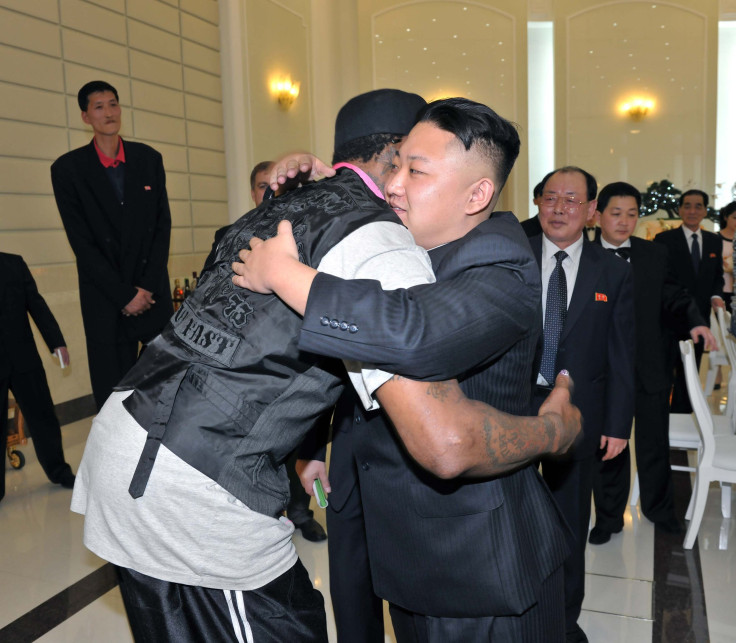 KEY POINTS
Rodman is known for his 'friendship' with North Korean leader Kim Jong Un, who is a basketball fan
The NBA Hall of Famer said he has received 'permission' to help Griner
Putin is known for his engagement in numerous sports but he has yet to be photographed playing basketball
NBA Hall of Famer Dennis Rodman said he has received "permission" to travel to Russia in a bid to help negotiate the release of WNBA star Brittney Griner, who has been sentenced to nine years in prison there over drug-related charges. Rodman is known for conducting informal diplomatic activities with North Korean leader Kim Jong Un and now eyes are on him as he seeks to form ties with Russian President Vladimir Putin.
"I got permission to go to Russia to help that girl," Rodman said in a recent interview with NBC News. "I'm trying to go this week," he said," adding that it is "public information that the administration has made a significant offer to the Russians and anything other than negotiating further through the established channel is likely to complicate and hinder release efforts."
Rodman said he knows "Putin too well." Rodman, who holds the record for the only player who has five of 13 NBA games with more than 30 rebounds per game, called Putin "cool" when he visited the Russian capital Moscow in 2014.
Besides his basketball accolades, Rodman is known for his informal diplomatic relations with North Korea. In mid-2018, Rodman traveled to Singapore ahead of the denuclearization summit between then President Donald Trump and Kim, ABC reported. The White House said a week before Rodman touched down in Singapore that he did not have an official role in the summit.
It is worth noting that Rodman is only one of the few Americans to have ever formed a "friendship" with the reclusive North Korean leader. Kim is said to be a huge fan of the NBA team Chicago Bulls. Rodman was a teammate of NBA great Michael Jordan with the Bulls during the legendary basketball player's reign over the sport.
In 2013, Rodman was seen sharing a laugh with Kim as they watched North Korean and American players during an exhibition basketball game in the Asian nation's capital of Pyongyang. At that time, Rodman received criticism for reportedly telling Kim that the authoritarian leader found "a friend for life" in him.
During Kim's 2014 birthday celebration, Rodman led a singalong of "Happy Birthday" to his "friend" whom he also called a "very good guy," CNN reported at that time.
Also in 2014, Rodman seemed to imply in an interview rant that North Korea had a reasonable ground for the imprisonment of American missionary Kenneth Bae. U.S. officials criticized Rodman's words at that time, and the NBA rebounder later apologized. He then sent a letter to Kim to ask for Bae's freedom. In a twist of fate for Bae, in the same week after Rodman said he has not yet received a response from Kim regarding his letter, the missionary was released after a 2-year detainment.
"I thank Dennis Rodman for being a catalyst for my release," Bae said after his release.
It is unclear if Putin is a basketball fan like Kim, but he has been photographed multiple times engaging in other sports such as ice hockey, bowling, badminton and more. In 2008, the Moscow-based PBC CSKA professional basketball team said Putin congratulated it through a speech in celebration of the 85th jubilee of the club foundation. At that time, the CSKA said Putin visited the team's home court to commemorate the event.
While Rodman does not need special permission from the U.S. government to travel to Russia, the State Department has issued a travel advisory against visiting the country. The advisory includes Russia's "unprovoked and unjustified invasion of Ukraine" as a reason for discouraging American trips to Russia.
Rodman needs an approved visa to visit Russia again. The U.S. government has yet to confirm the details of the supposed "permission" given to Rodman in relation to Griner's imprisonment.
Griner was sentenced to nine years after she pled guilty to carrying cannabis oil cartridges to Russia earlier this month. The WNBA star reiterated that she had no criminal intent as she mistakenly packed the cartridges into her suitcase, The Hill reported. Griner's legal team has since filed an appeal on the sentence.
Observers are now eager to see how Rodman will play his card if he gets to meet Putin in Russia and if his charisma will work its wonders with Putin the way it did with elusive Kim.
© Copyright IBTimes 2022. All rights reserved.
FOLLOW MORE IBT NEWS ON THE BELOW CHANNELS